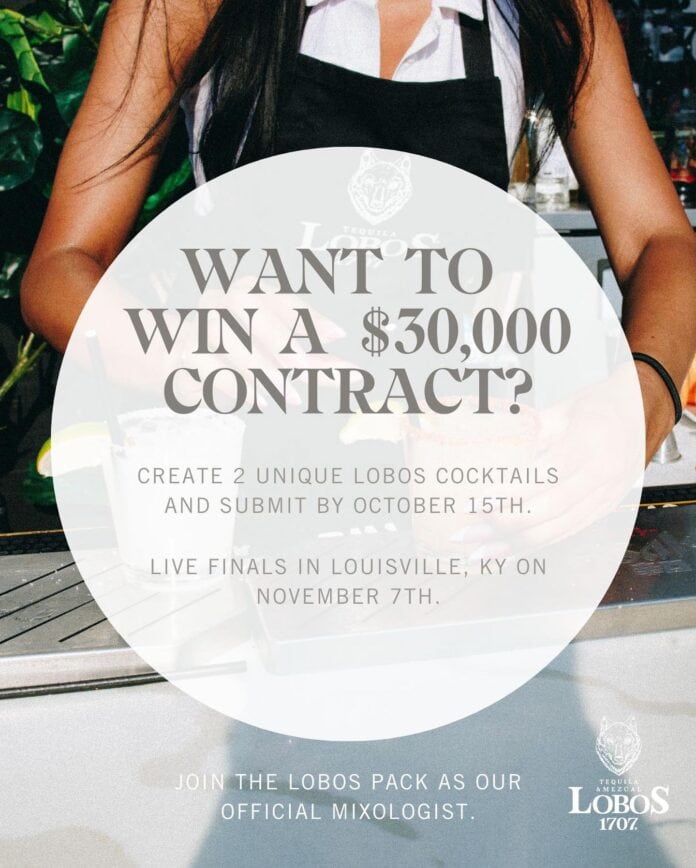 Top Bartender Wins a $30,000 Contract as Cocktail Creator and Evangelist for the Legendary Lobos 1707
(NEW YORK, NY – October 4, 2023) CHILLED announces the Best-In-Class Cocktail Challenge, presented by Lobos 1707 Tequila and Mezcal. The competition invites bartenders from across the country to raise the bar and showcase their best-in-class skills and talent. The bartender who outshines all others wins the opportunity to serve as Brand Ambassador for the legendary brand, creating original cocktail recipes and traveling the country to spread the word on the award-winning best-in-class liquid.
The challenge will feature two rounds. In the first, contestants are required to submit two original cocktails – one simple serve that embodies the spirit of the pregame occasion using Lobos 1707 Reposado Tequila and a second cocktail that accentuates the notes of the PX sherry finish used across the entire Lobos 1707 portfolio, with bartender's choice of Lobos 1707 expression. Submissions are due by October 15. Twelve semi-finalists will be selected to progress to Round 2, where they will provide a video submission communicating why they should be selected as Lobos 1707 Brand Ambassador while demonstrating one of their cocktail recipes.
"We aim for best-in-class in everything that we do; from our liquid to our team," said Diego Osorio, Founder and CCO of Lobos 1707. "Our partnership with Chilled Media follows the same pursuit as we search for a best-in-class mixologist to join our pack. The cocktail community is full of impressive talent, so we know it'll be difficult to narrow down from all the entries."
Five finalists will be announced October 25, and those five will be hosted at CHILLED 100 ELEVATE, a multi-day industry program featuring educational seminars, professional development, tours and tastings, and more, including the Best-In-Class Challenge finale event. Finalists will compete live at the event and the prestigious judges will crown one winner who will become the Lobos 1707 Brand Ambassador with a $30,000 contract. Second place will receive a $1,000 prize, and third place a $500 prize.
The judges for the competition:
Diego Osorio, Founder & Chief Creative Officer, Lobos 1707
Dale DeGroff, King Cocktail, Master Mixologist and Author
Wendy Hodges, Chilled 100 National Director, Chilled Magazine
Cindy Wang Simms, Chief Marketing Officer, Lobos 1707
Bridget Albert, Senior Director, External Communications, Southern Glazer's Wine & Spirits, Co-Host of Served Up Podcast and Author
Details for submissions including judging criteria and program rules can be found at https://chilledmagazine.com/bestinclass/. All entries must be received by October 15 to be eligible.