Poinsettia Memorial Project Honors Veterans
WAXAHACHIE—Life Middle School Waxahachie students are seeking donations of poinsettia before Friday December 16, 2016. Students will place the plants on grave-sites of fallen U.S. soldiers at the Dallas-Ft. Worth National Cemetery.
In November, one of Life Middle School staff members endured a horrific tragedy. Sharon Culp lost her son Payton W. McCarty in a motorcycle accident. As a veteran, he was laid to rest at the Dallas-Fort Worth National Cemetery.
Payton, 26, is a combat veteran. He served in the United States Marine Corps during Operation Enduring Freedom. Payton is survived by his wife Brittany and two children Trevor, 5 and Skylar, 3.
Around the holidays, many organizations place wreaths and other décor on grave-sites in the cemetery. The Life Middle School Waxahachie started the Poinsettia Memorial Project to honor Payton McCarty. As well as all of the nation's most respected individuals during this holiday season. The project seeks to put out as many poinsettia plants as possible to honor the memories of the fallen.
McCarty Family Accepting Donations
In addition to the Poinsettia Memorial Project, those interested may also donate directly to the Payton W. McCarty benefit accounts at the Cowboy Bank of Texas, Maypearl. A GoFundMe page has been created.
Funds are extremely limited because Payton was self-employed and Brittany is a stay-at-home mom. The GoFundMe account will be used to cover medical costs and ongoing expenses for Brittany and the kids.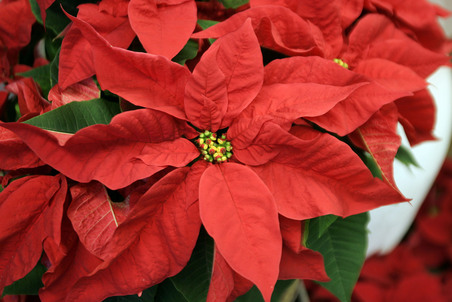 More Than 200 Poinsettias Already Donated
The Life School Family invites the entire North Texas community to join in this cause. Any poinsettias donated recognize the sacrifice individuals made during their times of service. Life Middle School Waxahachie has received over 200 poinsettias already!
Anyone wishing to make a donation to the Poinsettia Memorial Project may bring their poinsettia to Life Middle School Waxahachie. Or they may schedule a pick up time by e-mailing megann.lock@lifeschools.net.
The Life Middle School Waxahachie Student Council and National Junior Honor Society will be placing these plants during the week of December 12th. Donations are accepted until December 15 at Life Middle School Waxahachie, 3295 US-77, Waxahachie, TX 75165.