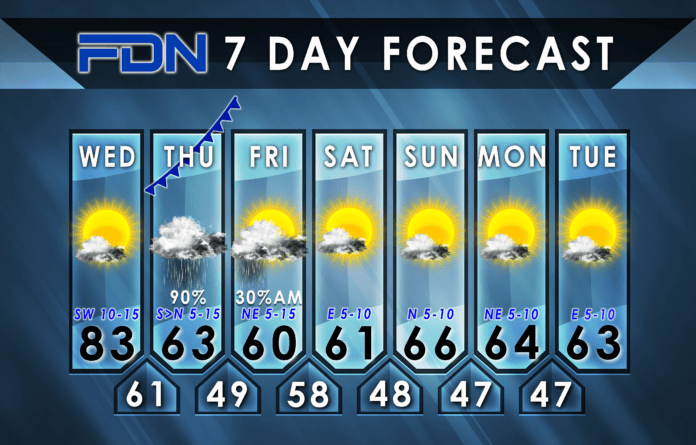 Enjoy the warm, dry weather now, because tomorrow will be anything but those things. Get ready for wet, cold weather for your Thursday – and cooler temps after that.
Today we'll reach the low-mid 80's with more breezy southwest winds. Tonight we'll drop down to the low 60's. Tomorrow morning the front moves in, and while we might warm up a few degrees, it won't last long. Once the front moves through with a few showers, temps will start dropping through the 50's. Better rain chances and gustier winds arrive behind the front, making for a wet, cold day across the area. I'm not sure it will be a solid rain all day and night, but we should at least see off/on showers. Overnight clouds will hold in some daytime heating and keep us from getting too cold, so we should settle in the upper 40's.
Friday morning we will see some lingering activity, and while I think most of the activity should be out of here by 7-8 am, it's hard to say how long some of that lagging moisture will hang around. I think we are definitely done by noon, though clouds will hang around all day. We could see some sun, but probably not much. We will only reach around 60° for highs with breezy northeast winds.
Saturday we'll see more sun, but about the same in temperatures. Sunday and Monday we'll warm up to the mid 60's, and Tuesday looks like it could be a little cooler. I'm watching for our next chance of rain, which could come closer to the middle of next week.