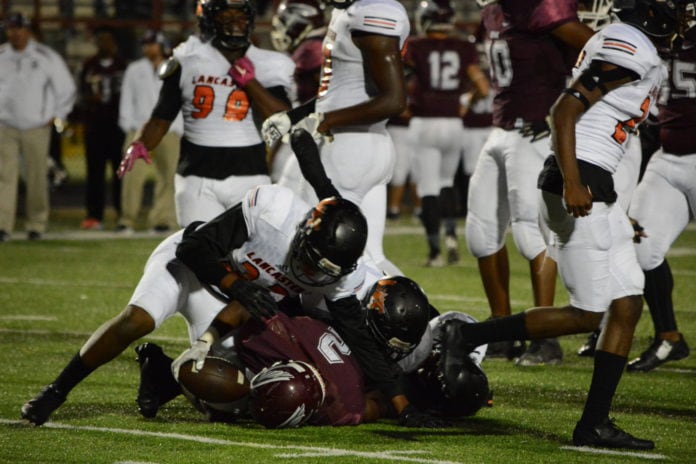 Lancaster Tigers Coach Says Tigers Are Ready For Big Game Tonight
LANCASTER—Tonight the Lancaster Tigers are facing the Waxahachie Indians at home. Despite two consecutive losses by Waxahachie. Lancaster Tigers Head Coach Chris Gilbert says he is taking nothing for granted.
Even with a first place district seat, just hours before the game he admitted that his pregame jitters never really leave–no matter what the rankings say.
"We have been preparing like we normally do.," he said. "I'm always antsy before every game. It's not any different. It's a big game and they have a really good team."
Even after falling to by Mansfield Legacy and Timberview; Waxahachie fans show up in large numbers to support their home team. In fact, Lumpkins Stadium which holds 9,500 fans is regularly sold out and parking extends from US-77 to the local church assembly two blocks away.
It's an easy bet that fans will make the 20 mile trek to Beverly Humphrey Stadium in Lancaster. But Gilbert says that this doesn't bother him. Currently on a seven game winning streak; there has been no shortage of Tiger fans.
"Travel is always big in high school," said Gilbert. "Our fans have been having showing up in mass numbers. All our home games have had great crowds. I'm really proud of our community."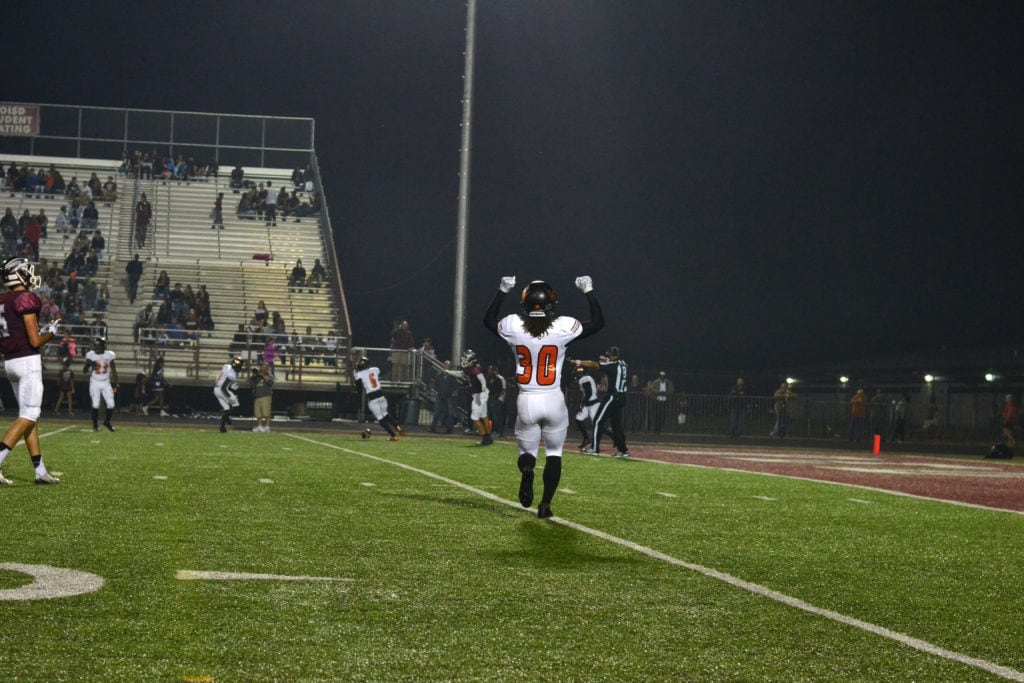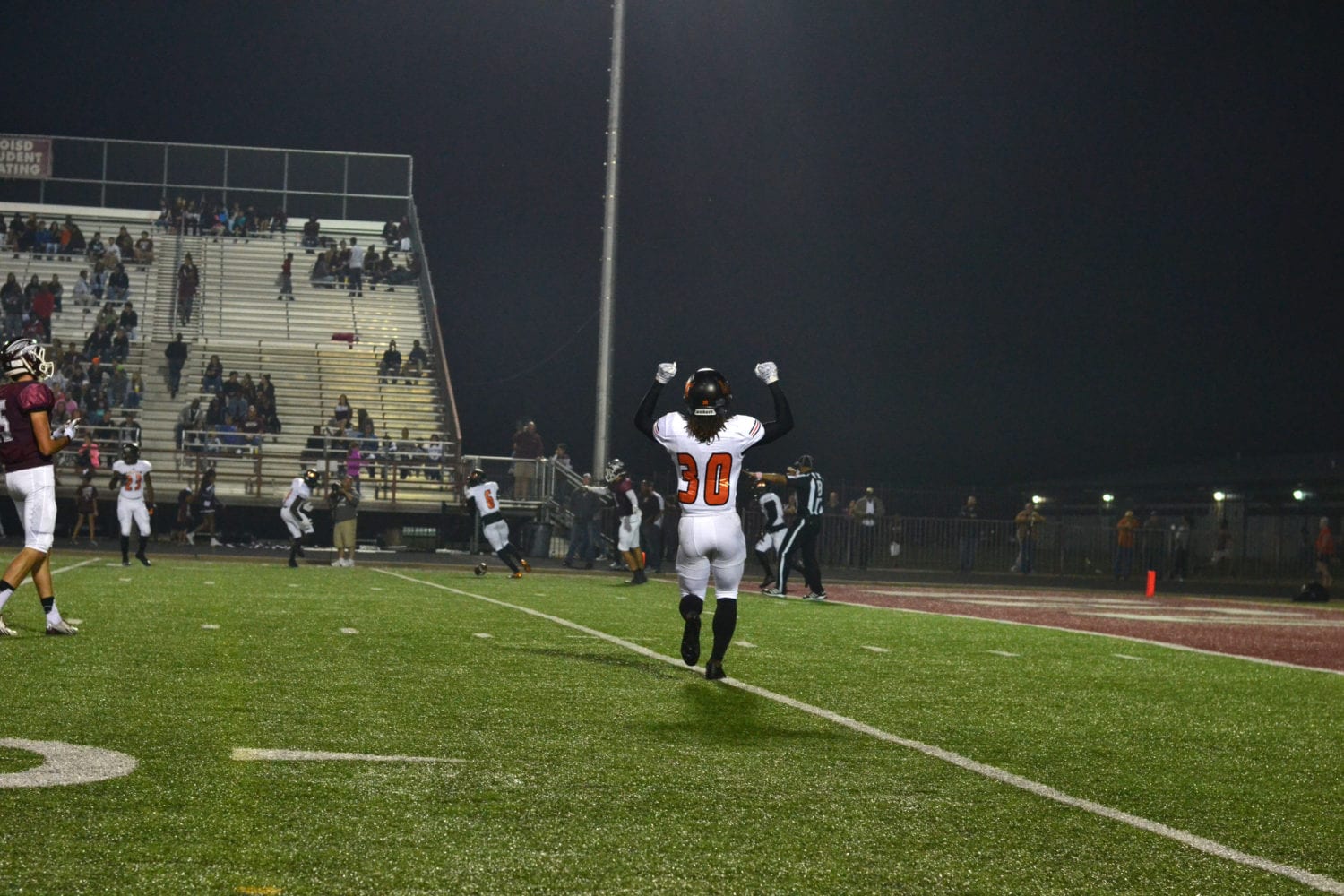 Stopping Big Plays
Primarily Coach Gilbert says that his guys will focus on not shooting themselves in the foot with penalties and personal fouls.
"The first thing is that we are going to protect the Tigers we have been doing a good job of that," said Gilbert. "We want to avoid any unnecessary penalties, and I think we have been doing a pretty good job of that so far this season."
Secondly, Gilbert pointed out that Waxahachie's offense can be just as explosive as his. So the Tigers defense is going to have to work overtime tonight.
"We are going to play the way we play. But we can't let their guys get any big plays. [Jalen] Reagor and [Kenedy] Snell are the key we have to try to limit them as much as possible."
Kenedy Snell has amassed 834 yards so far this season (504 rushing, 328 passing) and 13 touchdowns. Jalen Reagor, who recently committed to Texas Christian University with Lancaster's Omar Manning has 977 yards (178 rushing, 799 passing) and 14 scores.
Quashing their key workhorses is a strategy that worked well for Mansfield Legacy last week. During that 45-33 loss, Snell and Reagor were both held to a little less than 100 yards between the both of them.
Looking to the playoffs
The next club that the Tigers have to face off against is Midlothian. Currently 1-7 they sit at the bottom of District 10-5A ranking. Fans and analysts have already claimed a victory for Lancaster but Coach Gilbert says otherwise.
"We aren't going to underestimate Midlothian. They run an old-school offense that can cause some problems. They haven't been having any problems moving the ball or scoring. All their problems have been on the defensive side of the ball. "
As Week 10 and talk of playoff berths is in the air–keeping his players healthy and whole is among Gilbert's chief concerns.
"Health- In one word. It's very valuable. We want to finish the season very strong."
Last week North Texas teams saw season ending injuries in Duncanville with Jaylin Nelson and in Southlake Carroll's Robert Barnes.
Gilbert emphasized preparation. Simply saying that responding to injuries shouldn't be a reactive decision.
"We started working on trying to increase our depth in the spring. We have capable guys that can do the job. Besides It's high school football and we want to play them all."