Cedar Hill Linebacker Will Play For TCU In 2023
As the TCU Horned Frogs attempt to rebound next season from a disappointing loss in the college football national championship game, they are bringing onboard a player who knows a lot about bouncing back.
And, just like he and many others are expecting TCU to do, linebacker Kylan Salter of Cedar Hill continues to grow stronger with each new challenge.
Salter missed his entire senior season with the Longhorns with an injury. Now, a career that could have been cut short has found new life with a program that played for a national championship this season.
"I had a lot of family, friends helping me keep my mental health strong, and I knew God had a plan for me," Salter said. "I Knew that TCU was there for me all along. Coach (Joe) Gillespie (TCU linebackers coach) was telling me the truth about everything. He knows I'm a hard worker and that I don't give up."
That mentality will fit in well with a program that has been described as "the little team that could."
Prior to his injury, Salter and his family faced an even greater challenge. While in Tennessee, where his older brother and former Cedar Hill quarter Kaidon was playing at the time before transferring to Liberty, their father contracted COVID-19 and was hospitalized for an extended period of time.
Kylan was with his family, taking classes remotely. When his dad recovered and the family returned to Cedar Hill he had a standout junior season, leading the team with an average of 10 tackles per game as they advanced to the third round of the playoffs.
An Injury That Sidelined Salter
Then came his injury. But new Horned Frogs coach Sonny Dykes and his staff stood by him as he had received interest from 21 schools in all – 19 of which came before the injury. In the end it came down to TCU and Colorado.
"I took official visits to both. On my official visits, I felt that TCU had the most energy and that I fit the best there. I'm a family man, and I'm not that far from home," Salter said.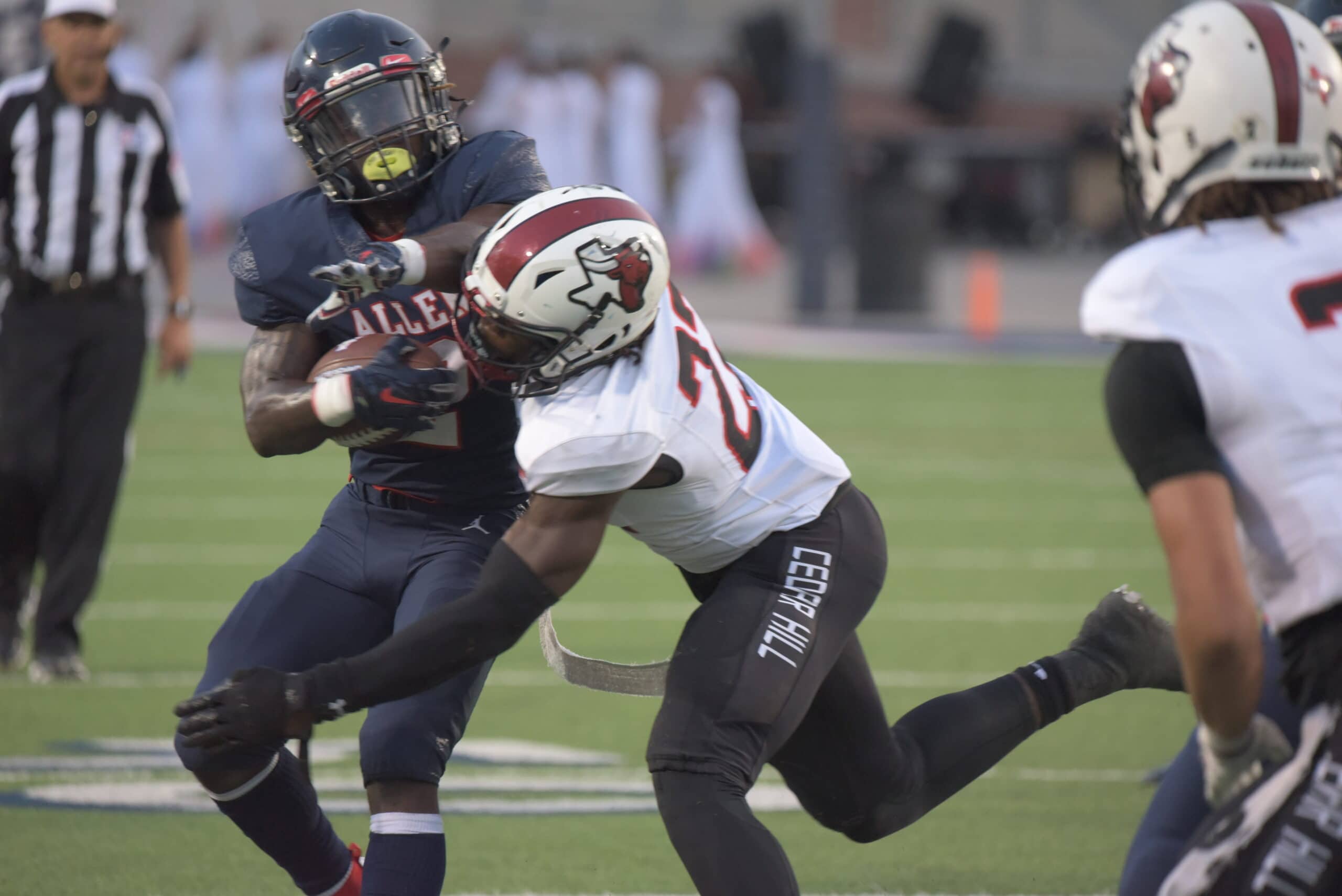 He said he knew the Horned Frogs had a special season ahead.
"I knew they'd be good after going to their practices. Nobody was taking any plans off. They knew they had one mission," he said.
As does Salter, who graduated early and began classes at TCU on Jan. 11."Since my injury, I knew it would give me more time to get better rehabbed, and to get a head start before everyone else," he said.
Poised To Make A Big Impact
Cedar Hill linebackers coach Courtney Arnick said he has no doubt Salter will make a big impact at TCU, not only as a player but with the character he will bring along.
"Big impact players of his caliber are a rare breed. What is even more impressive is his competitive nature and determination for growth, especially under adversity," Cedar Hill linebackers coach Courtney Arnick said. "This kid feeds off of competition, not only with others, but also with himself. Yesterday's efforts are never settling for what he wants to accomplish today. I believe TCU will have a true monster on their hands that is ready to wreak havoc in the Big 12.
"Lastly, the best part of it all is that he puts his own success second to his leadership. Kylan consistently puts the needs of the team ahead on his own and is driven to help develop success in his program."
Cedar Hill defensive coordinator Taylor Wolfe said there are two types of great players, "whoa players" and "wow players." He said Salter embodies both.
"Whoa players walk in the room and people say, 'Whoa that kid has all of the measurables.' Wow kids might not look like a great player, but when the game kicks off people in the stands go, 'Wow he's a great player.' Kylan is the first player I have coached that has both of those factors," Wolfe said. "On top of that, he is always willing to go out of his way to help the younger athletes. I can not wait to watch him compete on the field at TCU."
Facing Coach Prime
Ironically, TCU will host the Colorado Buffaloes on Sept. 2, the head coaching debut of Deion Sanders with the program. Though Sanders wasn't the Buffs coach at the time of Salter's commitment to TCU, he wasn't going to be swayed by Prime Time's arrival in Boulder.
Just like he wasn't going to let the immense challenges he and his family have faced in recent times deflect him from his goal of playing college football. They did, however, remind him of what is most important in life, he said.
"It just let me know that anything can happen in the blink of an eye," he said. "You have to cherish every moment with your family."