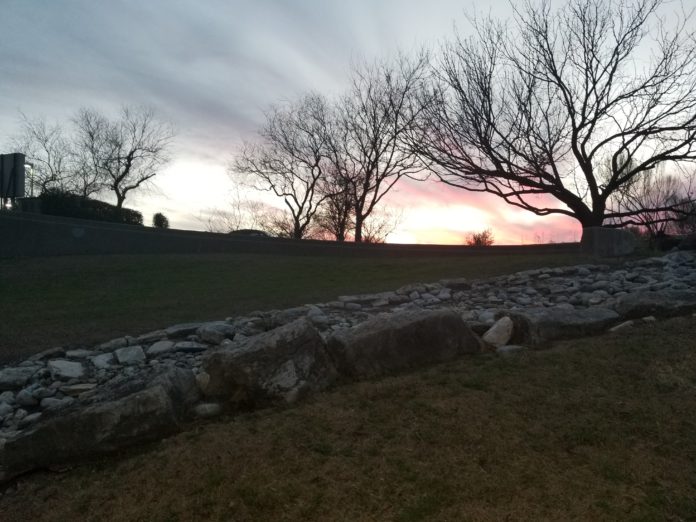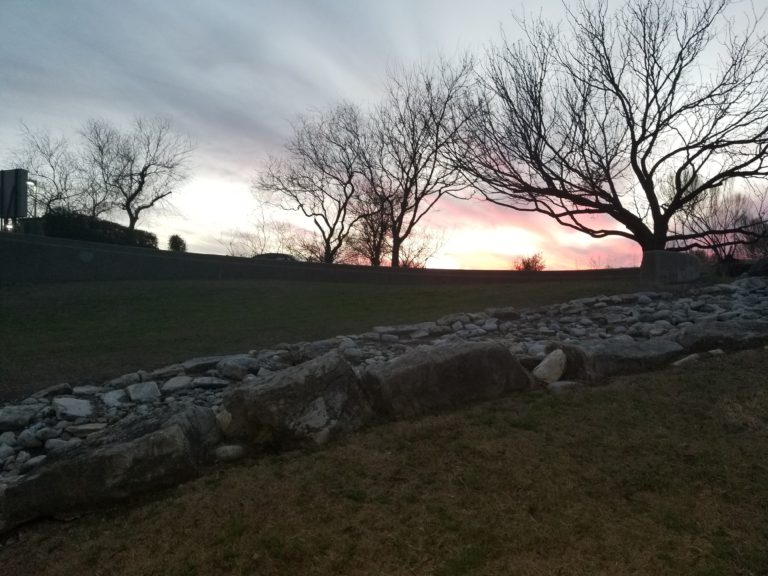 It felt like spring today. A nice, fresh, gentle breeze bumped up against temperatures near 70-degrees. Some areas of north Texas have received over 12-inches of rain the last few months, making a most pleasant experience.
Today I took the afternoon off, stayed home, kept out of the office, and just relaxed.
My wife, JoAnn, insisted we take a short walk before the day collapsed and darkness took control of the late afternoon. The sidewalk in front of our house circles the cul-de-sac that passes five nice brick houses, of which ours rests in the middle position.
The sidewalk leads from the cul-de-sac through the neighborhood, wanders into a park, and along a lake. It then follows a winding pathway to a library positioned atop a small hill. The library reminds me of an ancient citadel used for protection. In this case though, an edifice that dispenses knowledge.
The library looks out across the small valley from which we came. Then across the spring fed lake and up to another hill where our journey started. After we had left the neighborhood, auto traffic ceased and pedestrian traffic became marginal. We found only an occasional walker passed as we left the park that sheltered shy rabbits and acrobatic squirrels.
The lake was brimming full from recent rain. The small spillway under the sidewalk spewed the foamy water into a small creek which eventually dumps into Mountain Creek, from which the neighborhood got its name.
The sidewalk followed the shoreline that was fenced by large oak, walnut, pecan, and cottonwood trees. The trees provide a bed-haven for roosting birds and quiet perching owls. A forest of cattails populated the shallow water near the far shore.
Frogs can be heard singing as they line the bank where small minnows and fish dart near the dam. Lazy turtles float nose high in the deeper dark water. The sidewalk curves, snake-like, up the hill to library portals. Inside lights reflect through library windows off the lake surface below. A lighted cross located in the front of a church on a nearby hill reflect its image off the moonless lit lake.
Leaving the library, disappearing daylight is confronted by the darkness approaching from the east. The sun stands tiptoed on the western horizon above the mid cities of Grand Prairie and Arlington, casting color features of red, yellow, and orange in downing slivers.
We arrive home just in time to see the sun near final rest just beyond Dallas. The lights of the city glow warm while familiar competing night shadows protest.
Sometimes things that are the most beautiful and pleasing are free, but overlooked. They may present themselves daily, yet not impatient for your attention. They may return again for your discovery. If only we would take the time to appreciate them.
(Durhl Caussey writes a column read across the country. He may be reached at this paper or dcaussey@sbcglobal.net)