Newest Grimaldi's Pizzeria North Texas Location: Toyota Music Factory
The Toyota Music Factory, North Texans' trendy new destination for food, music and fun in Las Colinas, just got even busier with the opening of a new Grimaldi's Coal Brick Oven. We had dinner with other media friends at this new hot spot recently, and were very impressed with the overall look and feel of the place.
Grimaldi's is famous for its traditional New York-style, coal-fired brick oven pizza, and none of the pies we sampled disappointed. Corporate Chef Hector Godinez brought out several traditional pizzas including The Don. This meat lover's special is topped with pepperoni/Italian sausage/meat balls, and was definitely my pizza-loving spouse's favorite.
I liked the Quattro Formaggi (Mozzarella, Asiago, Parmesan, Pecorino Romano and Gorgonzola cheese), and the Margherita with extra sauce and fresh basil. My favorite item on the menu wasn't a pizza but a fresh spinach salad topped with house-made candied pecans, dried cherries, red onions and goat cheese; with the ingredients then tossed in Grimaldi's house dressing. This was one of the best salads I've ever experienced in a restaurant, especially one better known for its pizzas!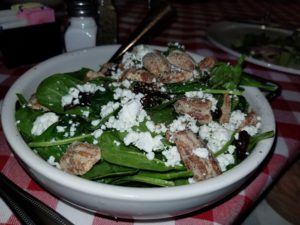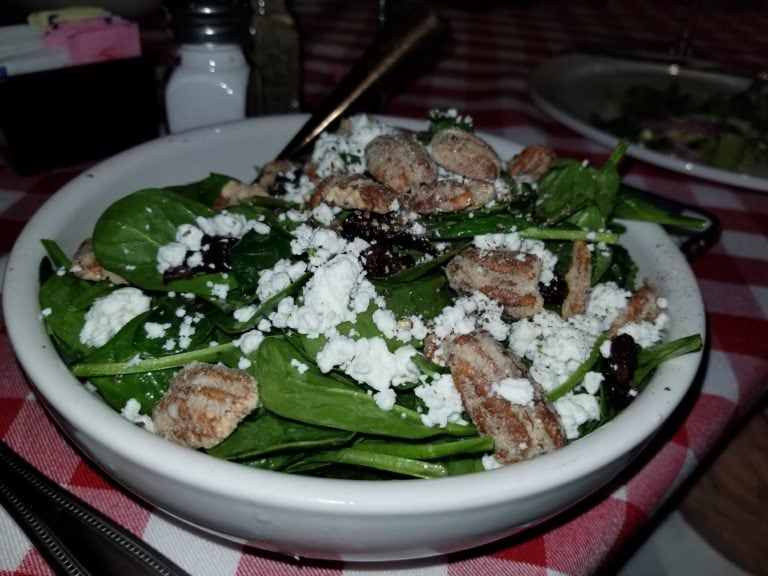 Chef Godinez said The Don paired best with their own brand of blended red wine, Mille Gradi Rosso Toscano. I was happy to find the Mille Gradi paired just as well with The Garden Pizza (fresh Roma tomatoes, sliced onions, mushrooms and black olives).
Grimaldi's pizzas are available in three sizes, 12", 16" or 18" and prices range from $9 to $18. The spinach salad ranges from $8 for a small bowl to $11 for a larger one.
There are more than 50 Grimaldi's Pizzerias now open across the country, including the new Las Colinas place. The one in West Village is probably the closest to my house since the Cedar Hill location closed recently.
But we especially loved the vibe at the Toyota Music Factory Grimaldi's, and an opportunity to tour the kitchen. We heard from Chef Godinez about the painstaking care they take in stoking the coal fire oven every afternoon and keeping the recipes true to their origin. Since the ovens are closed for stoking from 4-5 p.m., Grimaldi's hosts a Stoking Social Hour from 3:30-6 p.m. for dine-in customers with $2 off draft beer, wine, antipasto and Bruschetta and Signature Cocktails.
What is stoking, you may ask (we did too). Here's what we learned: "Once in the morning and again in the afternoon, tending to the oven is called stoking. It is a pizza making tradition that goes back over 100 years. The process consists of knocking down old coal and ash inside our ovens. We then rebuild the fire, clean and reset. The oven is reheated to the perfect temperature to craft our award-winning pizzas. During the afternoon stoking process we offer menu options like starters, salads, and beverages while the oven heats."