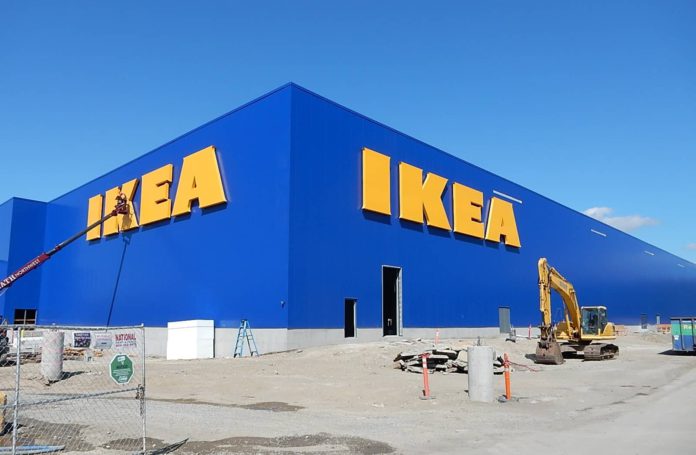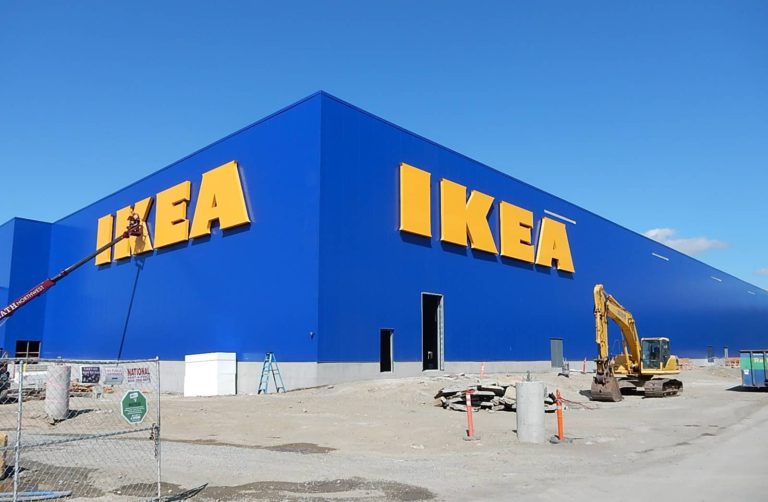 GRAND PRAIRIE—IKEA's newest location has been in the works since Fall 2000. Recently, developers put on some of the finishing touches; making a shopper's dream a soon to be reality.
IKEA Spokesperson Joseph Roth said, "We announced and submitted plans for the Grand Prairie [location] on October 13, 2015 and ground-breaking was October 25, 2016. We are on track to open sometime this Fall 2017."
Earlier this week folks gathered to watch the installation of the IKEA signage. The Grand Prairie location will be at State Highway 161 and Mayfield Road, north of Interstate 20.
The steel framing on the construction has finally progressed enough that it was time to hang the iconic blue panels. Cranes placed the yellow 'IKEA' letters onto the blue exterior panels of the store.
Installing the blue panels is a construction milestone that keeps the store on track for its Fall opening. Eager locals watched as the letters were hung to form the words 'IKEA' on the north side of the building.
"With IKEA Grand Prairie taking shape and the blue paneling now going up, we continue to be on track for a grand opening this Fall," said Lars Petersson, IKEA U.S. president.
The 290,000-square-foot IKEA Grand Prairie sits on 30 acres. The location boasts  1,100 parking spaces for customer convenience.
Serving as a one-level, Roth added "For this store, we bought enough land to spread everything on only one level, which we did in Round Rock [Texas] too."
The other two Texas stores in Frisco and Houston are two levels. The Grand Prairie will be the second DFW-area IKEA store.
"We are planning a Fort Worth store too," Roth concluded. "To open in Summer 2019, which also will be a single-level store."
Impact On Local Economy
As for the economic impact in the area, IKEA Grand Prairie will provide annual sales and property tax revenue for local governments and schools. As well as 500 jobs expected during the construction phase. And 300 coworkers will join the IKEA family when the store opens, according to Roth.
Opportunities will be available beginning this summer for candidates interested in working with IKEA in areas of home furnishings sales, interior decoration, customer service, safety and security, cashiers, maintenance, goods flow, receiving, warehouse and stock replenishment.
Also, setting itself apart, IKEA Grand Prairie will offer nearly 50 food service opportunities in its Restaurant, Swedish Food Market, Exit Bistro and coworker cafeteria.
Grand Prairie IKEA Location Offerings
"We know there are many customers in the area who are excited for us to open. Including those who are driving to Frisco to shop. As well those who have yet to experience the unique IKEA shopping concept," said Petersson.
The Grand Prairie IKEA will feature nearly 10,000 exclusively designed items, 50 inspirational room-settings, three model home interiors, a supervised children's play area, and a 450-seat restaurant serving Swedish specialties such as meatballs with lingonberries, salmon plates, as well as American dishes.
Other family-friendly features include a 'Children's IKEA' area, baby care rooms, play areas throughout the store and preferred parking. IKEA will evaluate potential on-site power generation to complement its goal of renewable energy at nearly 90% of its locations.
"We are so pleased IKEA chose Grand Prairie," said Grand Prairie Mayor Ron Jensen when the store broke ground. "The city worked diligently with the IKEA team to make this happen. The Grand Prairie IKEA will be a great destination for shoppers and developers. With our prime location and available land along the SH 161 corridor in the heart of DFW, the city anticipates more major development around the IKEA location as a result of this announcement."