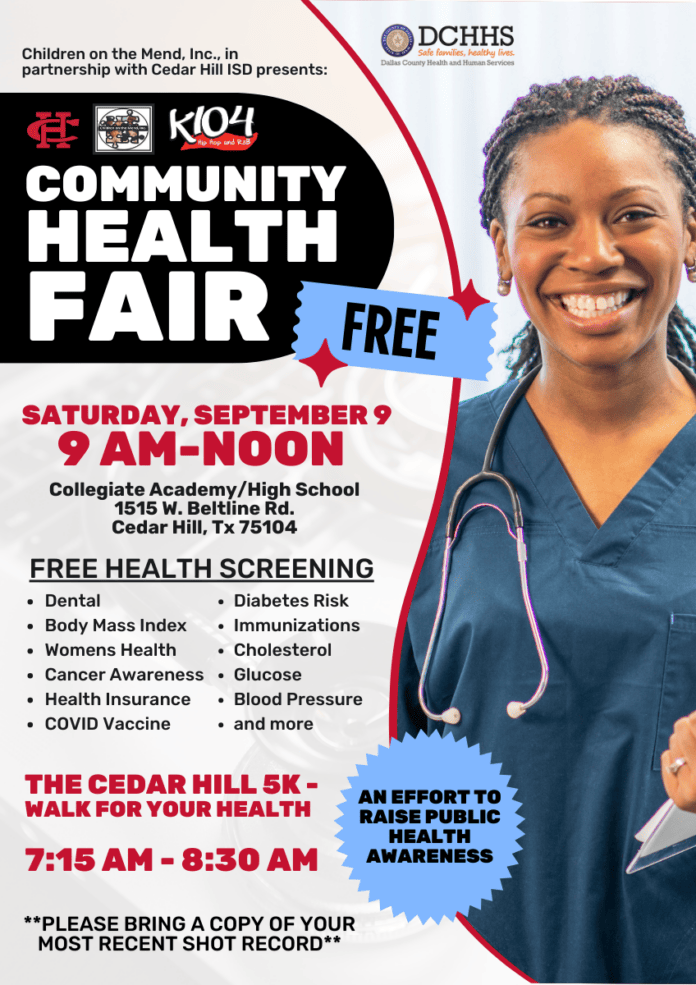 (CEDAR HILL, TEXAS) Cedar Hill Independent School District Health Services Department is partnering with Dallas-based Children On The Mend Inc. to host a free Community Health Fair from 9 a.m. to Noon on Saturday, September 9 at Collegiate Academy & High School, 1515 West Belt Line Road.
"This event will engage a diverse group of attendees within the community as well as, an array of children and adult medical providers from the Dallas/Ft. Worth Metroplex," Children On The Mend Inc. said in a statement.  "Participants can expect to visit with 20 medical and seven resource providers who are ready to meet their needs and provide guidance and care. We want all families and any Cedar Hill resident to come and learn important information about their health and the health of their loved ones."
Said CHISD Director of Health Services Nurse Shentrell Morris said, "This outstanding event is related to the district's mission of educating and empowering our scholars."
Dallas County Health & Human Services will be in attendance providing immunizations, COVID shots and boosters, services for senior citizens, information on emergency rental relief and housing loan programs.
Vendors and community groups also planning on being in attendance includes:

Pink Diamonds Survivors of Cancer

Texas Health Star

Women Empowering Women Inc.

Triple A Auto

Texas A & M Dental College

City Square (homeless program and related services)

Black Heart Association

To Us From You (youth programs)

Watch Foundation

Suga-Treatz

PRISM

Village of Empowerment (youth programs)

Cedar Hill Fire Department

All-Pro Dads

DCD Foundation (dental screenings)

Lankford & Associates (Life skills, marriage counseling etc)

SmileDoctors

Flanagan Foundation (food pantry program)

Asthma Chasers

The Wortham Group (youth programs)

WIFI Sports

Tree of Life Juices and Sea Moss (nutritious food and juice samples)
Families are asked to bring a hard copy of their immunization records with them.
For more information on the health and wellness fair, visit chisd.net.
Prior to the start of the event, there will be a 5k walk called "The Cedar Hill 5K – Walk for Your Health." It starts at 7:15 a.m. and concludes at 8:30 a.m.