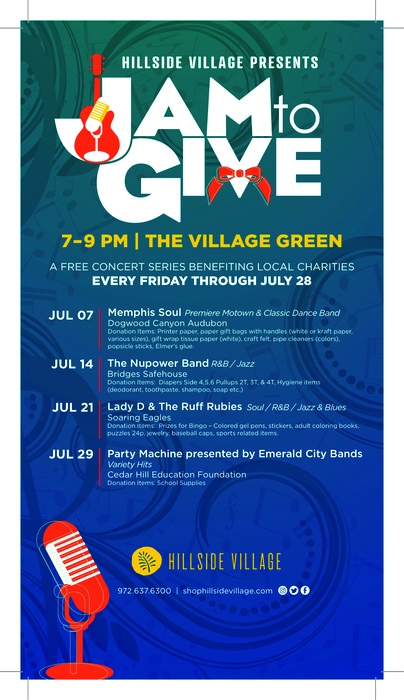 July 7 EVENT DETAILS
MEMPHIS SOUL – DFW'S PREMIERE MOTOWN BAND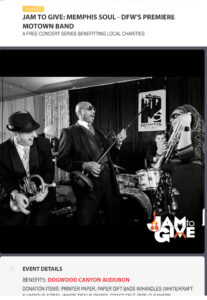 BENEFITS: DOGWOOD CANYON AUDUBON
DONATION ITEMS: PRINTER PAPER, PAPER GIFT BAGS W/HANDLES (WHITE/KRAFT & VARIOUS SIZES), WHITE TISSUE PAPER, CRAFT FELT,
PIPE CLEANERS (COLORS), POPSICLE STICKS, & ELMER'S GLUE
July 14 EVENT DETAILS
JAM TO GIVE: THE NUPOWER BAND | R & B / JAZZ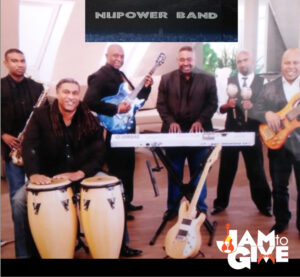 BENEFITS: BRIDGES SAFEHOUSE
Donation Items: Diapers Size 4, 5, 6 Pullups 2T, 3T & 4T Hygiene items (deodorant, toothpaste, shampoo, body wash and soap
July 21, EVENT DETAILS
JAM TO GIVE: LADY D & THE RUFF RUBIES | JAZZ & SOUL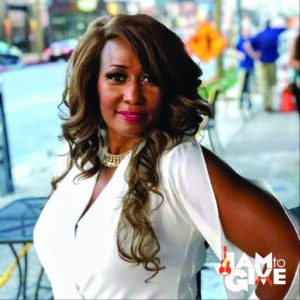 At the Soaring Eagle Center, they are driven by a single goal: to do our part in making our community a better place. They create opportunities where adults with intellectual and developmental disabilities have the choice to build productive relationships and positively impact their world!
"You have not lived today until you have done something for someone who can never repay you.
-JOHN BUNYAN
Donation Items: Jewelry, baseball caps, sports paraphernalia, $5 gift cards, journals, puzzles-24 piece, wordsearch puzzle books, colored gel pens, character socks, stickers, adult coloring books and/or anything Dallas Cowboys, Dallas mavericks, or Texas Rangers!
In-Kind Donation of $5 per attendee for non-profit
July 28, EVENT DETAILS
JAM TO GIVE: PARTY MACHINE PRESENTED BY EMERALD CITY BANDS | VARIETY HITS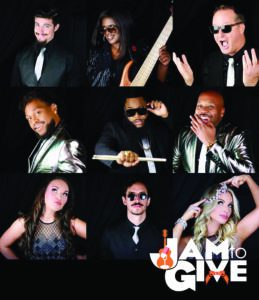 CONCERT BENEFITS CEDAR HILL ISD EDUCATION FOUNDATION
DONATION ITEMS: CLEAR OR MESH BACKPACKS SCHOOL SUPPLIES
Get ready to JAM! Hillside Village will present its annual JAM to Give summer concert series on Fridays, July 7 through July 28 from 7 p.m. to 9 p.m. The concerts are free to the public and will be held at the Village Green, located directly across from Barnes & Noble Booksellers.
During each concert, Hillside Village will recognize a different local nonprofit organization with a monetary donation, as well as hosting an in-kind donation drive. Concert attendees are encouraged to bring an item requested by the featured nonprofit organization or donate $5 per attendee.
TIME
(Friday) 7:00 pm – 9:00 pm
LOCATION
Hillside Village
305 W. FM 1382