Four North Texas Counties held a joint press conference Nov. 14. Dallas, Ellis, Kaufman and Tarrant Counties joint DWI task force met at Alan E. Sims Recreation Center in Cedar Hill. The program kicked off AAA Texas awareness campaign, "What Alcohol Says," before the start of the 2018 holiday season.
Presenters at the program, emceed by Dallas County Commissioner Elba Garcia, included a number of local elected officials. Dallas County District Attorney Faith Johnson, Tarrant County District Attorney Sharen Wilson, and Ellis County District Attorney Patrick Wilson were all featured speakers. Assistant DA Marc Moffitt represented Kaufman County DA Erleigh N. Wyley.
Cedar Hill City Manager Greg Porter welcomed everyone to the expanded task force event. The audience included a large number of law enforcement representatives from all four North Texas counties. Cedar Hill Police Sergeant Chad Cooley received special recognition from Dallas County Commissioner Elba Garcia for his outstanding record in enforcing DWI laws.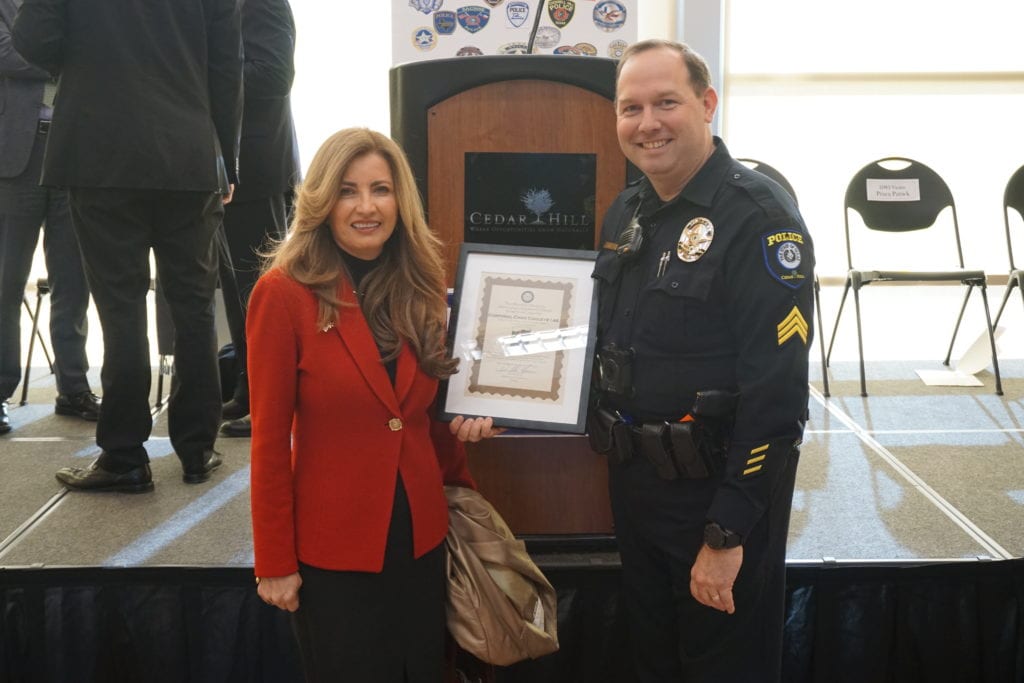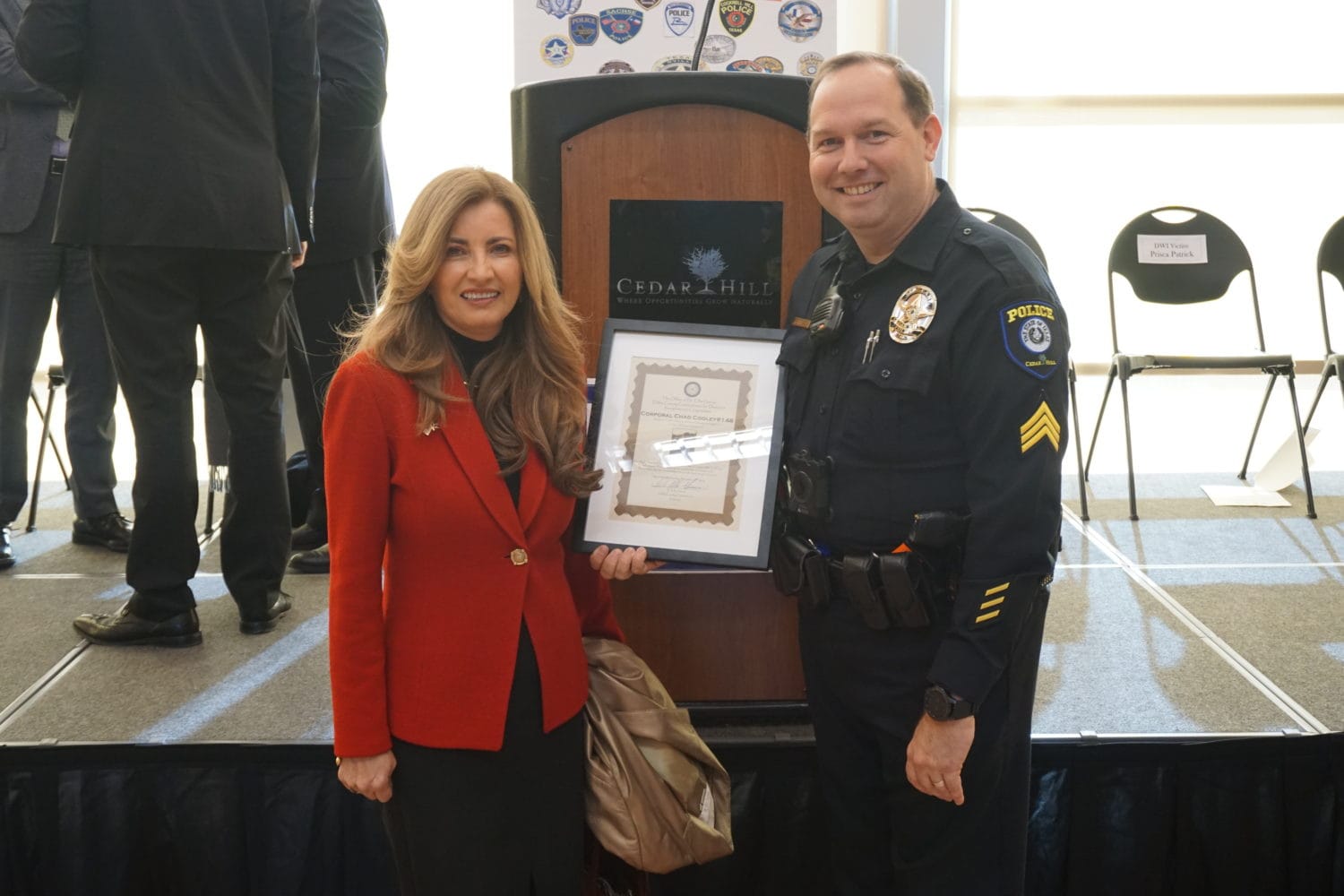 Representatives from Mothers Against Drunk Driving (MADD) were also present. MADD had set up display tables in the hall with brochures and other timely information about their cause. Frightening statistics compiled by MADD show that every two minutes, someone is injured in a drunk driving incident. Every 51 minutes, someone is killed in a drunk driving accident. Drunk driving is still the number one cause of deaths on U. S. roads.
DWI Victim Tells How Drunk Driver Impacted Her Life
A DWI victim, Prisca Patrick, was also introduced from the podium. Patrick told how drinking and driving had impacted her life. Her brother, John Michael Patrick, Jr., and his girlfriend were killed in a DWI collision on March 9, 2007. The drunk driver already had three convictions for DWI and was driving without a license or insurance.
Patrick said, "Our lives changed. Last year was the first year in 10 years we put up a Christmas tree in our home. We put presents under the tree for the first time in 10 years." She also mentioned that her father recently dropped the "Sr." from his name because her brother was no longer around and the suffix was just too painful a reminder of her brother's tragic death. She thanked the first responders who went to the crash site and the paramedics who tried to save her brother. "I will keep you all in my prayers and thoughts because you are the ones who go out there everyday and see the devastation."
Patrick encouraged everyone to remember others on the road before you drink and drive. "Look, this is my face. It's people like me. This is who you impact. This is who you are hurting. Every holiday season for the rest of our lives.
AAA Texas representative Daniel Armbruster told the audience his agency planned to expand their public awareness campaign, "What Alcohol Says," through the holidays.
A vehicle that was involved in a DWI crash was displayed on a tow truck at the event. DWI patrol cars and other emergency response and enforcement vehicles were also displayed in the area outside the recreation center.
"Drunk Goggles" were available at one of the most visited exhibits. These special goggles show how alcohol adversely affects both your vision and your reactions. Be warned: these goggles may also make you feel queasy!