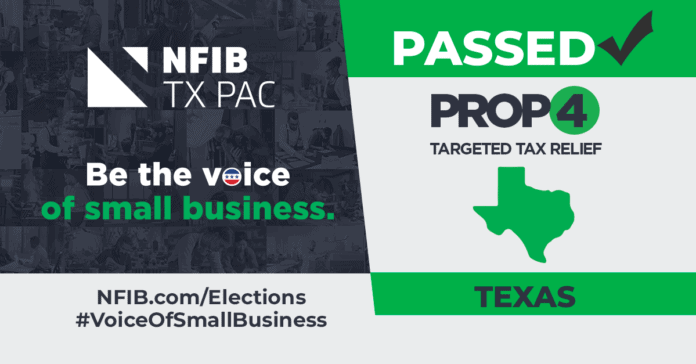 AUSTIN (Nov. 8, 2023) – Proposition 4, which provides $18 billion in meaningful tax relief for Texans, cruised to victory on Tuesday with 84% of voters supporting the measure.
"Our state's skyrocketing property taxes are among the highest in the nation and have pushed many Texans to the brink," NFIB Senior State Director Dawn McVea said following the tax relief's passage. "Between escalating tax rates, historic inflation, and the ongoing worker shortage, Texas job creators and the hardworking men and women they employ need meaningful relief. Prop 4 reigns in property taxes, making it easier for our small business owners to raise wages, create new jobs, and invest in their communities."
In addition to a $100,000 homestead tax exemption, lowered school district tax rates, a 20% limit on taxable value of non-residential properties under $5 million in value, and greater transparency on appraisal boards, McVea noted that Prop 4 builds upon targeted tax cuts for franchise owners, which will take effect in 2024.
"Earlier this year, the Legislature passed and the Governor signed into law meaningful franchise tax relief for 67,000 small business owners across the state," McVea said. "Taken together, tax relief is win-win for Texans, business owners, and the local and state economy."
About NFIB:
For 80 years, NFIB has been the voice of small business, advocating on behalf of America's small and independent business owners, both in Washington, D.C., and in all 50 state capitals. NFIB is nonprofit, nonpartisan, and member driven. Since our founding in 1943, NFIB has been exclusively dedicated to small and independent businesses and remains so today. For more information, please visit www.NFIB.com. To learn more about NFIB in Texas, visit www.NFIB.com/TX.