Dieters beware, Big Tex Choice Awards–the famous fried food competition for the State Fair of Texas— is back! All those calorie-laden, fabulous fried food creations that fairgoers crave will be waiting for us at this year's Fair (Sept. 24-Oct. 17).
Bix Tex preliminary round judges have picked 32 semi-finalists to compete for the three top awards. Winning a Best Taste Savory, Best Taste-Sweet, or Most Creative title means money in the bank for three lucky concessionaries. Contenders offer 19 savory and 13 sweet creations.
Best Taste Savory Semi-Finalists
Bacon Jam Corn Bombs –warm bacon jam over crispy corn hushpuppies with ranch dressing and candied jalapenos. (2) Country Fried Shrimp Grits-grits infused with shrimp and cheese, deep fried into squares covered with shrimp and crawfish sauce. (3) Crawfish Étouffée Stuffed Turkey Leg-slow smoked turkey leg stuffed with crawfish etouffee with side of rice. (4) Crispy Crazy Corn-sweet whole kernel corn battered, fried, with secret seasoning plus pulled pork and pineapple slaw. (5) Dallas Hot-smoked turkey frank in fiery seasoned batter, deep fried and covered with mac & cheese + fried jalepenos.
(6) Deep Fried I-35-Texas Road Trip! Fried kolache dough topped with beef brisket, peach juice and Dr Pepper BBA glaze and peach slices. (7) Deep Fried Seafood Gumbo Balls-shrimp, stewed chicken, crab meat, and andouille sausage fried and served with dark gumbo roux, topped with fried okra spears. (8)-Deep Fried Shrimp Étouffée-deep fried dumpling filled with hot rice and seasoned shrimp smothered in onion, celery, tomatoes, green peppers, and cheese served with creole mustard or chipotle ranch. (9) Frozen Ranch Water-Cool off from all those spicy fried foods with Texas fave adult beverage made from wine-based tequila with Topo Chico® and fresh lime topped with passion fruit, Paloma, or other sweeteners. (10) Hawaiian Luau-soft Hawaiian bun layered with honey mustard slaw, roasted pork, fried Spam, caramelized pineapple rings with honey glaze.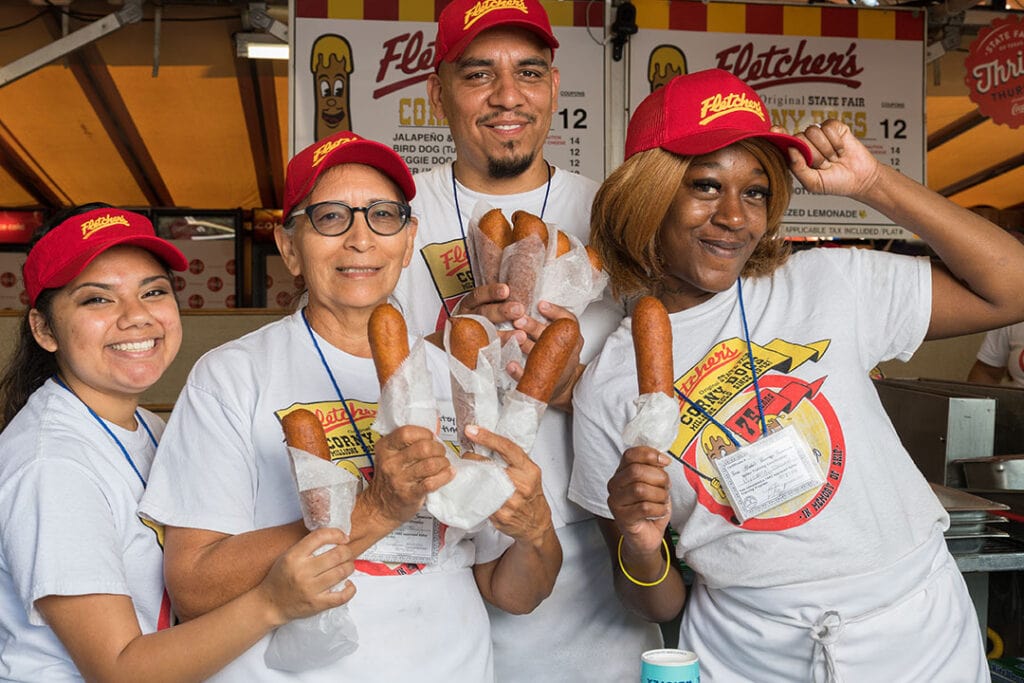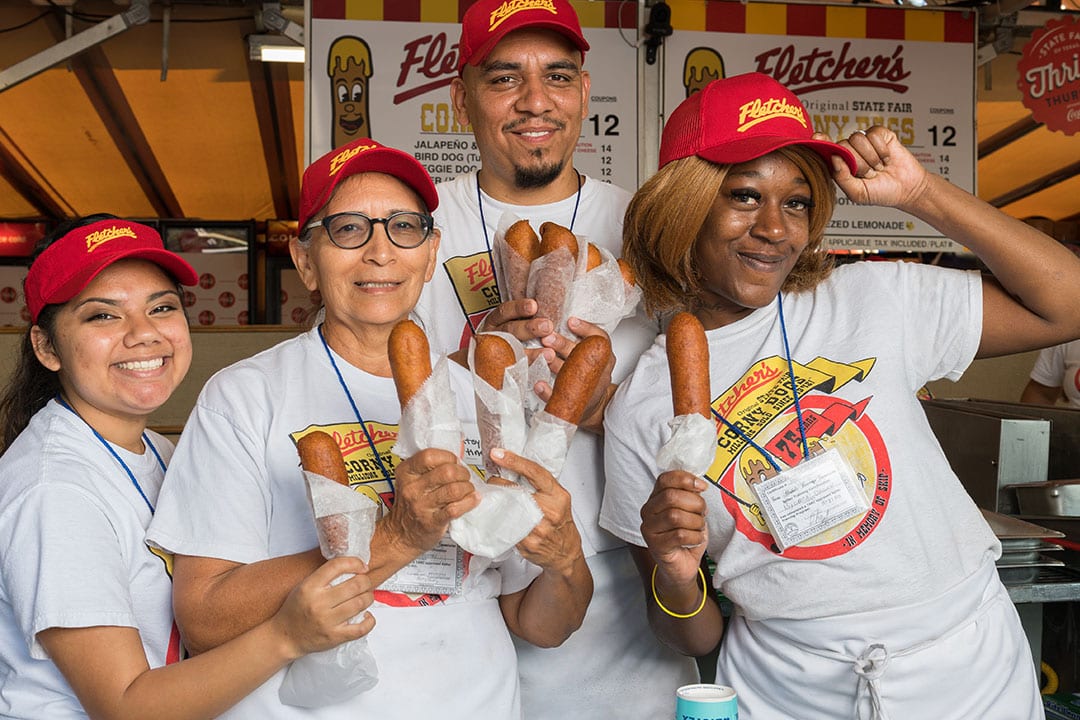 More Fried Food Entries
(11) Lobster Corn Dog-deep fried battered lobster cake with Remoulade for dipping. (12) Lucky Duck Dumplin'-pastry filled with cream cheese blended with duck bacon and sweet corn, herbs and spices, fried till crispy with 3 dumplin's served with spicy Thai chili glaze for dipping. (13) Pork Shots-smoked sausage wrapped in smoked bacon filled with mac and cheese topped with spicy BBQ rub. (14) Takis Locos –chips topped with smoked brisket, BBQ sauce, melted cheese, refried beans, dash of sour cream and pico de gallo + serrano pepper.(15) Texas BBQ Brisket Banh Mi-toasted Vietnamese baguette topped with smoked brisket, BBQ sauce, cilantro, cucumber and homemade pickled daikon radish and carrots served with honey siracha aioli, hoisin sauce, and fresh jalapeño slices.
(16) Texas Chicken Fried Steak Flauta Basket-CFS sandwich rolled in flour tortilla and deep fried burrito style (CFS fingers, lettuce, tomatoes and dill pickle chips served with curly fries and ranch dressing. (17) Texas Easter Eggs-spicy, creamy, cheddar cheesy Deep Fried egg-shaped meats, spices, peppers, cheese, decorated with Easter colored ranch sauce and served with dipping sauce.(18)Texas Fried Surf and Turf-filet mignon medallions filled with chunks of Langostino Lobster and jalapeno slice wrapped in hickory smoked bacon, deep fried and served with tempura fried asparagus and horseradish hollandaise sauce. (19) Twice-Fried Albondigas (Mexican Meatballs)-Spice beef rolle with browned rice,, chopped vegetables and seasonings, deep fried and battered, served on hearty tomato-based sauce topped with Crema Mexicana and cotija queso. (19)
Best Taste Sweet Semi-Finalists
Brisket Brittle-smoked Texas brisket replaces peanuts for old-fashioned brittle confection. (2) Deep Fried Pancakes-bite-size fried pancakes served with choice of maple butter, blueberry sauce, or pecan butter syrup.(3) Deep Fried PB & Razbrûlée-deep-fried peanut butter sandwich pocket topped with vanilla crème and turbinado sugar spinkles, broiled and caramelized to hard shell, topped with mixed berries. (4) Deep Fried Peach Cobbler Soul Rolls -sweet peaches in butter and spiced sugar mixture rolled into an egg roll and deep-fried, topped with cinnamon sugar, served with a side of Blue Bell Ice Cream®. (5) Deep Fried Ritz-Ritz cracker layered with strawberry-swirled cream cheese filling, dipped in batter, deep-fried and topped with fudgy chocolate glaze and sugar crumble with optional fresh strawberry topping.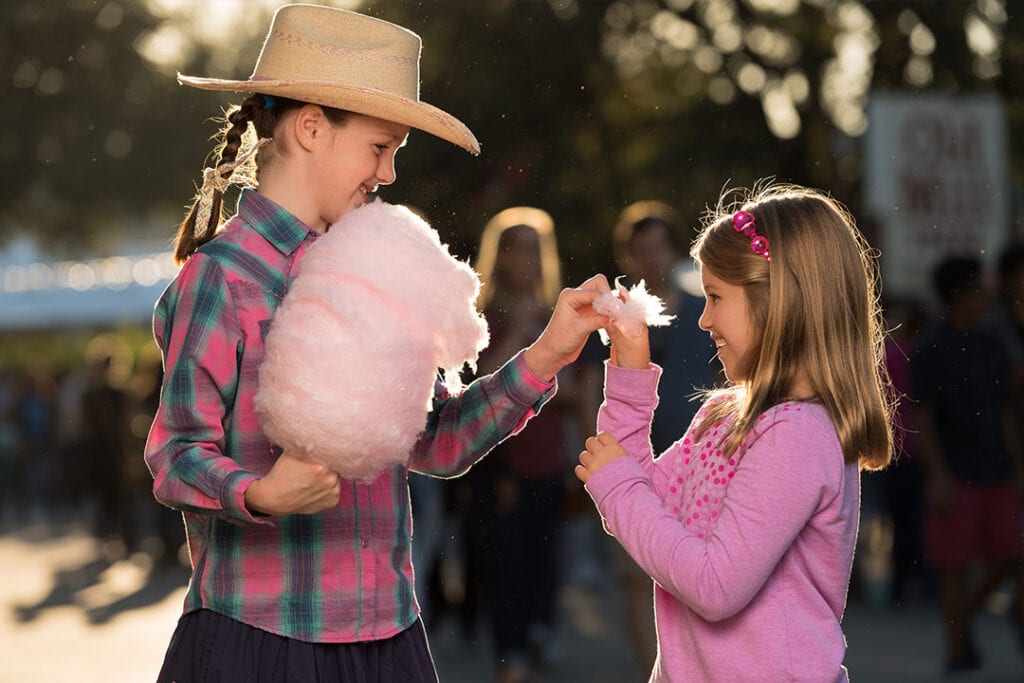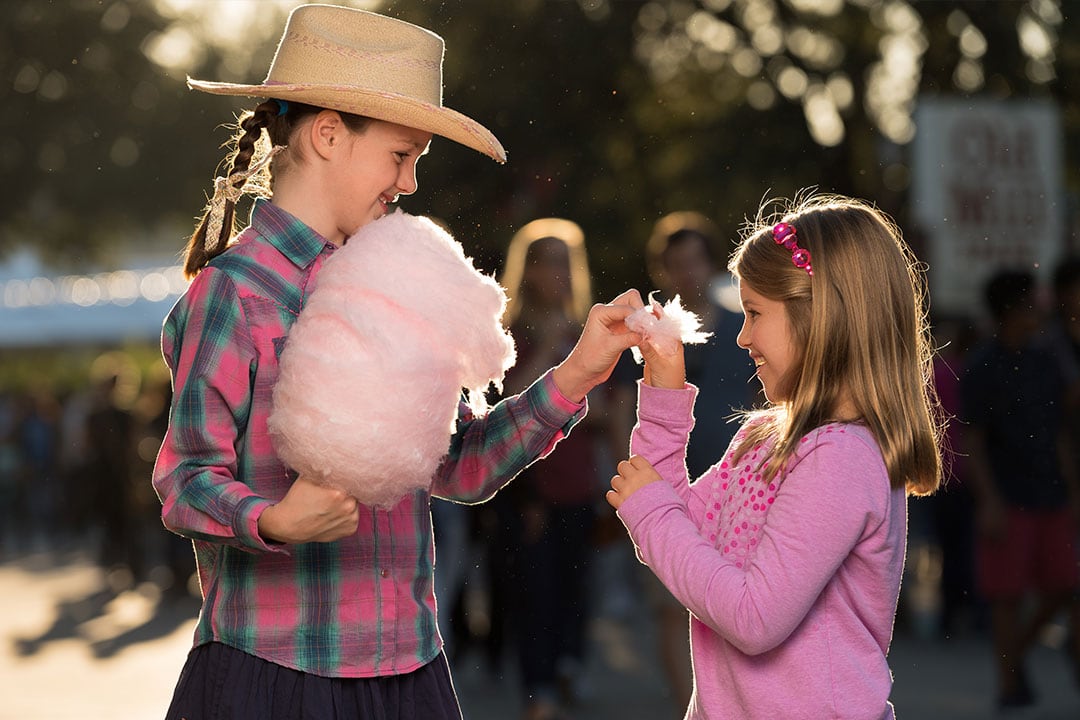 (6) Deep Fried Toffee-Milk Chocolate Toffee Square wrapped in flakey biscuit bite, deep-fried and garnished with powdered sugar. (7) -Deep Fried Halloween-Chewy pretzel fried and covered in candy corn syrup, rainbow sprinkles and powdered sugar, plus buttercream icing with candy crumbles (M&M, Reese's Pieces, candy corn, etc.) topped with marshmallow whip cream and Reese's Peanut Butter Cup crown plus Hershey's chocolate syrup caramel sauce. (8) Fried Capirotada (Mexican Bread Pudding)-bread layered with two shredded cheeses and a piloncillo (unrefined whole cane sugar) syrup with raisins plus aromatic spices, baked, then battered and fried, with whipped topping drizzled of dulce de leche, cinnamon and sprinkles.
More Sweet Entries
(9) Fried Toffee Coffee Crunch Cake-glazed cake donuts broken into chunks with English toffee and almond mixture blended with custard, fried to crunchy exterior served with powdered sugar and dollop of mocha coffee whipped cream, topped with toffee bar. (10) Going Bananas -banana rolled in funnel cake batter, deep fried and topped with whipped cream and drizzled with chocolate and peanut butter sauces. (11) Southern Fried Lemon Ice Box Pie Balls pie ball wrapped in pate sucree dough infused with graham crackers, lemon zest and brown sugar, flash fried and sprinkled with honey butter power and confection sugar, topped with Chantilly cream and garnishes. (12) Texas Pumpkin Poke Cake-Texas-shaped pumpkin cake with gooey vanilla glaze, silky caramel, topped with fluffy whipped cream, and lightly sprinkled with secret spice.(13) The Armadillo- Semi-frozen cookie butter Ice Cream sandwiched between two deep fried Armadillo-shaped cookies, dusted with buttery sugar.
Big Tex Choice Awards Judges
When the contest kicked off in earlier in July, there were 43 entries from 26 concessionaires. All competitors are required to have at least one year as a State Fair of Texas concessionaire to enter the contest. Food is a cornerstone of the Fair, and these contenders are authentic representatives of the dedication and passion brought to the Fair each year.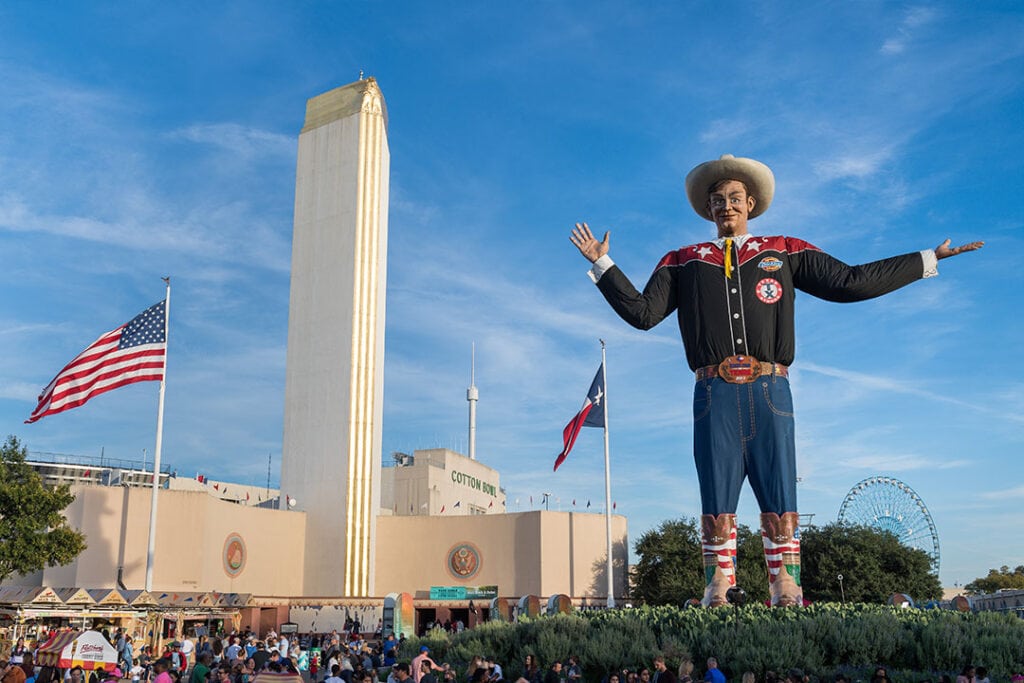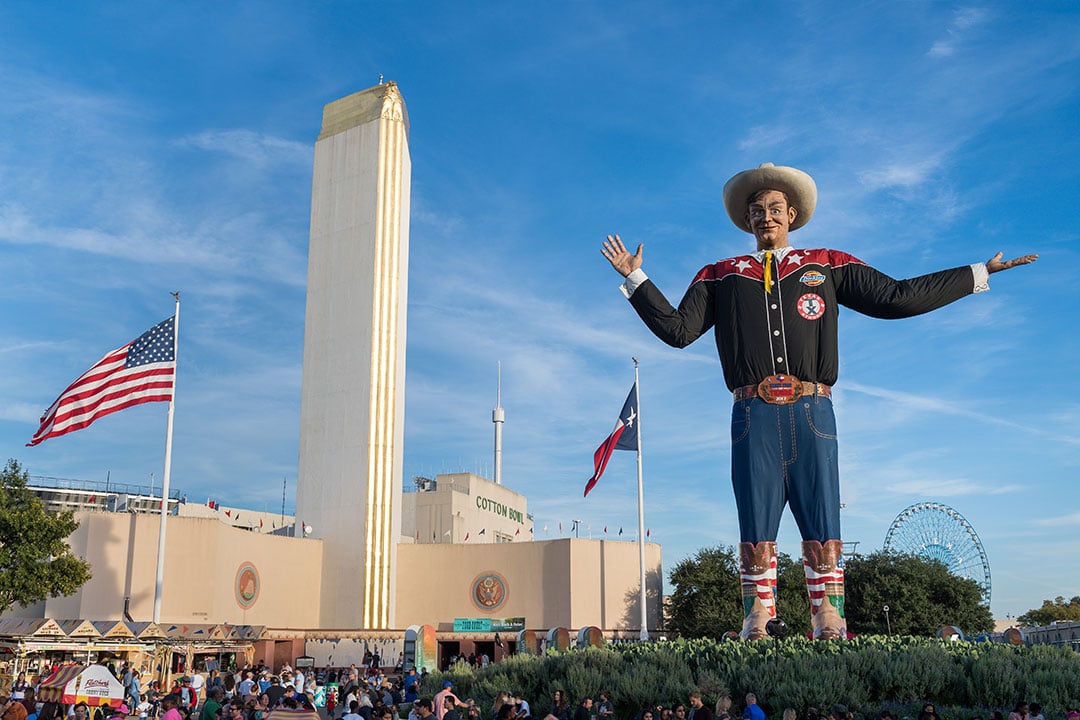 A panel of internal judges use blind judging from start to finish, allowing their scores to be based entirely on the food entry. The judges based their choices on the food name, photo, and description that looks and sounds most appealing to them, just as a typical fairgoer might do at the Fair. A second round of preliminary judging, the tasting round, judges the semi-finalists on four main ingredients: uniqueness, presentation, creativity and taste. The Big Tex Choice Awards ten finalists who will compete in the final round will be announced in mid-August. Concessionaires not in the final ten may still choose to bring their creations to their booth at the Fair.
Season passes are on sale now at BigTex.com for the 2021 State Fair of Texas, Sept. 24-Oct. 17.