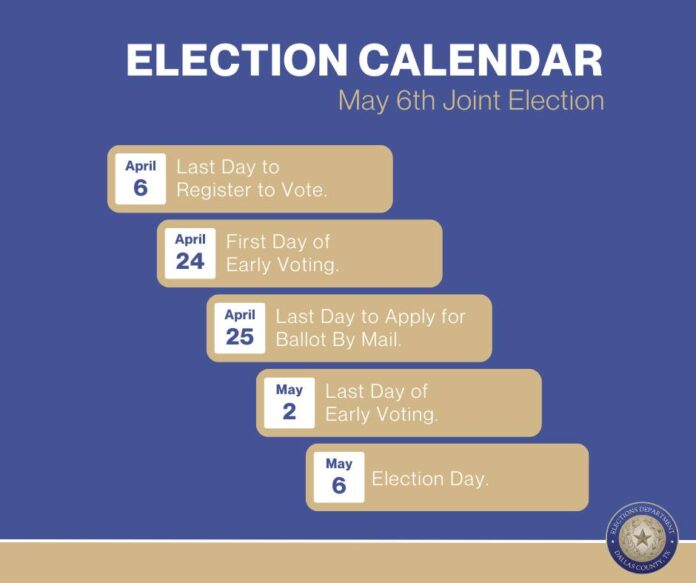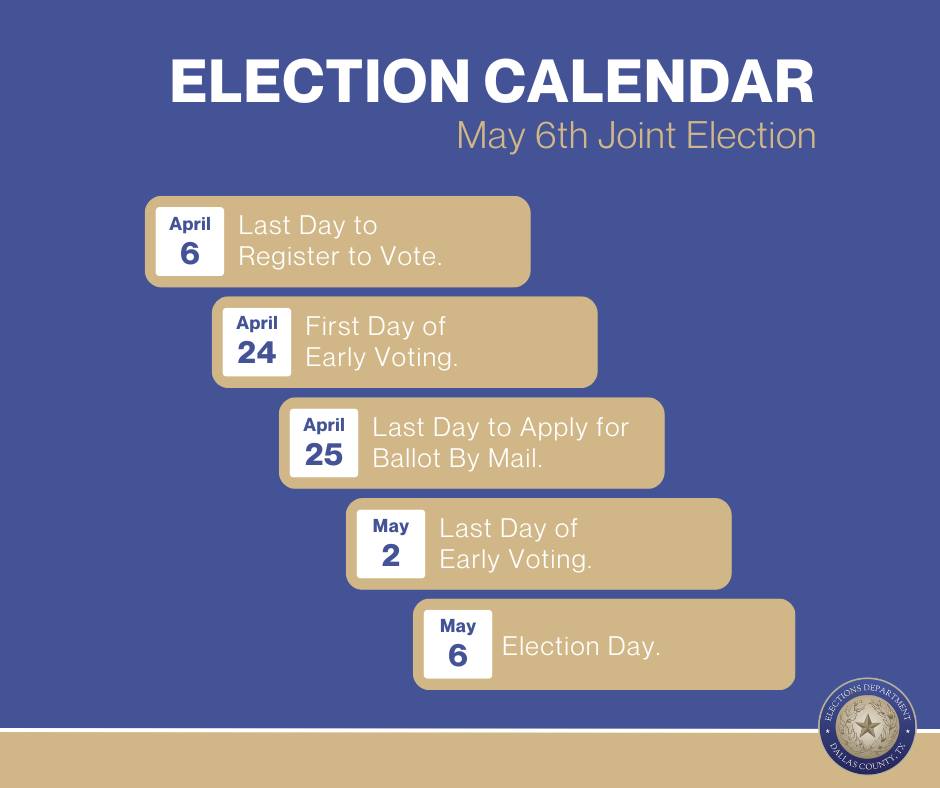 The upcoming City Council elections will be held on Saturday, May 6, 2023. The deadline to register and be eligible to vote in the May 6 General Election is Thursday, April 6, 2023.
Early voting will take place beginning Monday, April 24, 2023, through Friday, April 29, 2023, from 8 a.m. to 5 p.m., Sunday, April 30, 2023, from noon to 6 p.m. and Monday, May 1, 2023, and Tuesday, May 2, 2023, from 7 a.m. to 7 p.m.
May 2023 Cedar Hill City Council Elections
Place 2:
Incumbent Daniel Haydin, Jr. is running unopposed. Haydin has been a member of the Cedar Hill City Council since 2000 and served for three years as Mayor Pro Tem.
Place 6:
Gerald L. Malone – Malone works in quality control for Bell Helicopter as the senior lead of the composite structural test lab. Since 2014, he has served on the Beautification & Environmental Sustainability Board, most recently as Vice Chair in 2019.  He was appointed to the 2017 Bond Committee as well as the Comprehensive Plan Committee (2019-2021).
Bertha Middlebrooks – Middlebrooks is retired and is a board member of the Cedar Crest Neighborhood Cedar Hill Public Improvement District #6, she is also an Army Veteran.
Kiphani Allen – Allen is a treasury manager at Rexel, a provider of a wide range of electrical supplies for industrial, commercial & residential use.
Maranda Auzenne – Auzenne is a Senior Vice President, Property Management at Trademark Property Company.
Darian Pace – Pace is a member of the Cedar Hill Neighborhood Advisory Board and a customer service account manager as listed on the candidate application.
May 2023 DeSoto City Council Elections
Place 2:
Gilbert Graim, Jr. – Graim is a property director at a national family-owned property development and management company. He has completed several local multifamily projects including Locale Apartments, The Branch Apartments, Bandera Preston Hollow, The Maddox, The Brady, and Aura Watson Branch apartments. He is also a licensed minister, certified motivational speaker, and entrepreneur.
Pierette Parker – Parker is a 20+ Desoto resident and a Real Estate Professional and Business Owner within the IT Industry. She is currently the Precinct Chair for Precinct 3617 and is the Park Board Chair on the Desoto Parks and Recreations Advisory Board, and Parliamentarian for the National Association of Real Estate Brokers Dallas Chapter.
Emmanuel Johnson – Johnson did not respond by the press deadline.
Place 4:
Incumbent Andre' Byrd, Sr. – Byrd was elected in May 2019 to fill an unexpired term on the City Council and is a Founding Pastor of the New Covenant Christian Fellowship Church.
Erika Estes – Estes is a Real Estate Broker at Erika Estes Real Estate Brokerage. I am Erika Estes, and I have been a community activist my entire life. I must, I will, I am the voice for the community period.
May 2023 Duncanville City Council Elections
At-Large
De Monica Gooden – Gooden currently serves as Chair of Duncanville's Neighborhood and Vitality commission. She has a Master of Public Administration (MPA), alongside a BA in Journalism and Mass Communication. She worked with the City of Dallas as an Environmentalist educating the public on environmental concerns, works on various Capital Projects, and served as the Chair of Employee Advisory Council.
Patrick LeBlanc – LeBlanc works with the Bridging the Gap Foundation and is an advocate with a history of working in the non-profit organization management industry. He graduated from the Dallas Theological Seminary.
District 1
Joe Veracruz – Veracruz is a 25-year military veteran with the Texas Air National Guard, who deployed to Iraq, Afghanistan, and Desert Shield/Desert Storm. He has served 26 years with Dallas Fire Rescue Department and is now a Lieutenant. Veracruz served as Duncanville School Board Trustee Secretary in Place 3 and is also a member of Keep Duncanville Beautiful.
District 3
Incumbent Jeremy Koontz – Koontz graduated from St. Mary s University in San Antonio with a BA in English Literature and Language, and a minor in Geological Studies. He has spent over 15 years as a music educator, concert pianist, and recording artist, starting and managing a very successful studio for private and group piano lessons. He has served on the Parks and Recreation Board and volunteers at the city's senior center.
La'Trena Barrett – La'Trena Barrett is a Duncanville native and has lived in district 11 years and 8 months. She is a graduate of Duncanville High School and earned an MBA in Finance at Texas A&M University – Commerce, an MBA in Marketing at The University of North Texas and BBA in Marketing at The University of North Texas. La'Trena is a U.S. Army Veteran that served in Operation Iraqi Freedom. She previously served on the Duncanville Boards and Commissions Multicultural Social Engagement Partnership as Chair, Vice Chair, and Member. She is a Financial Risk Management Professional.

District 5
Incumbent Greg Contreras – Contreras retired as Duncanville's Building Official before being elected to the City Council in the last council election.
Homer Fincannon – Fincannon is a retired professional who has lived in the City of Duncanville for 61 years and has been active in addressing city concerns as a voice for the people for many years.
May 2023 Lancaster City Council Elections
District 2
Incumbent Stanley Jaglowski – Jaglowski has been on the City Council since 2011. In 2019, he achieved the "Award of Excellence" from TML for completing five continuous years of CMO status, bringing state-wide attention and recognition to the City of Lancaster. In 2015, he was appointed to serve on Lancaster's Tax Increment Financing Reinvestment Zone (TIRZ) Board of Directors. In 2016, he served on the Appointment Committee for the Texas Association of Mayors, Council Members, and Commissioners and served on the TML Resolutions Committee in October 2018 and the TML Legislative Committee in August 2018, and 2020. and 2022.  Jaglowski was also elected to serve as Secretary of TML Region 13 in September 2019 and was elected Vice President in February 2021.
District 4

Incumbent Keithsha Wheaton – Wheaton graduated at the top of her class from David W. Carter High School. In her pursuit to find her purpose in life after graduating, she enlisted in the United States Army and served active duty for four years. Since leaving military duty, Wheaton has held positions in several different agencies with the federal government. Those agencies include the Federal Railroad Administration (FRA), Dallas VA Medical Center, Federal Aviation Administration (FAA), Census Bureau, Small Business Administration (SBA), Federal Deposit Insurance Corporation (FDIC), and the General Services Administration (GSA).
Derrick D. Robinson – Robinson is a private money lender and has lived in Lancaster for 25 years. He has sat on the city council in the past and said he is seeking re-election again because the community has reached out and asked him to do so. His goal is to be an advocate and voice for the community while continuing to create relationships between the city and its residents. When previously serving on the Lancaster City Council he was also elected as the youngest deputy mayor tem to ever serve in the city.
District 6
Incumbent Gooden-Davis – Davis was elected to the City Council in 2020. A native of Beaumont, she moved to Lancaster in 2004 and is a member of the Texas Association of Black City Council Members (TABCCM) and a life learner of City Government for progress. She was an educator for 28 years, served as a teacher mentor, member of the School Improvement Committee, and member of Parent-Teacher Organizations. She holds a bachelor's degree in Interdisciplinary Studies and a Master's of Education in Administration.
2023 Midlothian City Council Elections
Mayor Unopposed
Justin Coffman – A lifelong Midlothian resident, with five years on the City Council and three as Mayor Pro Tem. Coffman said "My commitment to you remains the same whether I am in an active campaign or not….my door is always open to healthy discussions that will better the community for all Midlothian's citizens. I am transparent, I am honest and I am available to you. Together, we will all ensure that Midlothian remains a fantastic community well into the future."
Place 1
Incumbent Wayne Sibley – Sibley is currently retired and has sat on the Midlothian City Council in Place 1 since 2011. Before that, he sat in the Place 5 seat from 2005 to 2009. He has lived in the city for 18 years.
Allen Moorman – Moorman has lived in Midlothian for five years and said "Ever since moving here, our family has fallen in love with this community and it has truly become home." He believes through his experience as a small business owner as well as serving on the Midlothian Community Development Corporation board for the last three years, he has a true understanding of the community needs if elected to the City Council. He said his primary focuses as a councilman will be strategic planning and economic growth.
Allen McKeever – McKeever is a contractor who has lived in Midlothian for 45 years. He is a contractor and Realtor and said he entered the City Council race with a deep love for the city and a passion for helping manage the upcoming massive overhaul to the downtown area. His focus will be budgeting, property taxation, downtown development, and possibly small business implementations and grants.
Place 2
Incumbent Walter Darrach – Darrach has been on the Midlothian City Council since 2020. He has lived in Midlothian for 10 years and said "I care about what our tomorrow looks like. I think it is important that we hold true to our core values and community strength while keeping a fixed eye on our future." He said he believes Midlothian residents value safety, security, family, and diversity at the core and if elected would like to turn his focus on process improvement; reduce staff workload, project delays both public and private, and help to usher in a clear path for residents and business partners overall.
Mike Rodgers – Rodgers has been a Midlothian for over 40 years and said he is a conservative, Texas born and raised. He is a Midlothian small business owner, involved in Church leadership, and has served Midlothian for 21 years on various boards, and for three previous terms as a Midlothian City Council Member.  If elected he would like to focus on lower-density growth that provides a rural town lifestyle, leadership that incorporates all voices at the table, working together, finding alternative revenue sources to lower the tax liability threshold, and solutions to Midlothian Travel Corridor issues.
Place 5
David Hurst – Hurst sits on the Midlothian Community Development Corporation (4B) board. He is an architect who has lived in Midlothian for almost seven years and said "My career isn't politics, and never will be." At the city level, he said he has a heart for small businesses and business owners and has a deep interest in how Midlothian is growing and building.
Edward Gardner – Gardner is the President of MFR, Inc and has lived in Midlothian for 17 years. Gardner said, "Let's preserve and protect what makes Midlothian so special together."
We linked to social media or candidate webpages for those we could find.