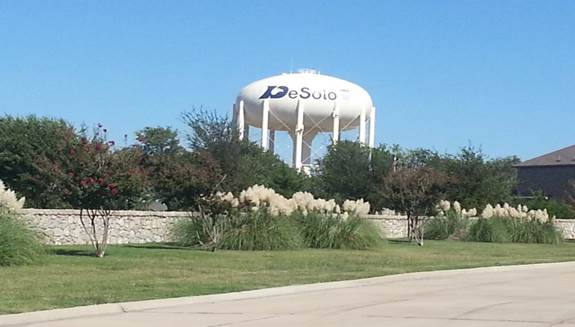 DESOTO—A major water line break has forced conservation efforts throughout the city of DeSoto early Tuesday evening.
According to reports, there were several water main breaks throughout the city.
"Effective immediately the City of DeSoto Department of Public Utilities (DPU) is asking customers to conserve water due to several water main breaks in the city," said a statement from city officials.
The City's 200 plus miles of water main are buried beneath the ground surface. As a result of age, condition, environmental factors, or other problems, pipes occasionally break.
According the DPU web page pipes in the city of DeSoto are more prone to water main breaks in the winter and spring. The extreme weather changes can cause ground shifts placing an unusual amount of stress on the water main lines.
"We are asking that you please refrain from all nonessential water usage such as washing laundry, washing dishes, bathing, outdoor watering, etc., until repairs are made. As soon as the repairs are complete, notification to resume normal water usage will be provided."
The City of Desoto uses approximately 5,744,020 gallons of water per day or 114 gallons per person.
What Happens When A Break Occurs
When a break occurs, crews work quickly to make the repairs and restore the water service. To make a repair, the water usually must be shut off.
The city makes every effort to notify residents before this occurs. However, due to the emergency nature of the repairs, some notification may not be possible. A water main break usually takes three to six hours to repair.
Report A Water Main Break
Water main breaks are a serious problem and require immediate attention by city maintenance crews. Signs are: water bubbling up through the ground, a wet area appearing during dry weather, or a loss of water pressure within a service area.
Resident can notify the City of DeSoto Water/Wastewater Department by calling 972.230.5724 Monday – Friday 8 a.m. – 5 p.m. or 972.780.6641 after hours and on weekends.