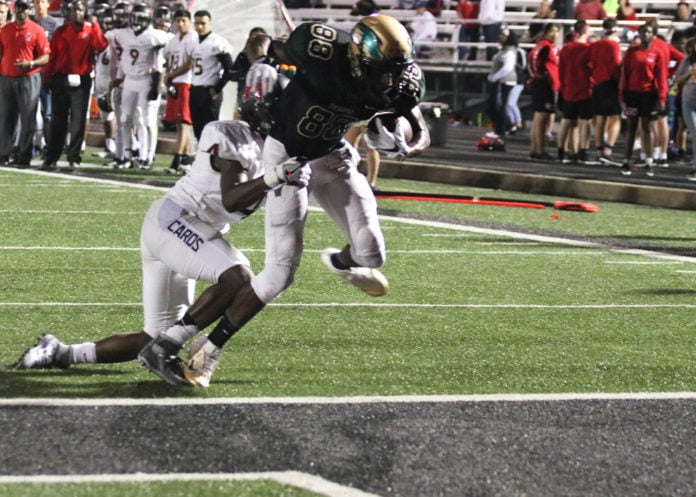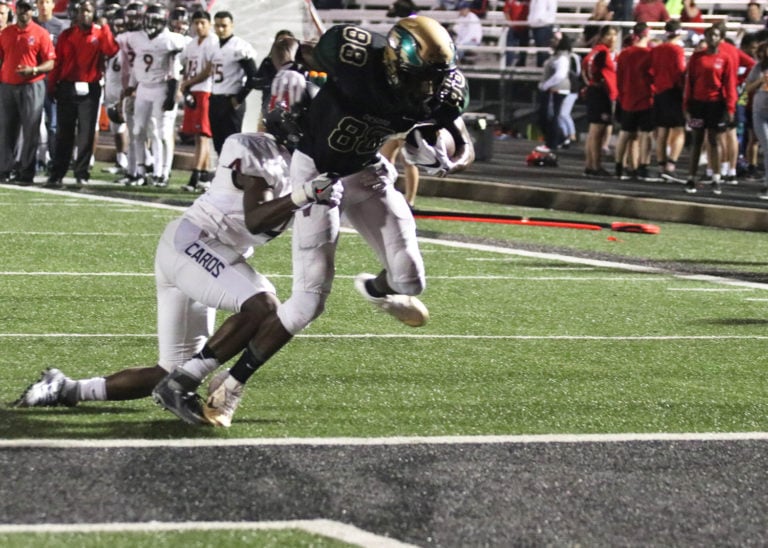 DESOTO—After massacring the Irving MacArthur Cardinals Friday, 48-7, the DeSoto Eagles remain undefeated. With my prediction way off, guess I'll stick to covering high school football and leave the gambling to the professionals.
With one solitary score in the last two minutes of the game the Cardinals were held to less than 70 passing yards, suffered two turnovers and only posted seven points. They were simply out matched.
During the opening drive, DeSoto Quarterback Shawn Robinson looked to have some trouble connecting with his receiving corps. But three consecutive rushes for a gain of 20 yards made up for the passing problems and got the Eagles back on track.
DeSoto High School football quarterback Shawn Robinson left the game with a 28-0 lead with 3:39 left in the third quarter. He completed seven of 18 passes for 168 yards.
He threw one touchdown on a screen pass to Emmet Perry that the senior receiver took 79 yards to the end zone. Perry finished the game with five receptions for 131 yards and three touchdowns.
Irving MacArthur did not score until Montrail Walker caught a 47-yard touchdown pass with two minutes left in the fourth quarter. Sophomore running back Gabriel Sanders was the workhorse for MacArthur, gaining 125 yards on 22 rushing attempts.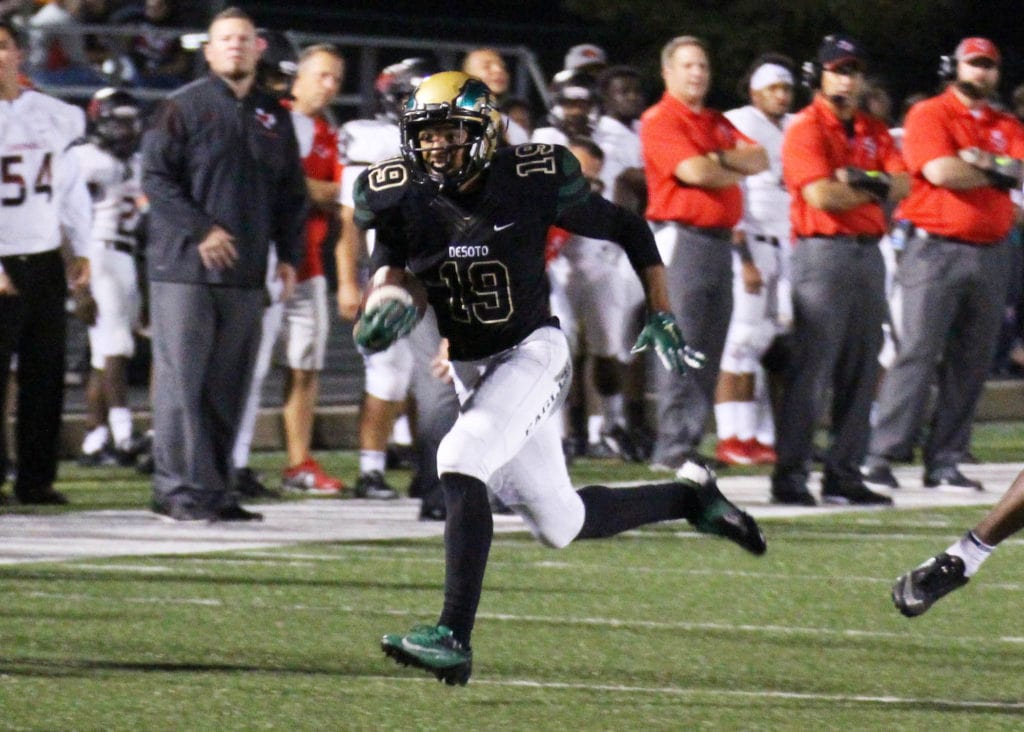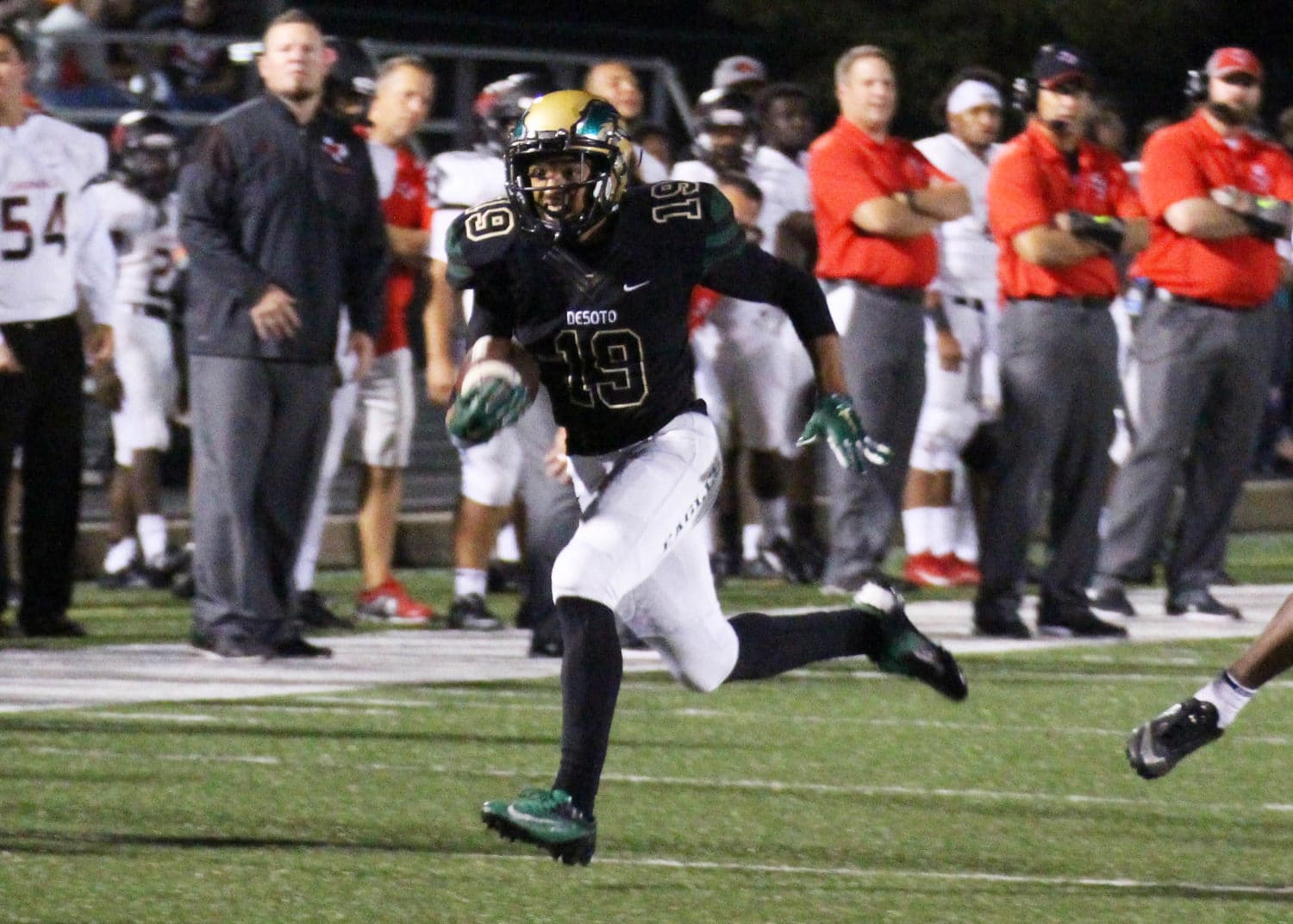 Touchdowns Against Cancer
This week the Eagles raised $70.00 for the fight against childhood cancer by scoring 7 touchdowns against the Cardinals. That brings the Eagles' total raised to $110.00 and the national total to $102,284.78!
The first ever Touchdowns Against Cancer campaign, is sponsored by MaxPreps and PLEDGE IT during games in the months of September and October.
By visiting the website and following the prompts to DeSoto High School, fans and the community can donate to the St. Jude Children's Research Hospital on a per-touchdown basis over the next three games. Donating is quick and easy!
Friday, Oct. 7 the Eagles are on the road to Gopher Stadium to face Grand Prairie at 7:30 p.m.