Coach Cathy Self-Morgan, Four Other Honorees Inducted into Duncanville ISD Hall of Honor
An appreciative group of Duncanville ISD alumni, faculty members and fans turned out to applaud Pantherette Head Coach Cathy Self-Morgan and four others as they were inducted into the DISD Hall of Honor Jan. 8. DHS alumni Sam Lowe, Tiffany Jackson, Shelley Finger and Lori Sutherland Roditi were also inducted into the class of 2017.
Following a 6:30 p.m. reception, a 7 p.m. program in DHS Tom and Verda Shine Performance Hall showcased the five honorees' outstanding athletic achievements. Coach Self-Morgan, in her 18th season as coach of the Pantherettes, was introduced by her husband, Jack Morgan. While Coach Self-Morgan has been recognized nationally for her achievements, she said it was especially great to be honored by those she considers her extended family.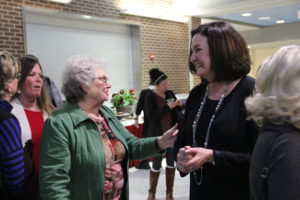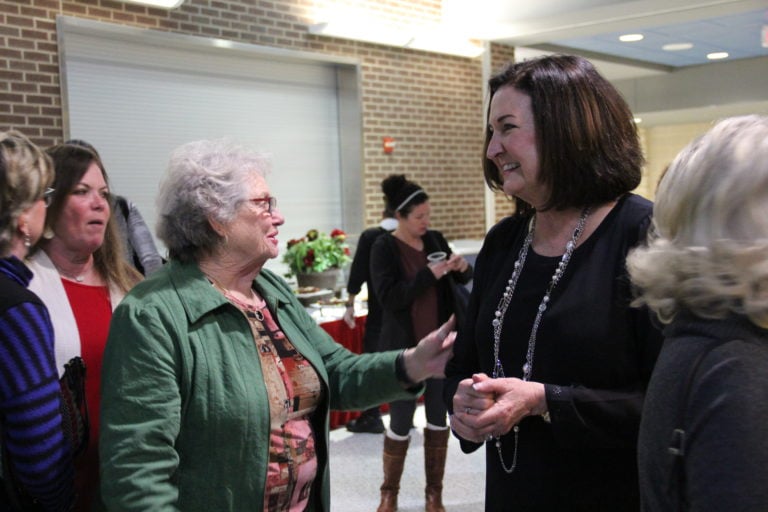 She praised the home pride tradition at Duncanville High School, where some fans have been in the home stands over 50 years. She said this loyalty is an important factor in their winning tradition. "When the fans meet the players, they love them; in return the players want to play their best for our family."
Looking especially radiant in black cocktail attire, Coach Self-Morgan said she was still excited about how well some of her Pantherettes handled a major network TV interview the night before. Appearing on WFAA TV sports talk program, four Pantherettes: Zaay Green, Kris Marsh, Aniya Thomas and Lamoyah Lott, joined the coach to discuss their successful team. They talked about the importance of tradition in playing for Duncanville High School, and how great to have former Pantherettes plus so many longtime fans come to their games. The team motto this season is taken from Proverbs, "Iron Sharpens Iron."
Four Duncanville High School Graduates Inducted Into 2017 Hall Of Honor
Sam Lowe: 1991 DHS graduate Sam Lowe, a member of Coach Phil McNeely's first State Championship team that year, was introduced by former Hall of Honor inductee Coach McNeely. Lowe said he grew up in Duncanville and attended DISD schools all 12 years. He felt that growing up in a town with one high school, where everybody supported the teams and attended all the games, helped him be successful in college and guided his career path.
Immediately upon graduating from the University of Texas, Lowe started a career at Great American Sports. He has assisted their growth to become the leading youth basketball tournament provider in Texas and one of the top providers in the country.
Tiffany Jackson: played for Duncanville Girls Basketball State Championship team in 2003, was unable to attend the Hall of Honor event. Now in her ninth season for WNBA, she plays for the Los Angeles Sparks and they had a game in Israel that day. In Tiffany's absence, Kristina Robinson introduced Tiffany's mother, who accepted the award for her.
Tiffany played for the University of Texas women's basketball team (2004-2007) with 103 starts. Selected in the first round of the 2007 WNBA draft by New York Liberty, where she played until 2010 when she was acquired by the Tulsa Shock before going to the Sparks.
Dr. Shelley Finger: a 1991 DHS graduate and a three-year starter on the varsity soccer team as goalkeeper, was introduced by Dave Rubinson. After assisting the Panthers to three district and bi-district titles, one regional runner-up title, and the 1990 UIL State Soccer Championship, she attended the University of North Carolina. There she was a four-year NCAA Division 1 National Champion, an All-American, Academic All-American, Final Four All-Tournament Team member and three time all-ACC team member.
After graduating from the College of Veterinary Medicine at Texas A&M University, Dr. Finger is a practicing veterinarian and medical director of a large veterinary hospital. She also coaches goalkeepers and mentors local youth in the field of veterinary medicine.
Lori Sutherland-Roditi: A 1998 graduate of Duncanville High School, Lori Sutherland-Roditi was introduced by former Hall of Honor inductee Bryan Widditt. As the most decorated female golfer for DHS, she was four-time district champion. She won eight high school tournaments, four of them during her senior season. With a golf scholarship to Texas Christian University, following her graduation she competed on the LPGA Futures Tour and the West Coast Ladies Golf Tour.
As a professional golfer, Sutherland won the 2003 Texas Women's Open. In 2007 she returned to TCU as the assistant women's golf coach. During her time there, TCU qualified for NCAA post season play from 2007-2014. While coaching there she met her future husband, TCU men's tennis coach David Roditi, and they now have two young sons.