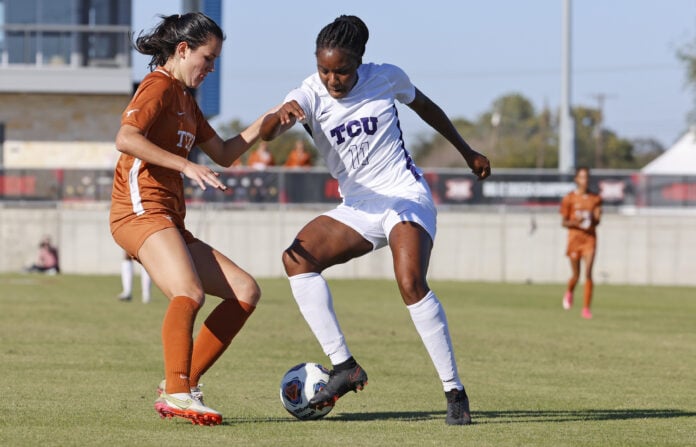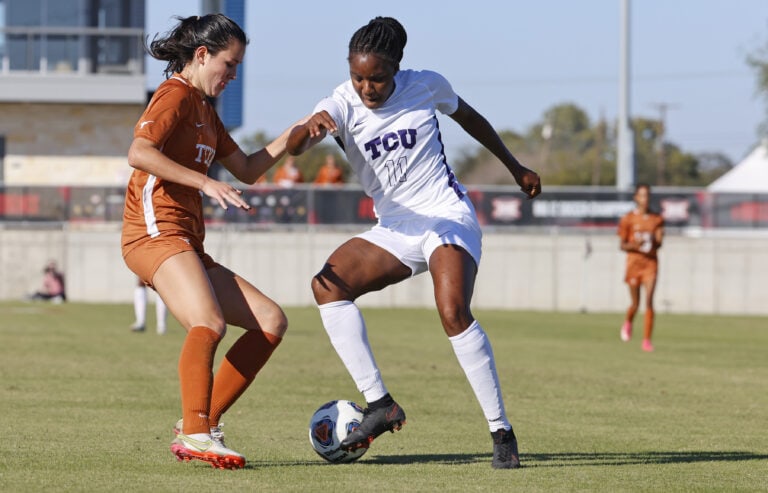 Three Goals In One Game
In one of the biggest games of her career, TCU senior forward Messiah Bright, a Cedar Hill High School Class of 2018 Graduate, played her best game.
Bright scored a career-high three goals, including the game-winner in double overtime as the eighth-ranked Horned Frogs (19-2-2) defeated Ivy League Champion Princeton, 3-2, in the second round of the NCAA Division I Women's Soccer Tournament, also known as the College Cup.
"It felt good because I'd come so close to scoring three goals in a game," Bright said. "Being able to finally get it was an achievement I wanted to accomplish."
The game was a virtual home game for Princeton. It was played at Yurcak Field in Piscataway, New Jersey – just 21.6 miles from the Princeton campus.
The road doesn't get any easier for the Horned Frogs. They will face top-seeded/host Rutgers (19-3), the Big 10 Conference Regular Season Champion and the #5 team in the country, at noon Sunday in Piscataway. The Scarlet Knights are 14-2 in Piscataway, losing only to Princeton in September and in the Big 10 Tournament Championship Game to Michigan on November 7.
The Horned Frogs won the Big 12 Conference Regular Season and Tournament Championship, and this is Bright's fourth time competing in the College Cup.
TCU has exceeded its tournament run in each passing season, from a first round appearance in 2018 to the second round in 2019. Last season, they reached the Elite Eight.
The program has never reached the Final Four, but that is the goal. This year's Final Four will be played in Santa Clara, California.
Leading the Big 12 In Scoring
Bright led the Big 12 in scoring with 17 goals, along with six assists. She also led the Big 12 in four other categories – goals per game (0.74), points (1.74), shots (4.22) and shots per game (4.22).
She hopes to play professionally but has one more season of eligibility at TCU, in 2022. During her career, Bright earned First Team All-Big 12 honors as a sophomore and Second Team as a junior. In 2018, she was Co-Freshman of the Year.
Bright grew up in DeSoto and moved to Cedar Hill during her sophomore year in 2015-2016.
Bright, who has played soccer since age 4 and competitive soccer since age 7, played for Cedar Hill in 2016 under then first-year head coach Jodi Calloway, earning District 8-6A Offensive MVP honors.
After that, she continued to play competitive soccer for Mustangs FC and Solar Chelsea, but instead of CHHS Soccer, she chose to participate in Track & Field, reaching the Regional Meet in the relays and High Jump.
Bright was also part of the Red Army flag team during Longhorn football games.
When it came time to choose a college, Bright decided to stay in the Metroplex. She's studying Strategic Communications with a minor in Sociology at the Fort Worth-based university. Bright has twice earned First Team All-Big 12 Academic honors.
"TCU felt like home, and I wanted my family to be able to go to games as well," said Bright, who turns 22 in January. "I've been able to turn friendships into family, and my time here has been amazing."