Cedar Hill Students Get A Taste Of The 'Good Life'
CEDAR HILL—It wasn't your traditional middle school cafeteria setting. Last week, Cedar Hill middle school students were treated to lunch on white tablecloth with cloth napkins, glassware and table décor. It was truly a fine dining experience.
Around thirty honor rolls students in sixth, seventh and eighth grade at Bessie Coleman Middle School in Cedar Hill were treated to this special lunch. While the select group of students were recognized for their good grades, the event held a double meaning.
This fine dining hour also afforded student leaders an opportunity to learn proper etiquette and soft skills needed in the workforce.
"The dining experience also included a learning experience in the process, which made the day even better," Bessie Coleman Principal Jason Miller said.
The five course meal included: tomato bisque soup, green salad with dressing, lemon sorbet, chicken cordon bleu with green peas and carrots, rice pilaf and bread and a chocolate mousse with strawberries.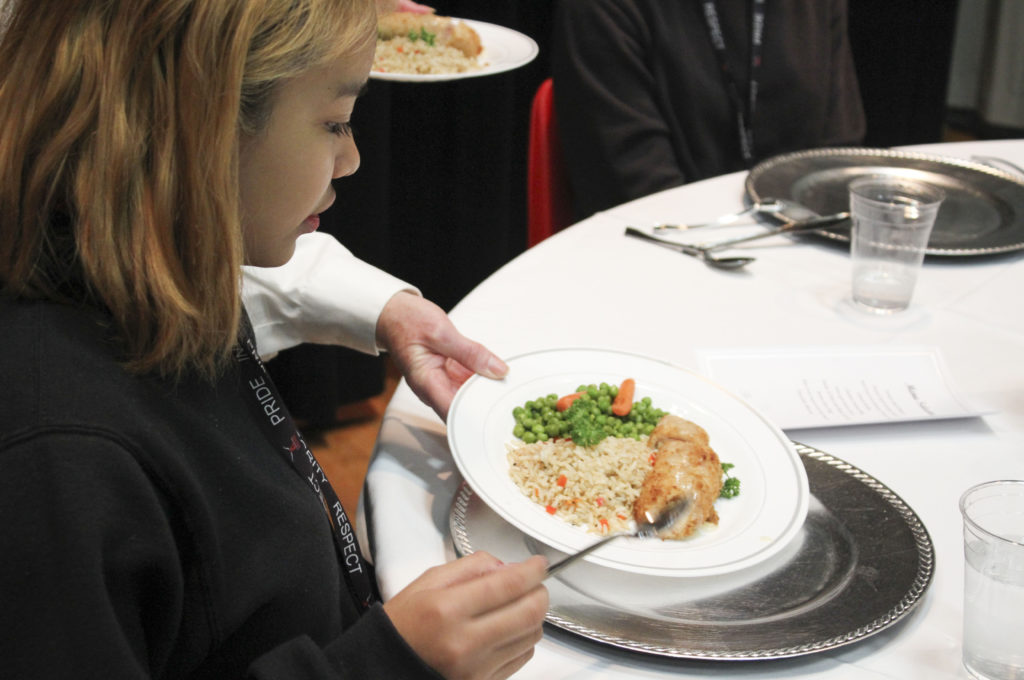 Soft Skills For Success
Background music played while the boys and girls were served by waitresses wearing white shirts and black ties. Pam Watson, Cedar Hill ISD's Nutritional Services Director provided etiquette techniques.
Watson spoke with the students at length about the importance of sitting up straight, selecting the correct utensil and more.
Additionally, the boys even practiced the courtesy of pulling out chairs for the girls.
Jamie Brown, Cedar Hill ISD Public Information Officer said "One young lady was surprised and kept moving from chair to chair because she thought a boy was claiming it, rather than being polite."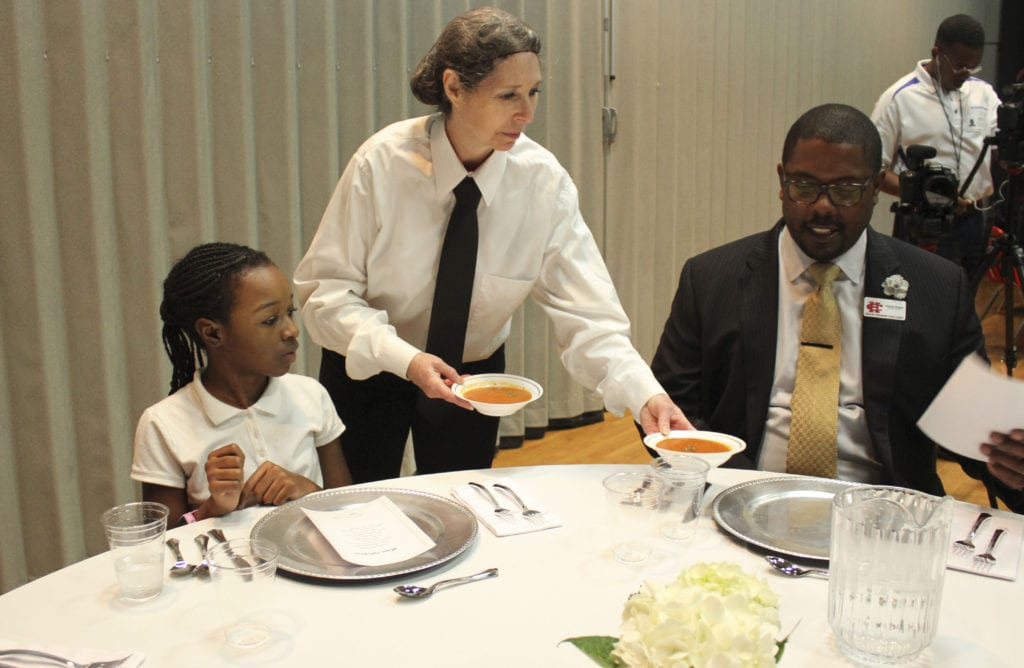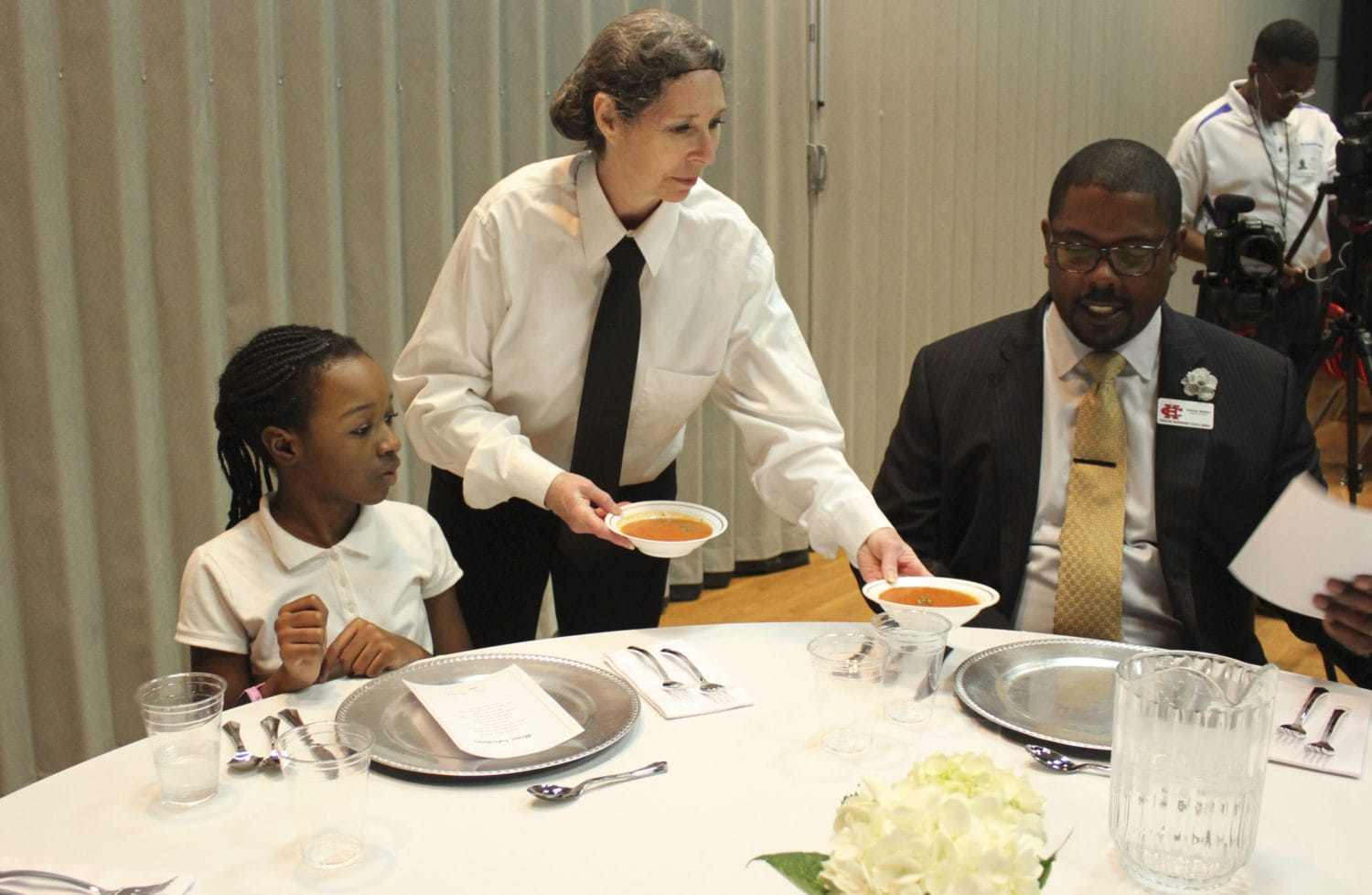 Creating Leaders
"Cedar Hill ISD is preparing students to become leaders," said Cedar Hill Superintendent Orlando Riddick. "Part of providing a comprehensive learning environment includes instruction for skills they will need in college and the workforce. Furthermore, what they learn during this event will stay with them for the rest of their lives."
The lunch is done in cooperation with Sodexo, the nutritional services provider for Cedar Hill ISD.
"Everything went well," Brown concluded. "The students had the opportunity to experience new foods. They seemed surprised by the intermezzo, the third course. An intermezzo is traditionally a sorbet. The lemon-flavored dish followed the salad course. Like most, many students never had what is usually reserved for dessert in the middle of their meal."
More lunch experiences are expected at additional campuses in Cedar Hill in the future. In the meantime, Brown said the district is working out the schedule for the remainder of the year.