Written by: Typhani Bartholomew
LANCASTER, Texas — Walking out of the Lancaster High School cafeteria kitchen with her head held high, Javayah Fernandez was confident in the Stuffed Baked Potato recipe she had prepared for the Sodexo Future Chefs Challenge.
Fernandez and seven other elementary students across Lancaster ISD participated in a junior cooking competition on Wednesday, March 22, 2023. Late last year, the students submitted their recipes to the Child Nutrition Department to be considered for the challenge. The top eight recipes were chosen based on their originality, ease of preparation, ingredient list, and kid-friendliness.
"The Child Nutrition Department is so excited to host our fourth Future Chefs Challenge," Lancaster ISD District Executive Chef Brittany James. "Sodexo is always about providing a healthy, nutritious meal. When we do our future chef competition, we highlight and educate the students on the importance of cooking healthy meals at home."
After words of welcome from Lancaster ISD Sodexo General Manager Leroy Claborn and Superintendent Dr. Perera and a quick photo session, the eight junior chefs lined up at their stations in the kitchen. First, Chef Brittany reviewed kitchen safety rules and explained the contestants would have one hour to prepare their dishes.
Claborn says that having a cooking competition for students is a great way to develop new skills.
Kids have so many talents, and a cooking challenge helps them discover skills they may not have even known they had," expressed Claborn. "The challenge also helps them find the joy in cooking and understand how to make healthier choices and prepare healthy meals."
As the chefs worked diligently in the kitchen, their family and friends remained in the cafeteria, playing bingo and food-related trivia games, doing raffles, and getting their faces painted and caricatures done.
Once their dishes were complete, the students plated their masterpieces to present to the judges. The chefs stood behind their presentation tables and answered questions from judges as they sampled each dish.
After adding up the judges' scores, Claborn announced the first, second, and third-place winners. Belt Line Elementary third-grader Javayah Fernandez came in first place with her Stuffed Baked Potato recipe. Rosa Parks/Millbrook fourth-grader Victoria Jusino came in second place with her Jelly Donuts recipe, and Belt Line Elementary fourth-grader Aleksander Hill-Lawrence came in third place with his Cheesy Potato Pancakes Recipe.
"I'm so happy I won the challenge," said Fernandez. "My cheeks hurt from smiling so hard! My grandma inspired me to create the recipe and says she's proud that our hard work paid off."
Fernandez says any students wanting to compete in next year's challenge should always put love into their recipes.
"Student chefs should try their best during the competition and know it doesn't matter if you win or lose as long as you have fun while cooking," said Fernandez.
James says potential future chefs interested in the challenge should start thinking about their dishes and practicing now.
"Every year, the level of competition elevates, and the recipes submitted get even better. So be sure to bring originality and creativity to your recipe because we want to see your skills in action while you're in the kitchen", said James.
As the district challenge winner, Fernandez's recipe will move on to a regional round with others nationwide. One winner will be chosen at the end of the contest and named the National Champion.
Javayah Fernandez's Stuffed Baked Potato Recipe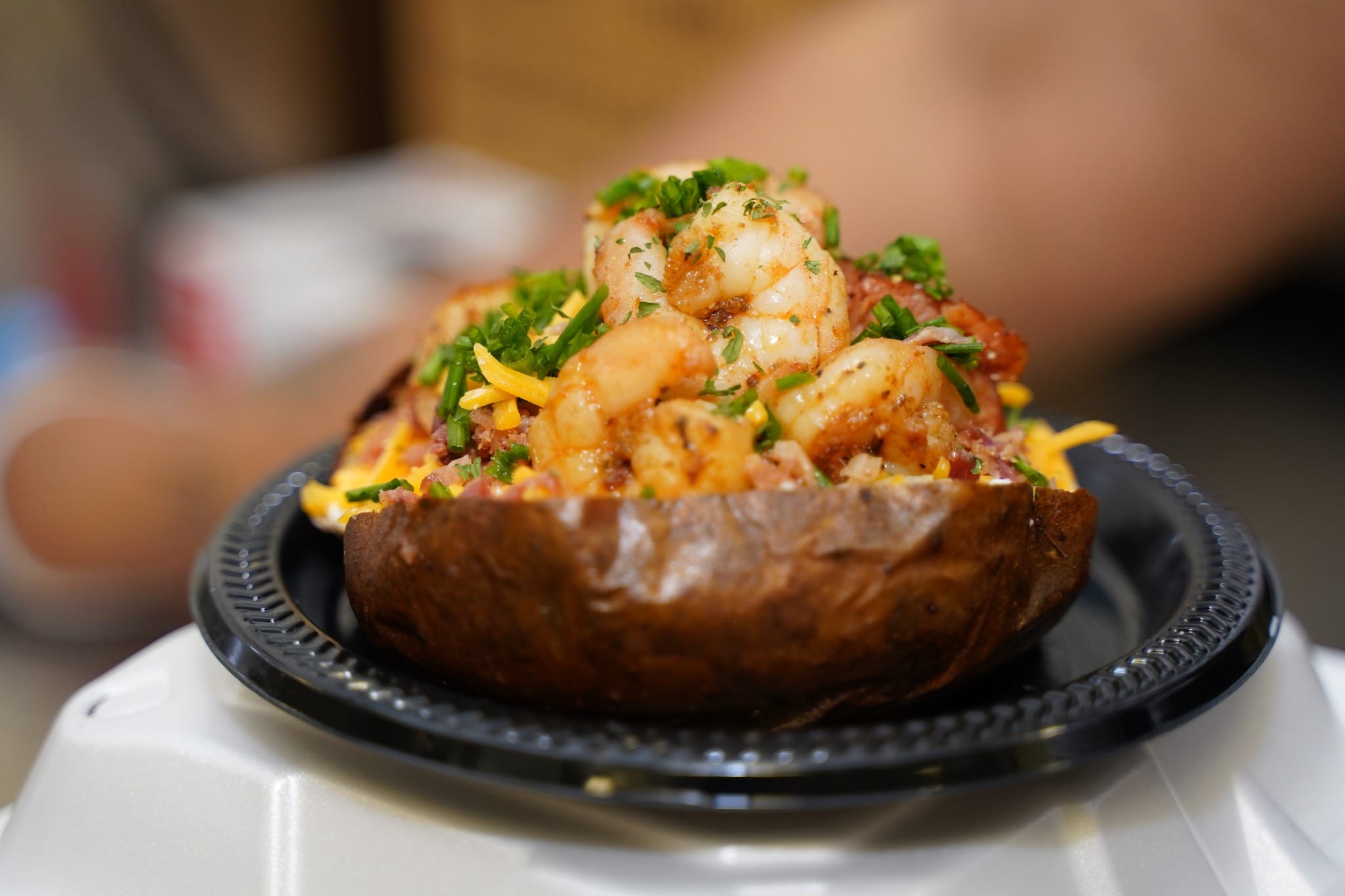 Ingredients
1 Large Baking Potato
4 Medium Shrimp, Peeled and Deveined
1 Andouille Sausage Link, sliced
1 tsp Salt
1 tsp Black Pepper
Bacon Bits for garnish
Chives, sliced, for garnish
Cheddar Cheese, shredded, for garnish
Butter, for garnish
Sour cream, for garnish
Directions
Heat the oven to 350°F
Wash and place the potato on a baking sheet and bake in the oven for 1 hour or until fork-tender
Add some of the butter to a medium-sized pan and sauté the sausage until brown over medium-high heat and set aside
Add the shrimp to the same pan and continue to cook for 5-10 minutes until the shrimp are cooked through, and set aside
Remove the cooked potato from the oven, slice it open in half, and place the butter, salt, and pepper inside
Add the sausage and shrimp inside the potato and garnish the top with the remaining ingredients (cheddar cheese, sour cream, bacon bits, and chives)
Yield: 1 serving