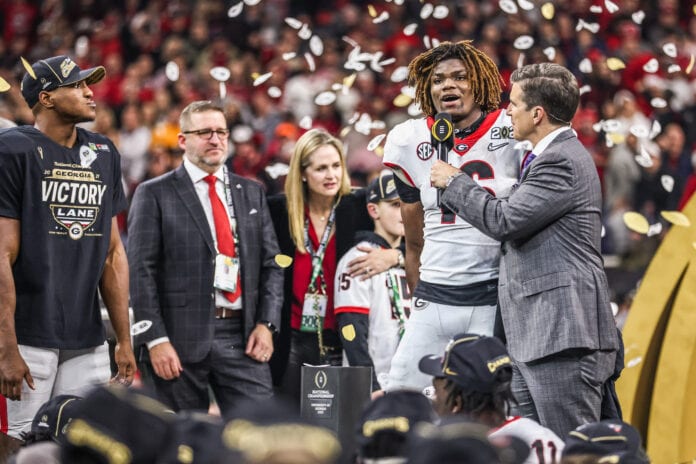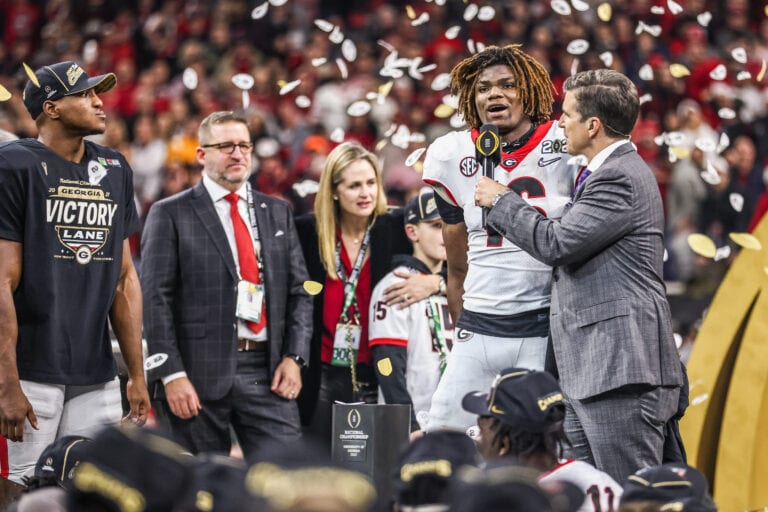 Local Graduates Collegiate Recaps
Odds are if you watched a NCAA Division I football bowl/postseason game this season, there was a player from the area participating.
Among them were three national champions, with one of those being the best defensive player on the best defense in America. Georgia junior defensive back Lewis Cine, a graduate of Trinity Christian Cedar Hill, led the Bulldogs (14-1) with 73 tackles as they marched to their first national championship since 1980.
This included seven tackles in the 33-18 victory against Alabama in the national championship game. Of those, six were solo. For the season, 43 of his tackles were solo.
Joining him on the roster, though not seeing action in the contest, were freshmen quarterback Connor Drake of Ennis and defensive back Jalen Kimber of Mansfield Timberview.
On the Alabama side, the roster included freshman linebacker Kendrick Blackshire of Duncanville.
In all, almost 90 players were on teams played in or qualified for a bowl game (some teams didn't because of COVID).
The Cedar Hill Longhorns were the most represented with 16 alumni. Highlights included one alumnus who might soon be entering the NFL and another who could be returning to his team as a senior seeking to break a school record for a third straight season.
Not too far behind was DeSoto, with 13 former Eagles on squads that qualified and/or played in a bowl game.
Here are highlights of several area athletes on their respective college bowl teams in the 2021 season:
Cedar Hill
Zhakhari Franklin, UT-San Antonio, WR, junior – 81 catches, 1,027 yards and 12 touchdowns, breaking his own record of 694 yards on 49 catches despite missing two games in 2020. Roadrunners finished 12-2.
Charleston Rambo, Miami, WR, junior – Declared for the upcoming NFL Draft after leading the Hurricanes (7-5) with 79 catches for 1,172 yards and seven TD.
Jarrid Williams, Miami, OL, senior – Played in 12 games.
Kaegun Williams, San Diego State, RB, senior – 268 yards and two TD rushing; seven catches, 44 yards for 12-2 Aztecs.
Josh Fleeks, Baylor, WR, senior -Seven catches, 89 yards as Bears finished 12-2.
Kyland Richey, Jackson State, TE, senior – 11 catches, 138 yards as Tigers finished 11-2.
Richard Moore, SMU, LB, senior – 32 tackles, five for a loss, two sacks for Mustangs (8-4).
Deven Lamp, Tulsa, DL, junior – 16 tackles, three for a loss, two sacks as Golden Hurricane went 7-6.
Xavier Ross, Oklahoma State, DT, sophomore – Three quarterback hurries for Cowboys, who were 12-2.
Kaidon Salter, Liberty, QB, freshman – 1-for-2, 39 yards, TD passing, 53 yards rushing as Flames finished 8-5.
Amarian Williams, Liberty, CB, freshman – Three tackles.
Kamdyn Benjamin, Tulsa, redshirt sophomore, wide receiver – Played in 13 games.
DeSoto
DeVere Levelton, SMU, DE, junior – 38 tackles, 10.5 for loss and 6.5 sacks.
LD Brown, Oklahoma State, RB, senior – 85 yards, TD rushing; five catches, 11 yards; 98-yard kickoff return for TD.
Jabbar Muhammed, Oklahoma State, CB, sophomore – 23 tackles.
Shawn Robinson, Missouri, DB, senior – 31 tackles, 3.5 for a loss, one sack and interception for Tigers (6-7).
Hyrin White, Missouri, OL, senior – played in 11 games.
Byron Hanspard, Jr., Baylor, CB, junior – One tackle.
Jerand Bradley, Texas Tech, WR, freshman – Five catches, 99 yards.
Alphie Guillory, North Texas, DB, freshman – Four tackles for the Mean Green (6-7).
Yow Kemonte, Army, CB, senior – 25 tackles for Black Knights (9-4.
Mansfield Legacy
Jalen Catalon, Arkansas, DB, sophomore – 46 tackles, two interceptions for the 9-4 Razorbacks.
Taurean Carter, Arkansas, DL, sophomore – 24 tackles, three for loss, one sack.
Ayo Adeyi, North Texas, RB, freshman – 496 yards, six TD rushing.
Enoch Jackson, North Texas, DL, freshman – 15 tackles, 1.5 sacks.
Tru Edwards, Hawaii, WR, junior – Five catches, 37 yards.
Mansfield Timberview
Terrell Tilman, Oregon, LB, freshman – six tackles for Ducks (10-4).
David Amenik, Houston, DE, senior – 30 tackles, nine for loss, four sacks for the 12-2 Cougars.
Jalen Kimber, Georgia, DB, freshman – One tackle for the Bulldogs (14-1).
Duncanville
Tre Siggers, SMU, RB, senior – Led Mustangs with 727, nine TD rushing; nine catches, 56 yards, TD.
Roderick Daniels, SMU, WR, freshman – 17 catches, 209 yards, TD.
Terrance Newman, SMU, DT, senior – Eight tackles
Enis Rakestraw, Jr., Missouri, DB, junior – 13 tackles.
Stacy Brown, Missouri, DB, junior – 10 tackles.
Savion Byrd, Oklahoma, OL, freshman – Played in two games for the 11-2 Sooners.
Kamaron Holloway, Army, OL, senior – Played in 11 games.
Kendrick Blackshire, Alabama, LB, freshman – Had three tackles for the Crimson Tide (13-2).
South Grand Prairie
Greg Elsworth, Iowa State, DB, senior – 60 tackles, two interceptions for Cyclones (7-6). He finished his career as a Cyclone with 259 tackles and five interceptions after transferring from Trinity Valley Community College, where he had 47 tackles and two interceptions in one season.
Ceasar Williams, Wisconsin, DB, senior – His three interceptions this season were one more than he had in all of his career (2) previously. He also had 28 tackles to help the Badgers to a 9-4 season.
Jalon Williams, Boston College, DB, freshman – Two tackles for 6-6 Eagles.
Mansfield Lake Ridge
Malik Knowles, Kansas State, WR, senior – 29 catches, 441 yards for the Wildcats (8-5).
Bryson Jackson, Baylor, LB, senior – 15 tackles.
Trejon Hogue, UTEP, DB, sophomore – 13 tackles for the Miners (7-6).
Chima Azunna, Hawaii, DB, senior – 12 tackles for Rainbow Warriors (6-7).
Mansfield Summit
Hal Presley, Baylor, WR, freshman – One catch, 15 yards.
X'Zauvea Gadlin, Tulsa, OL, sophomore – Played in 12 games.
Mansfield
Kennedy Brooks, Oklahoma, RB, junior – Led Sooners (11-2) with 1,253 yards and 13 TD rushing, also catching nine passes for 73.
Midlothian Heritage
Jack Freeman, Houston, OL, sophomore – Played in 11 games.
Lancaster
Lorando Johnson, Baylor, DB, freshman – Four tackles and a half sack.
Red Oak
Darrius Jackson, Missouri, DB, freshman – 13 tackles.
Cedar Hill Trinity Christian
Lewis Cine, Georgia, DB, junior – Led the national champion Bulldogs with 73 tackles, including 43 solo. He also added an interception.
Midlothian
Zeke Brown, Baylor, DB, senior – Five tackles.