DESOTO—Despite the time of year for feasting the DeSoto Albertson's has been enduring a bit of a famine. According to reports, the 1300 West Belt Line Road location is among four North Texas stores set to close by December 1.
Other stores on the chopping block are: 10800 N. Beach St. in Fort Worth, 2600 Flower Mound Road in Flower Mound and 820 S. MacArthur Blvd. in Coppell.
"Closing an under-performing store is always a tough decision, but sometimes a necessary step to position our company for greater success and growth," said Spokesperson Connie Yates.
"It's one of those things that you never know is coming. We didn't hear any rumblings of it," said DeSoto Economic Development Coordinator Joe Newman. "
According to Newman representatives of Albertsons contacted the city about their decision to close Friday, November 9.
"After that I went down to meet with the store manager and the regional manager," said Newman. "I was told that there is nothing really we can do. The decision was made by corporate."
A number of DeSoto residents took to social media to voice their concern.
"That's horrible! It's right around the corner from my house and was always a great place to go for a quick food run," said DeSoto resident Dustin Dauenhauer.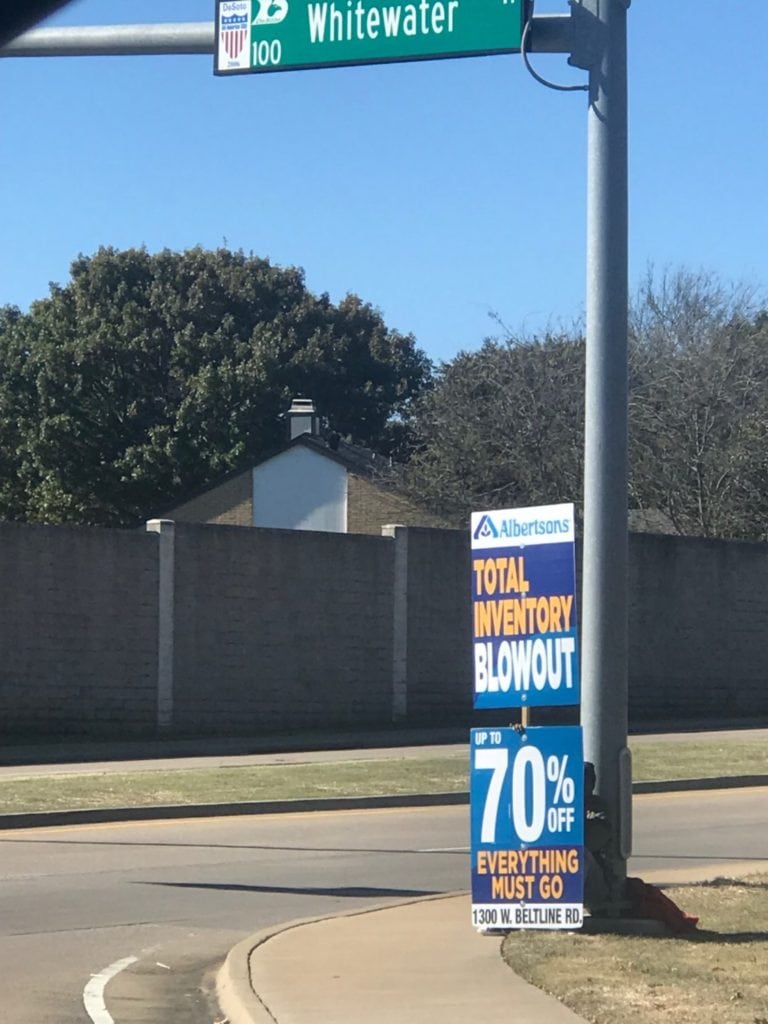 What's Next
Currently that location is attempting to liquidate its current holdings before it closes its doors for good. Once that happens it will be in the hands of Tim Baker, Albertsons Vice President of Real Estate and Venture Real Estate Company.
It is the hope of the DeSoto EDC and the Chamber of Commerce that a new tenant take up the space situated at Belt Line and Cockrell Hill Roads. If not the city and the school district are going to lose large chunks of their tax revenue. According to the Dallas Area Central Appraisal District Albertsons contributed $54,651 in taxes annually.
Albertsons is working with employees at the affected locations to find them new jobs at other stores.
Albertsons Cos., based in Boise, Idaho, owns 18 grocery brands, including Albertsons, Safeway, Vons, Jewel-Osco, Shaw's, Acme, Tom Thumb, Randalls, United Supermarkets, Pavilions, Star Market and Carrs. The company owns and operates 65 Tom Thumb stores and 31 Albertsons stores in the metroplex.
Along with the closures, Albertsons is restructuring its Fort Worth office. However, the spokeswoman did not enumerate the impact on jobs in regional center.