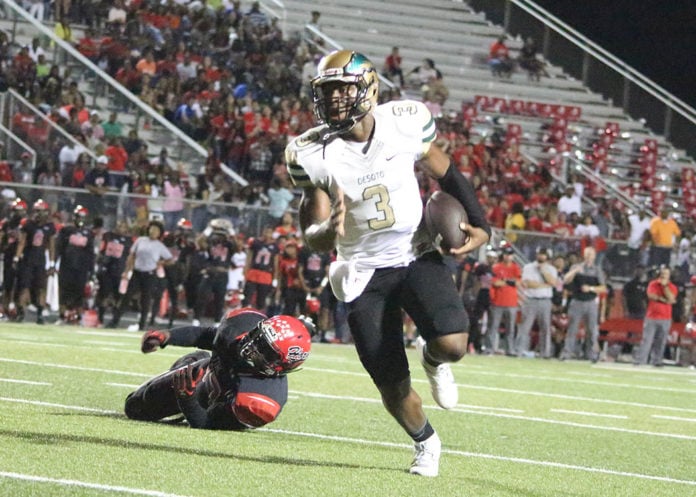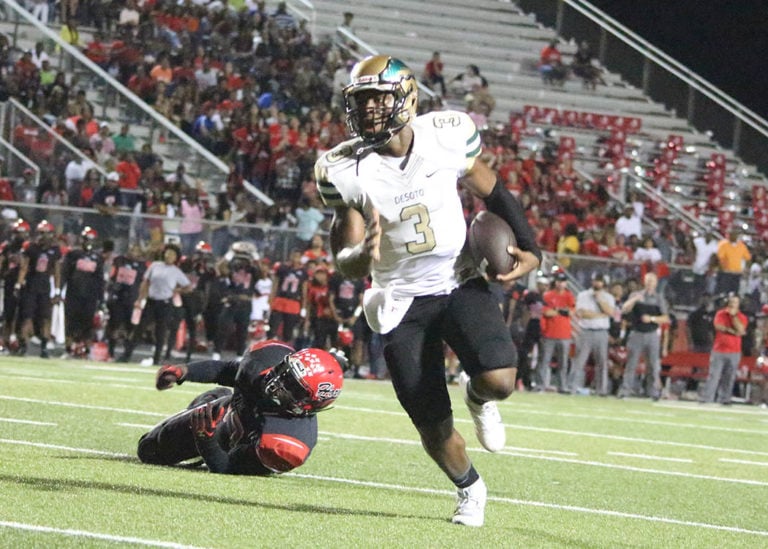 'Battle Of Brothers' To Be Televised Live
CEDAR HILL—Do or die is an understatement for Cedar Hill (11-2) and DeSoto (13-0) during Saturday's 6A Regional championships match-up. Best Southwest rivals face off for the second time this season. This time even more is at stake, as they battle each other in the 6A Division II Regional Championships held at AT&T Stadium in Arlington.
During district play DeSoto sought redemption after falling to Cedar Hill two consecutive seasons. The Eagles avenged themselves with a 33-18 win. DeSoto put up 23 points during the second quarter alone. Coupled with a stingy defense, the two score lead was too much for the Longhorns to overcome.
Yet don't count out the repeat state champions. Cedar Hill has overcome a regular season schedule of powerhouse teams. So this repeat of the 'Battle of Belt Line' could come down to the final minutes of play.
"It's by design. We feel like if we play tough teams it helps us get ready for the playoffs," said Cedar Hill Head Coach Joey McGuire.
DeSoto's Road To State
After routing Killeen 51-7 in the first round, DeSoto's road to the championships hasn't been a smooth one. In Week 3 of the playoffs DeSoto fought past Abilene for a 49-45 win on the road. With three minutes left in the game, DeSoto amazingly rallied from a ten point deficit to hoisting the semifinals trophy.
The week before, Southlake Carroll was thought to be an obstacle the Eagles wouldn't overcome. But the combination of an explosive receiving corps and a stingy defense, resulted in a 48-30 win over the Dragons.
Of note, linebacker Isaiah Stewart he had a total of 12 stops, 9 solo and 4 assisted stops. In fact, the DeSoto defense was so tough that Southlake Carroll depended solely on field goals to get on the board in the first half.
"These kids never quit. Never in the 10 years that I've been here. They are resilient," said DeSoto Head Football Coach Todd Peterman. "We've lost games, I get that. But these kids never quit."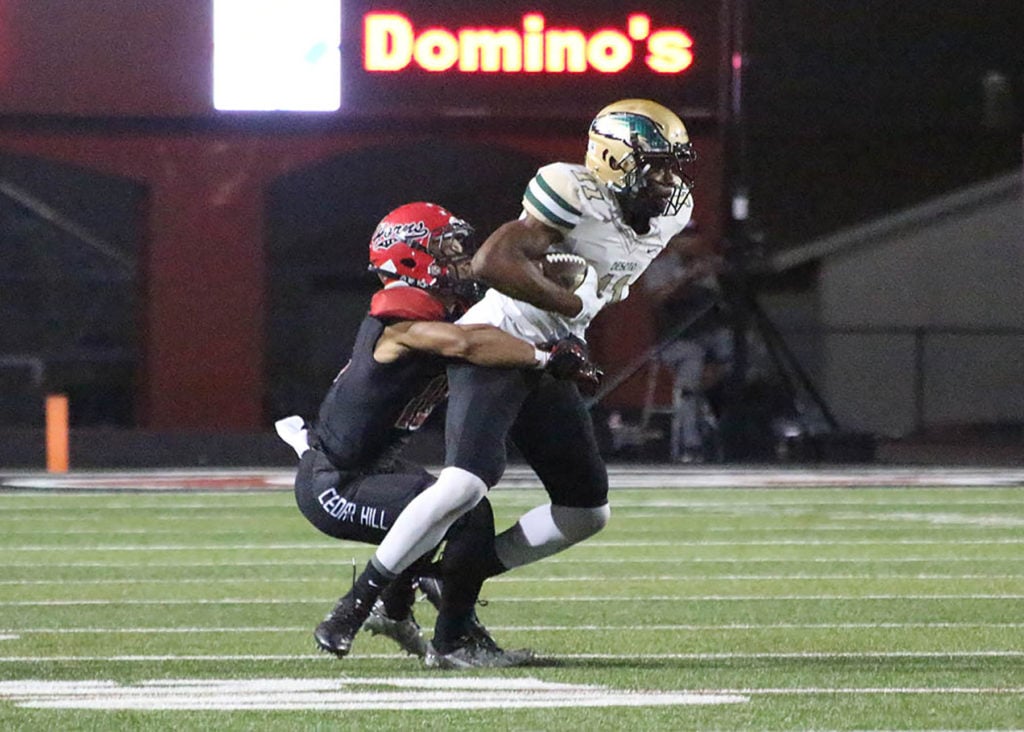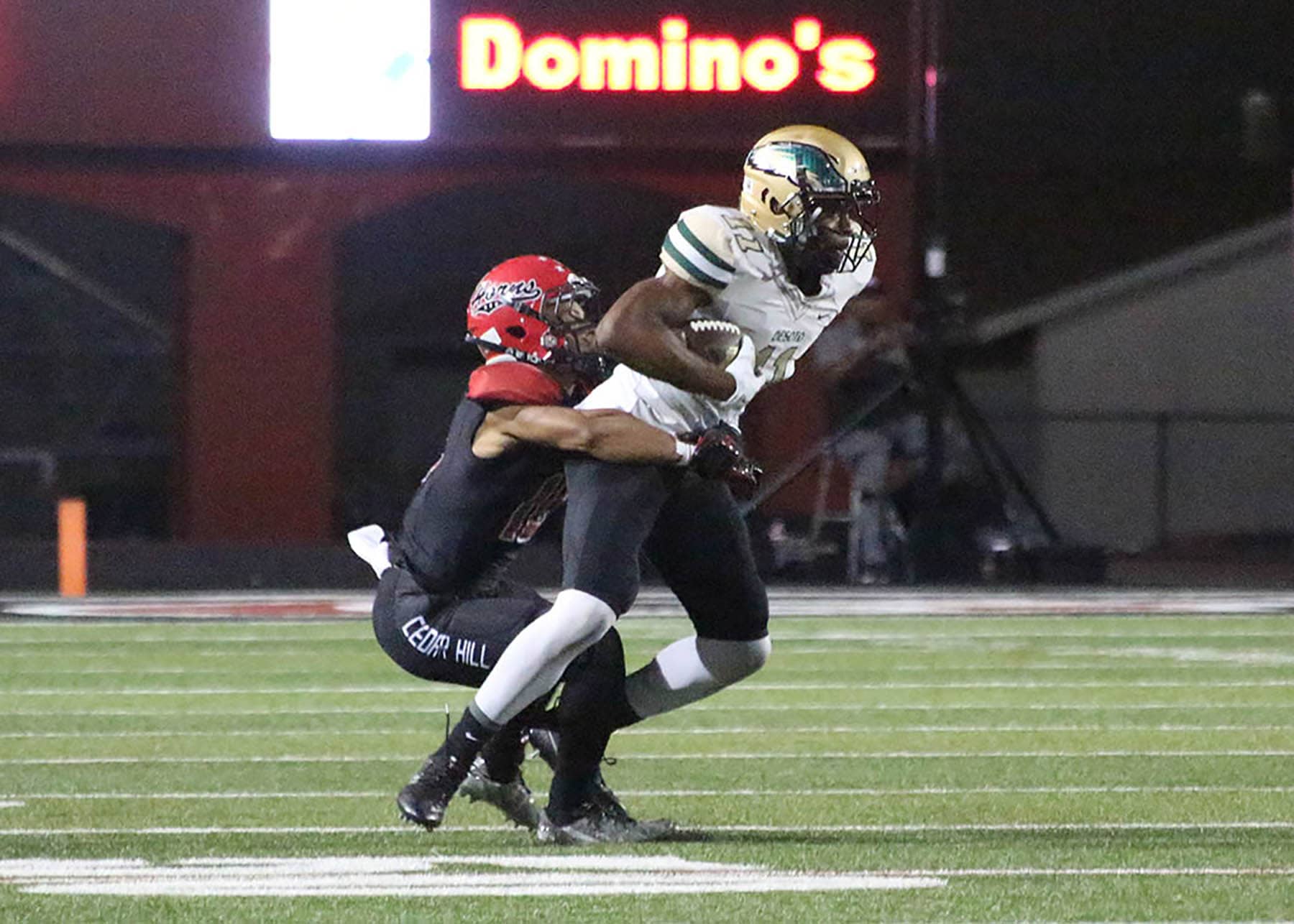 Longhorns Must 'Battle Brothers' In 6A Regional Championships To Regain Glory
DeSoto and Cedar Hill's last post regular season meeting was in 2006, when Cedar Hill won 42-21 on its way to its first state title. The Longhorns continued to earn a number of district championships and back to back state titles in 2013 and 2014.
In 2015, Cedar Hill felt the effects of matriculation, when a number of players went on to the collegiate level.
Coach Joey (as he is more affectionately known at home) has since been rebuilding his powerhouse. And a return to the state title is within their grasp.
Last week Cedar Hill amassed over 600 yards in its 56-28 victory over Mansfield.
The week prior the Longhorns had a dramatic come from behind 23-21 victory over rival Denton Guyer. It was a veritable battle of defensive might–that McGuire knew early on.
Throughout the regular season Denton Guyer has only allowed an average of 11.5 points per game.
"This week we have to do a good job of stopping the run," said McGuire in an interview prior to that match-up. "That is what we are really concentrating on this week."
McGuire changed their defensive tactics, after being down 14 points. The Longhorns managed to hold Denton Guyer scoreless in the second half.
"We came out in our 4-3 [defense]," McGuire said. "We felt good about it all through the week, but we didn't have enough reps in it. They had numbers against us at times, so we went back to our base 3-4."
Penalties Could Be The Game Changer
Despite the power of both high octane DeSoto and Cedar Hill offenses, penalties could end it all. With the two teams so evenly matched, simple mistakes on both sides of the ball could spell disaster.
"We're excited, but we have to do better on the dang penalties," Peterman said.
During their last meeting DeSoto had 11 penalties and personal fouls resulting in 121 yards lost. Cedar Hill had 9 penalties for 95 yards and a fumble.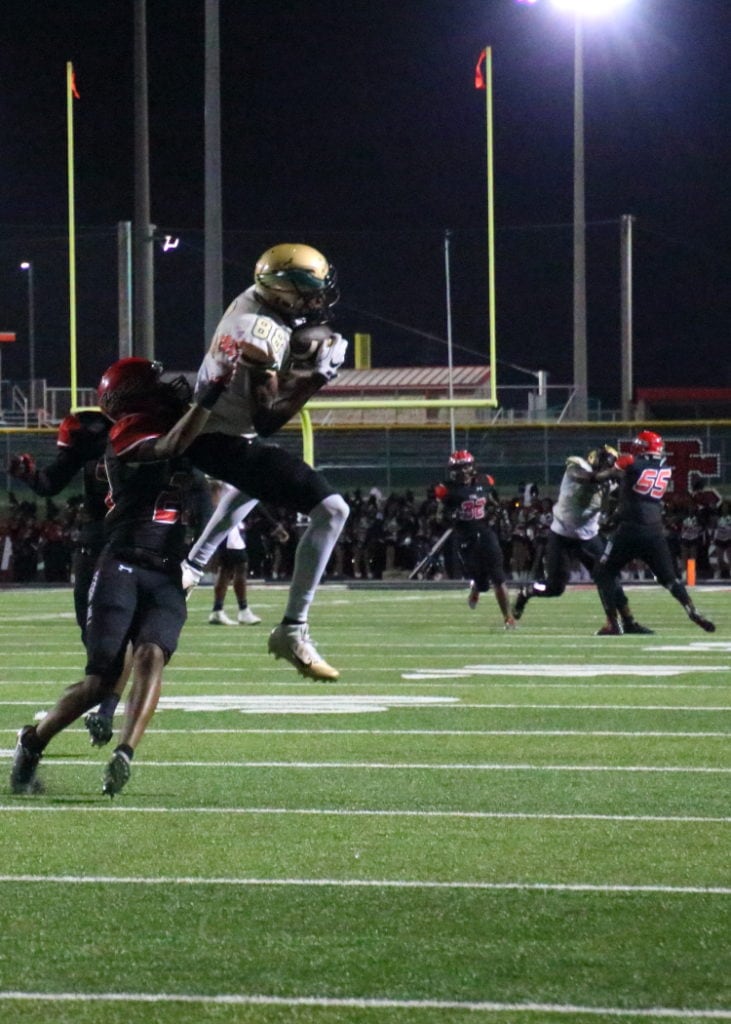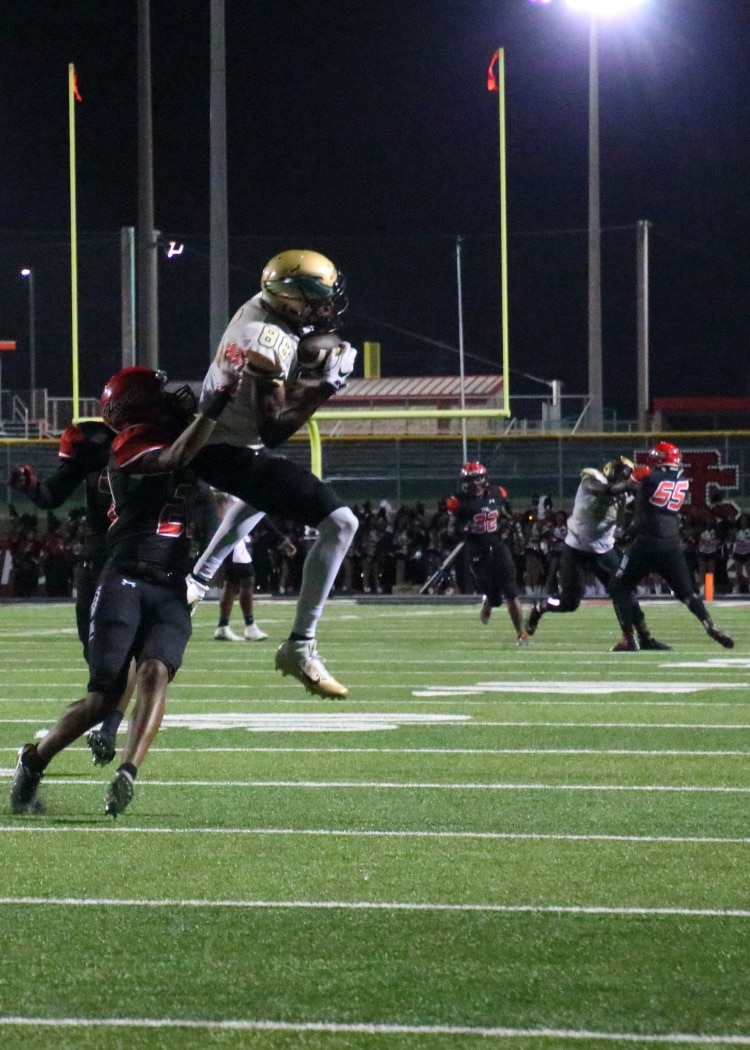 Area Playoff Games To Be Televised Live
The Best Southwest will be well represented this weekend among high school playoff matches. As a matter of fact, district 7-6A can tout that it has three teams four rounds into the playoffs. Most other districts statewide have two at the most.
For those who can't make it to AT&T Stadium, TXA21 will televise the Mansfield and DeSoto vs. Cedar Hill match-ups.
Mansfield Legacy vs Highland Park will kick off Friday at 5:30 p.m. Cedar Hill vs. DeSoto game is scheduled to start at 5:30 p.m. Saturday, following Allen vs. Duncanville.