My husband and I attended opening night of Lone Star Park's 2018 Quarter Horse racing season September 21. We weren't sure what to expect, since this was our first time to see quarter horse racing. But the races turned out to be very exciting, and the crowds were even more enthusiastic than expected.
Apparently the sturdy Quarter Horses, which originated in the U.S., are still the country's most popular breed. There are four million Quarter Horses, in a variety of colors, registered in the U.S.
We learned they run just as fast and are just as thrilling to watch as Thoroughbreds. That breed originated in England but has come to mean any purebred horse breed. While Thoroughbreds are bred mostly for racing, Quarter horses are used in diverse areas. They can be seen working on the farm, or in horse shows, as well as the racetrack.
We saw a rainbow of colors displayed on some beautiful Quarter horses at Lone Star Park that night. Rainstorms delayed the action a few times, until a real rainbow lit up the sky to signal the rain had stopped and racing could begin again. Interestingly, the rain didn't seem to deter anyone in the crowd. They simply moved inside to wait patiently for work crews to clear the track so the next race could begin.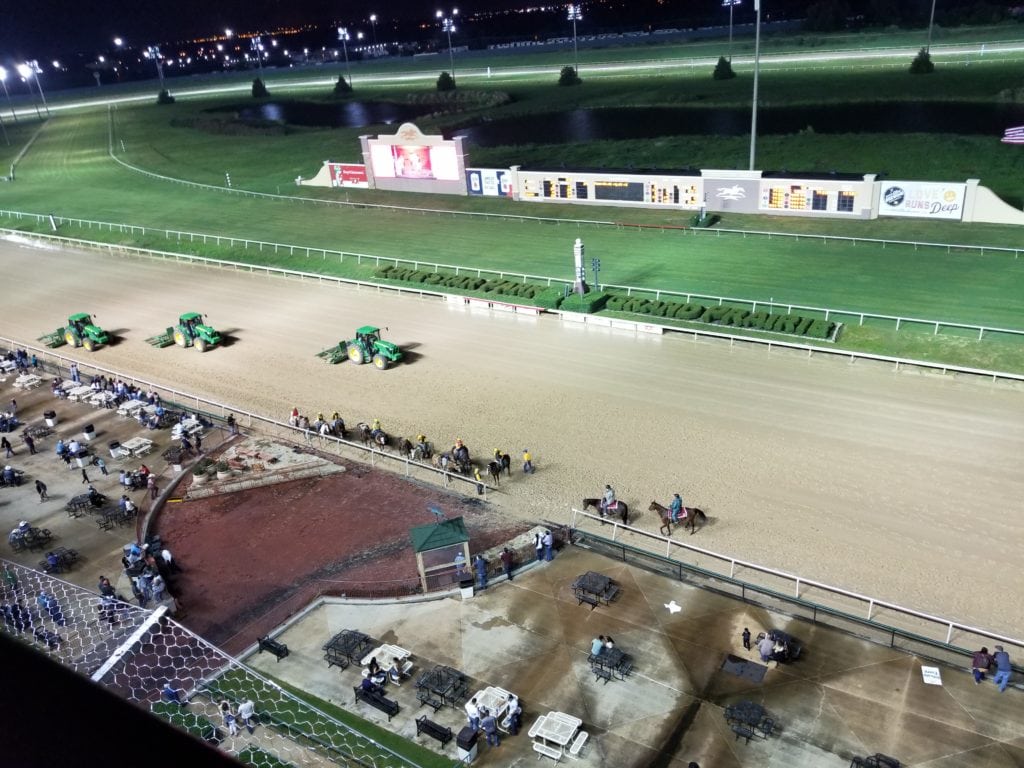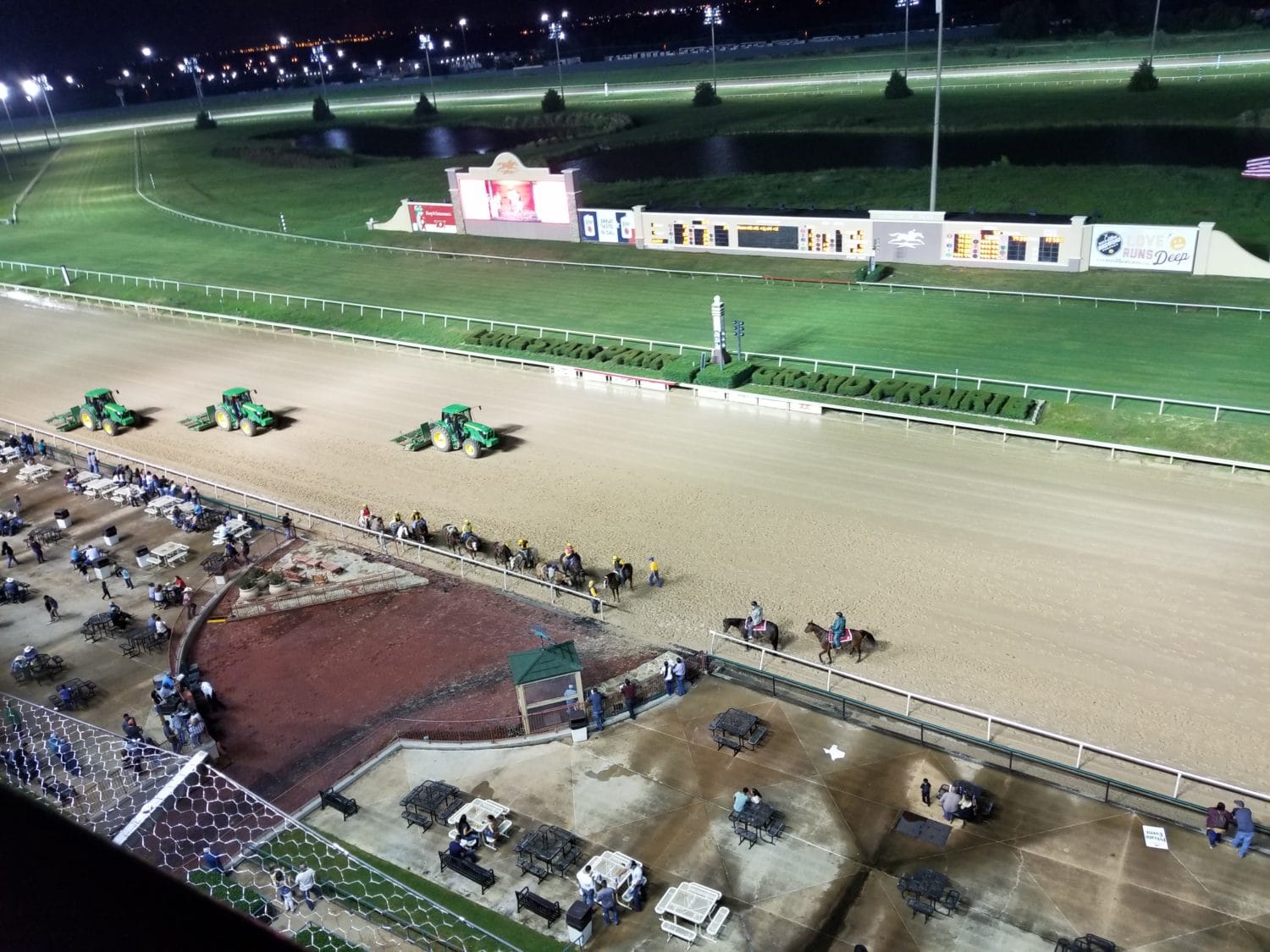 Lone Star Park's 280,000 square foot, 7-level Grandstand is glass enclosed and climate controlled, with seating capacity for approximately 6,000 people. So there were plenty of places to stay dry even in inclement weather. And plenty to do while waiting for the next race, with themed concession areas, bars, and racing information areas.
Grandstand Features Courtyard Of Champions, Veranda, And 1,500 TV Sets
The Grandstand also features a Courtyard of Champions and Veranda, and there are more than 1,500 television sets scattered throughout the facility to keep racing fans up to speed. Fans can take a closer look at the race horses at the H. Wayne Hanks Saddling Paddock on the main track level. This level includes general admission seating and a Dash for Cash event room, just past the finish line.
Level Two has reserved box seats, counter seats, and the Alysheba Room used for corporate groups and events. Silks Dining Room, with 1,200 seats, is located on the fourth level. Paddock Lounge and members-only Jockey Club Lounge are also on the fourth level.
The fifth and sixth levels feature 48 Penthouse Suites for groups of 20-50 people. We spent the evening as guests in a luxurious sixth floor suite, and can vouch for it being a great way to watch a horse race. Especially during a rainstorm!
While several people in our party actually won money by betting on the races, usually picking the horses by their names or their color, we weren't so lucky. Between the two of us, we were ahead 10 cents when we left Lone Star Park, or a nickel each. It's still fun to wager on a horse, just so you have a reason to cheer as loudly as everyone else.
The seventh level features a Hall of Fame suite, which holds up to 200 guests. The press box is also located on that floor.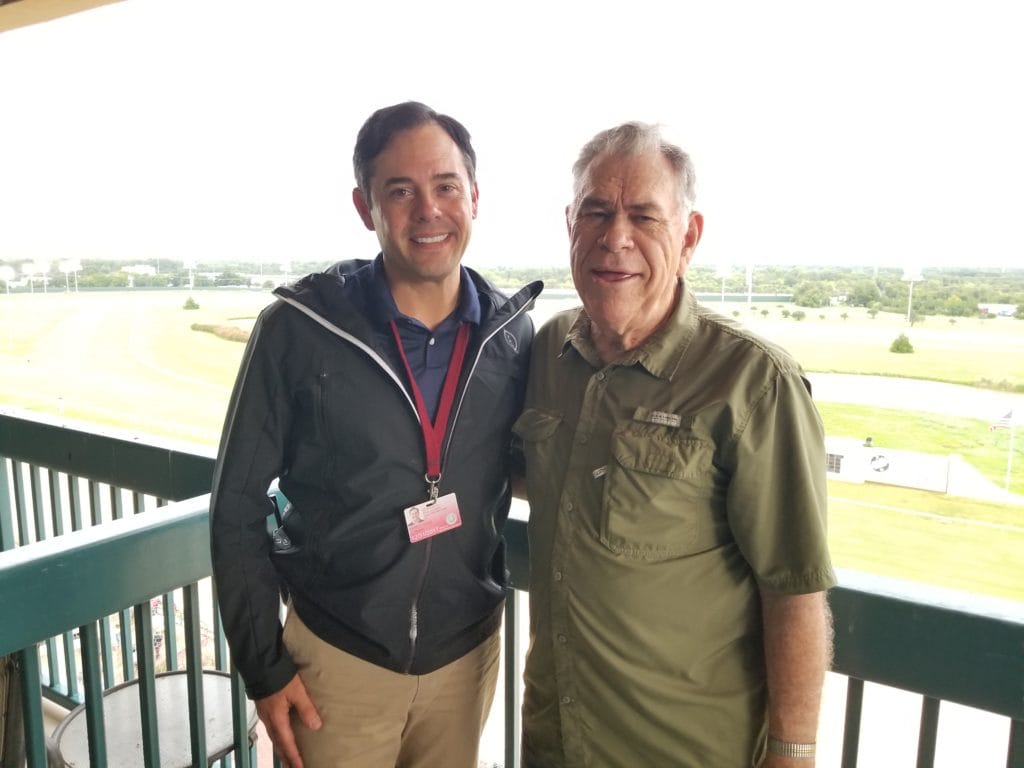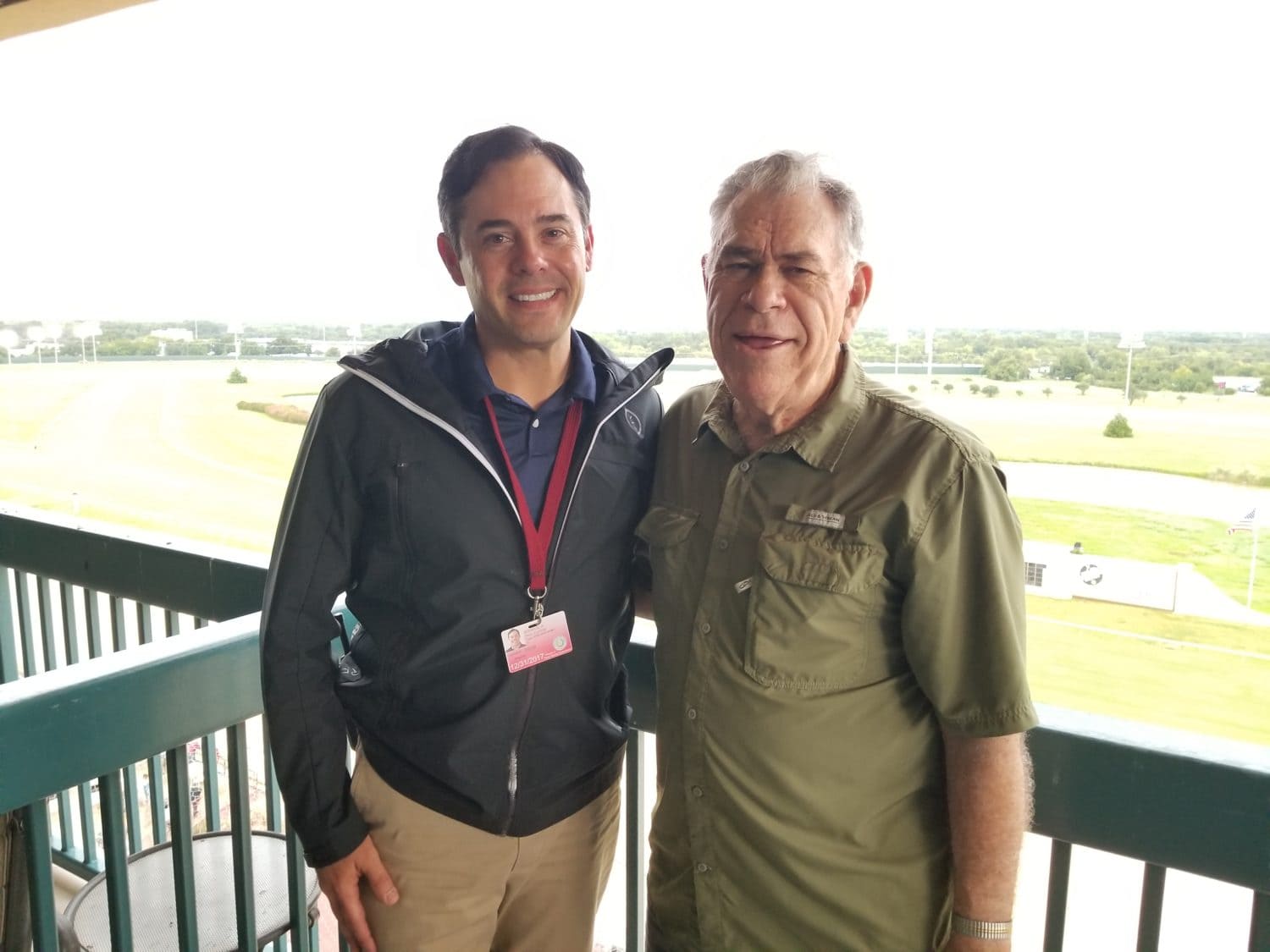 My husband was thrilled to learn an old friend, Paul Monroe, is now Director of Marketing for Lone Star Park. Monroe previously served as marketing director for Texas Motor Speedway and vice president of marketing for the Dallas Mavericks.
Monroe tells us there are a variety of events along with horse racing planned for Lone Star Park. They are teaming up with Liberman Broadcasting stations to present a Dia de los Muertos (Day of the Dead) celebration November 2. In addition to live racing, there will be sugar skull face painting and coloring stations for the kids, live music, a costume contest and much more.
Thoroughbred Racing will return April 19-July 22, 2019, and the annual Lone Stars and Stripes Fireworks celebration will be July 3-4 after the races. A variety of concerts will also be planned during the season.
Lone Star Park is located at 1000 Lone Star Parkway in Grand Prairie, just off I-30. For more information, visit lonestarpark.com.