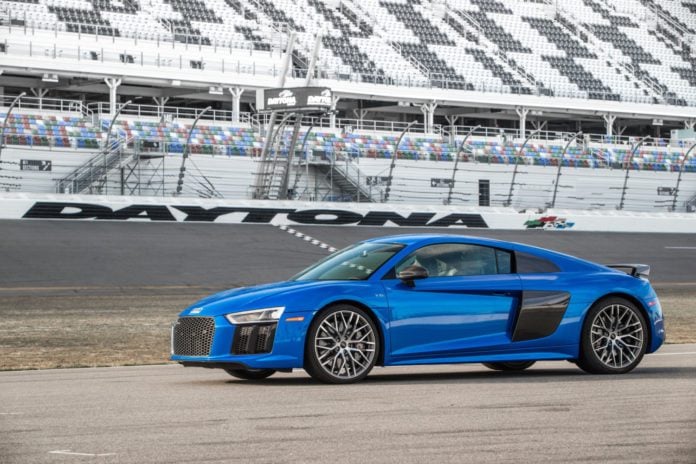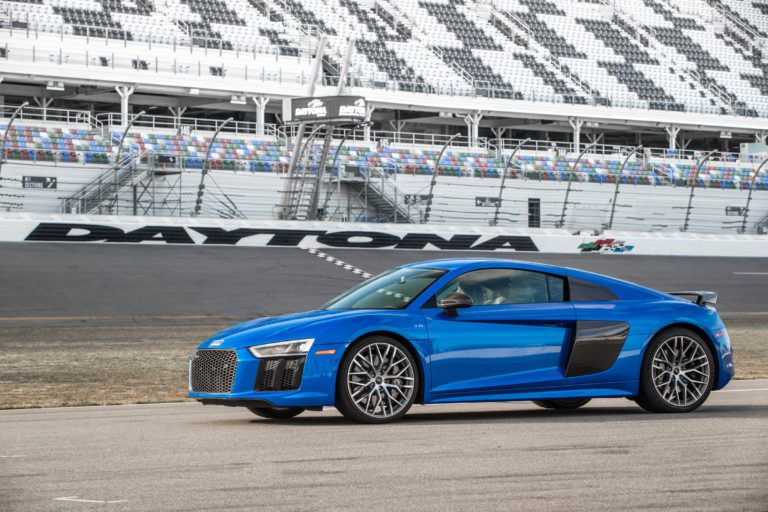 2017 Audi R8 For Flying…On The Ground
Audi says the 2017 R8 is 50 percent race-car while, at the same time, 100 percent designed for the daily commute. Introduced in 2007 as a 2008 model, this audacious two-seat super-car now gets a complete redesign.
The second-generation model wears an all-new silhouette; is motivated by a racing-derived powertrain with an updated, unique application of Audi's quattro all-wheel drive. It is bestowed with a revised driver-focused interior and with an NVIDIA-powered virtual cockpit- think Star Wars! Just imagine taking it for a spin at Texas Motor Speedway in Dallas or Circuit of the Americas in Austin.
I like to fly. Not only in airplanes, but I enjoy the wind-in-the-hair feeling of automobiles that go fast. Many women do, especially if they have confidence in the car they are driving and have a safe and fun place to assess the vehicle's capabilities. Audi knows that more women are in board rooms and C-Suites than ever. With that in mind, and acknowledging one of the last holdouts for females has been on the race track, the German marque known for top-engineered autos and high-performance, brought a group of female automotive journalists to NY's Monticello Raceway to try out its 2017 Audi R8. I felt like I was flying!
Audi R8 V-10 Showcases Performance
The mid-engined R8 is "the pinnacle of performance for Audi,"; it's powered by the same high-revving naturally aspirated V-10 power plant with fuel stratified injection (FSI) found in the R8 LMS racecar, and is mated to an all-new seven-speed S tronic dual-clutch transmission with launch control.
The base level (if one dares to describe it as such) 5.2-liter FSI engine generates 540 horsepower and 398 lb.-ft. of torque. It reaches 60 mph in 3.5 seconds with a top track speed of 199 mph. If that's not enough performance for you, step up to the V-10 Plus which boosts that output to 610 horsepower and 413 lb.-ft. of torque. The Audi R8 V-10 Plus rockets the car from zero to 60 mph in 3.2 seconds, with a top track speed of 205 mph. By default, the all-new quattro system transmits the majority of engine torque to the rear wheels. However, under certain driving conditions, it can send up to 100 percent of all available torque to the front axle.
Features On The 2017 Audi R8
Available on the R8 for the first time, Audi Drive Select brings four modes — comfort, auto, dynamic, and individual — to personalize the throttle sensitivity, transmission program, steering weight and, if equipped, the suspension settings according to the driver's preferences.
2017 Audi R8 V10 Plus models have an additional "performance mode" with dry, wet, and snow programming for enhanced traction, depending on the selected road condition. Standard on V10 models are silver-finished 19-inch 5-V-spoke-design cast-aluminum wheels; V10 Plus models get matte-titanium-finished 19-inch 5-double-spoke design forged aluminum wheels wrapped in high-performance summer tires.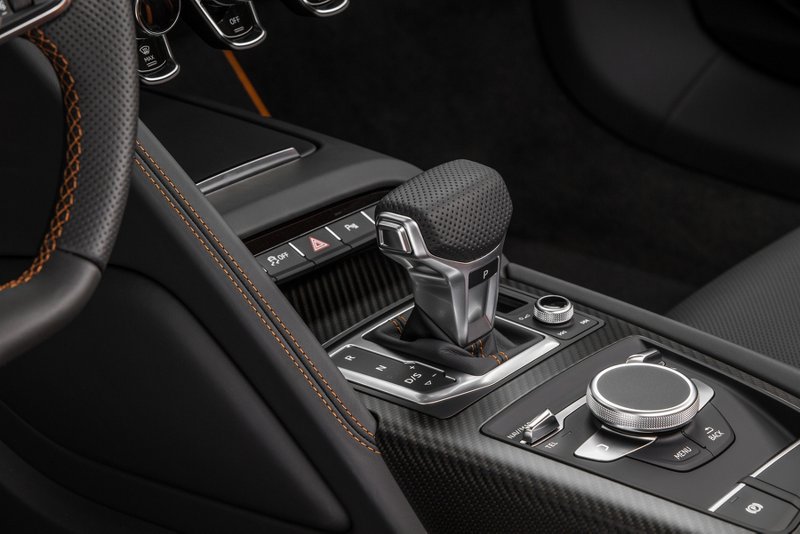 Overall, dimensions are similar to the previous generation, but small changes — a half-inch decrease in height and length, with a half-inch increase in width — emphasize the flat, wide, and muscular characteristics of the new R8. With its forward-positioned cockpit and a long flowing roof-line that extends to the rear of the vehicle, the supercar's unmistakable silhouette instantly conveys its racing DNA.
Up front is Audi's Singleframe grille with three-dimensional honeycomb design along with full LED headlights with LED daytime running lights. The strong shoulder line is now uninterrupted by the new two-piece design of the sideblade with hidden door handles, finishing with an adaptive rear spoiler (on V10 models) or a carbon fiber fixed wing spoiler (on Plus models), and LED taillights with dynamic turn signals. A new exhaust system features integrated twin-trapezoidal exhaust outlets and variable exhaust flaps that provide a thrilling exhaust note when opened.
The new R8 also exploits Audi's expertise in lightweight design with an all-new application of the iconic Audi Space Frame (ASF) chassis; built with 13 percent carbon fiber materials, weight is reduced from 33 to 55 pounds over the outgoing model (depending on trim choice). Suspension weight is reduced by using forged aluminum control arms, while local dynamic rigidity has been enhanced by connecting the control arms directly to the ASF chassis. Weighing approximately 77 pounds less than the base R8 V10, the Plus accomplishes this with standard Audi carbon ceramic brakes, as well as carbon fiber rear diffuser, front lip spoiler, exterior mirror housings, and fixed rear wing spoiler.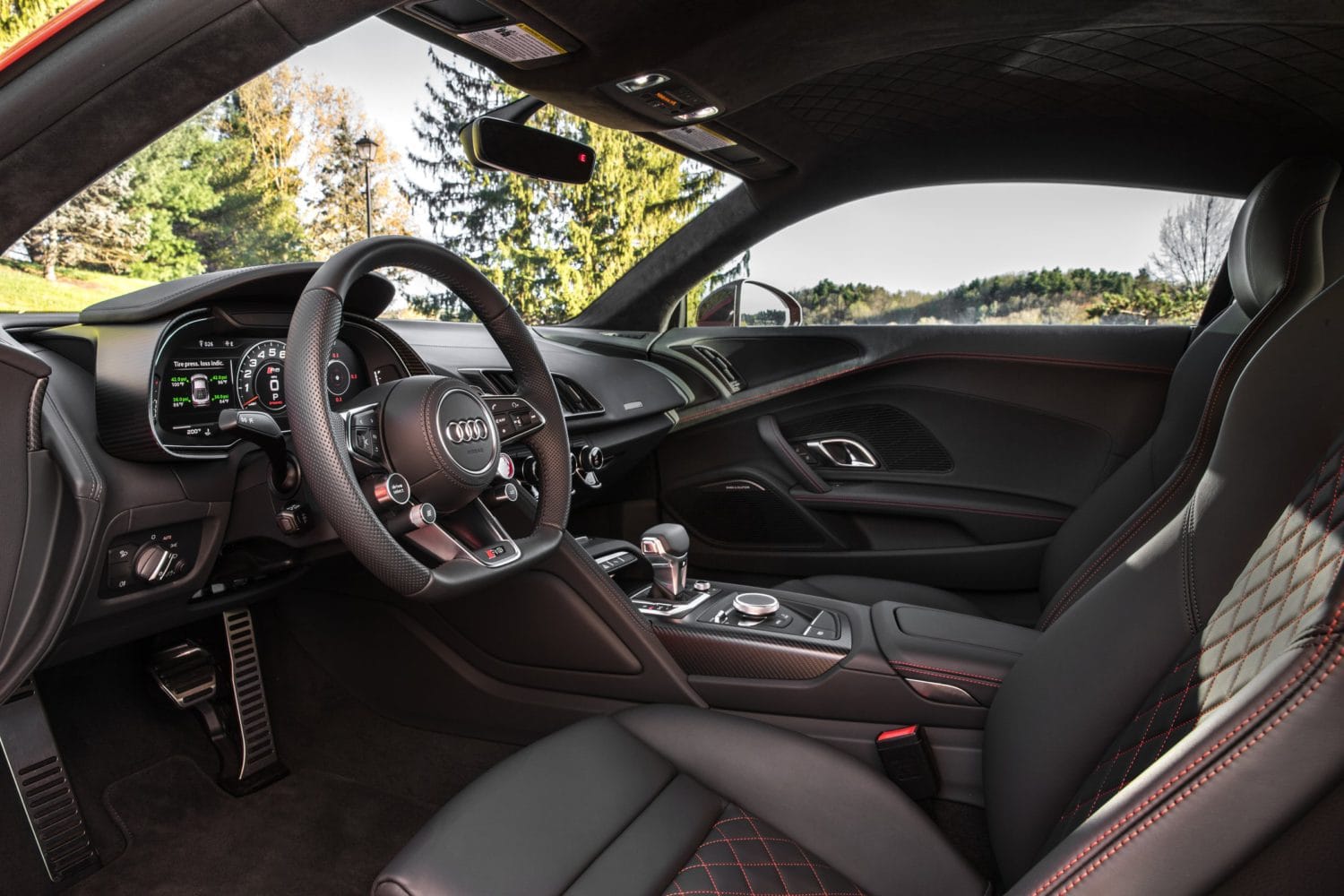 Inside, the NVIDIA-powered Audi Virtual cockpit replaces the classic instrument panel and instead features a large, high-resolution 12.3-inch display. Fine Nappa leather 18-way power seats are standard for V10 models; for the first time ever in the US. Plus models are equipped with contoured racing shell seats for more lateral support for vigorous driving. The three-spoke multi-function flat-bottom sport steering wheel boasts paddle shifters and satellite buttons to control engine Start/Stop and drive select on V10 models, and adds Performance mode selector and Sport exhaust buttons on Plus models.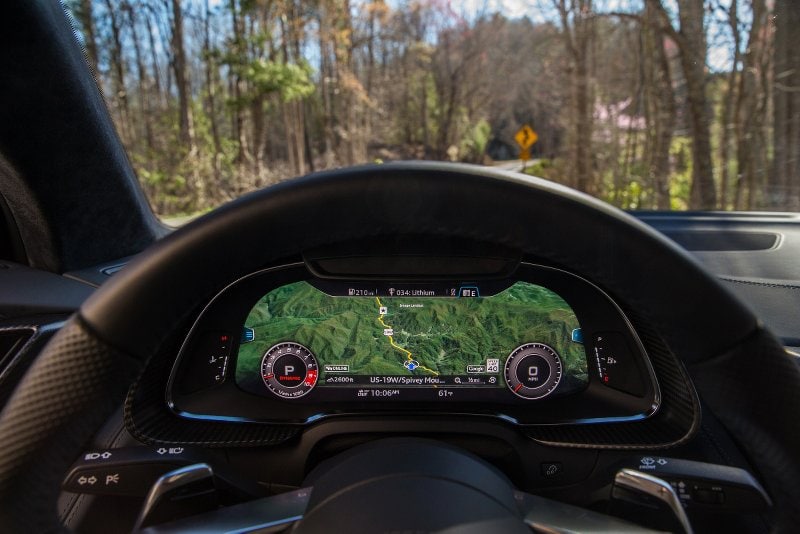 Also available for the first time on R8 is Audi connect, offering infotainment features such as 4G LTE connectivity, destination entry via myAudi, travel information, Internet radio, and a Wi-Fi hotspot for passenger use. Also, with available Audi connect, Google Earth satellite maps display across the width of the virtual cockpit for improved navigation at each turn in the road — or track — ahead.
Manufacturer's suggested retail pricing for the 2017 Audi R8 V10 starts at $162,900; the R8 V10 Plus starts at $189,900; add $1,250 destination charge.