Waxahachie High School Presents a Solve It Yourself Musical Jan 25-27
Waxahachie High School's (WHS) award-winning Fine Arts Department presents "The Mystery of Edwin Drood" Jan. 25-27. The "solve-it-yourself" musical by Rupert Holmes is based on Charles Dicken's incomplete final novel. This ambiguity allows audiences to participate in solving the case. Performances will be at 7 p.m. Thursday, Friday and Saturday nights with a 2 p.m. matinee Sunday in the WHS Fine Arts Center. Tickets are priced at $10, with discounts available for students and seniors.
WHS Theater Arts Director Andy Reynolds says the school has participated in the Dallas Summer Musicals High School Musical Theatre Awards (DSM HSMTA) the past seven years, since the competition began. They have been nominated for 39 HSMTA awards, and last year won several major awards for their production of "Curtains." Sam Linguist won Best Featured Actor and Reynolds won Best Director.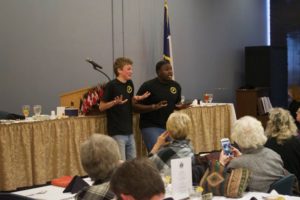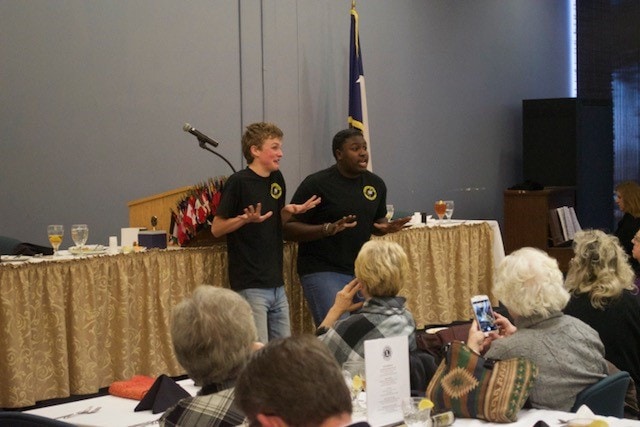 In 2016, WHS won Best Musical for their production of "Monty Python's Spamalot." WHS senior Kaiden Maines was named Best Actress for playing the Lady of the Lake, earning a trip to NYC to compete for the prestigious national Jimmy Awards. WHS music director Gail Harrell received an award for Best Musical Direction.
Reynolds says this 2018 DSM Winter Musical production will be their last competition musical to be performed in the Fine Arts Center at WHS. The school is scheduled to move into a new state-of-the-art campus when it's completed later this year.
Director Reynolds brought his "Drood" cast members to perform several numbers from their show for the Oak Cliff Lions Club meeting Jan. 17. The students received a rousing ovation and shouts of "encore" for their lively interpretation of three numbers, even obliging with a requested encore.
Pictured performing "Both Sides of the Coin" are Sam Linguist (Chairman of the Board), and Caleb Barnett (John Jasper). Performing "There You Are," L-R, are Jack Hankemer (Bazzard), Katy Wilson (Princess Puffer), Noah Wallace (Durdles), Madison Zandt (Helena Landless), Kaylee Sanchez (Rosa Bud), Linquist, Emme Sullivan (Edwin Drood), Jaden Patterson (Neville Landless), William Deen (Rev. Chrisparkle), and Barnett. Photos by Adam Lamb, cast member and photographer for WHS newspaper.
"The Mystery of Edwin Drood" is directed by Andy Reynolds and features musical direction by Jeremiah Leppert, choreography by Jennifer Stevens, and orchestrations by Justin Bell. Set design is by Paula Myers, with Ryan Mullican as tech director.
DSM HSMTA will be held at the Music Hall at Fair Park May 17, with 73 North Texas high schools participating in the 2018 awards competition.
Executive Director Tracy Jordan, who has overseen the program since its inception seven years ago, says "The objective of the DSM High School Musical Theatre Awards program is to create visibility for high school arts programs and generate an event that builds community while celebrating excellent work by teachers and students."
Three judges visit more than 60 participating North Texas high schools, judging each production in 16 categories. They are Best Musical, Best Direction, Best Musical Direction, Best Choreography, Best Orchestra, Best Scenic Design, Best Costume Design, Best Lighting, Best Ensemble, Best Crew, Best Actor, Best Actress, Best Supporting Actor, Best Supporting Actress, Best Featured Actor, and Best Featured Actress.
Jordan says the DSM awards program started in 2012 with 30 schools, expanding this year to include 73 schools and 76 shows. One of the students' favorite parts of the awards is the red carpet portion at 5:30 p.m. Prior to the awards program at 7 p.m. inside the Music Hall at Fair Park, the students, attired in their finest evening apparel, are welcomed onto the red carpet leading into the hall.
"Waxahachie HS is one of our most competitive schools," Jordan said, "with 13 wins and 39 nominations over the last six years including Best Musical, Best Actor, Best Actress, Best Musical Direction, Best Student Orchestra, Best Supporting Actor. This is evidence of a very strong program and a school district that supports its fine arts programs and faculty to produce excellence."