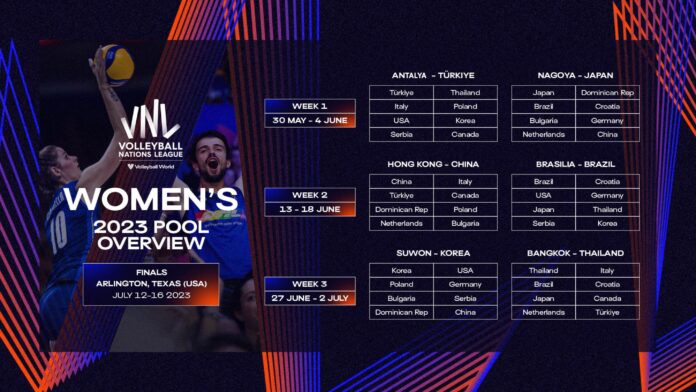 Where will VNL 2023 be held?
Volleyball Nations League 2023 will be held in 12 different countries on four different continents. The women's Final Round will be hosted in Arlington, Texas. Three-time VNL champions USA will host the women's VNL Finals for the first time.
What are the VNL 2023 host cities?
The following cities will welcome VNL 2023 matches for women:
Antalya, Türkiye
Arlington, USA
Bangkok, Thailand
Brasilia, Brazil
Hong Kong, China
Nagoya, Japan
Suwon, Korea
Volleyball Nations League 2023: full schedule
When is VNL 2023?
The women's VNL 2023 will start on May 30, 2023. The trophy and the medals will be handed to the winners on July 16, 2023 in Arlington.
Who will compete in VNL 2023?
As usual, VNL 2023 will feature 16 women's national teams, including a newcomers, the teams that won the Volleyball Challenger Cup in 2022 and earned a promotion to VNL 2023 – the women's national team of Croatia.
Women: Brazil, Bulgaria, Canada, China, Croatia, Dominican Republic, Germany, Italy, Japan, Korea, Netherlands, Poland, Serbia, Thailand, Türkiye, United States
What is the tournament format?
The tournament format will be the same as in 2022. The 16 teams will play 12 games each during the three competition weeks of the Preliminary Phase collecting wins and points towards the general Preliminary Phase standings. The Final Round hosts and the seven best placed teams among the remaining participants will qualify for the quarterfinals to be played over two competition days during the Finals week and to be followed by the two semifinals, the bronze medal match and the gold medal final.
VNL 2023 key dates
May 30 – June 4: Women's Preliminary Phase Week 1 in Antalya and Nagoya
June 13 – June 18: Women's Preliminary Phase Week 2 in Hong Kong and Brasilia
June 27 – July 2: Women's Preliminary Phase Week 3 in Suwon and Bangkok
July 12 – July 16: Women's Final Round in Arlington
One key player for each women's team
Brazil: Ana Carolina Da Silva
Bulgaria: Zhana Todorova
Canada: Kiera Van Ryk
China: Li Yingying
Croatia: Samanta Fabris
Dominican Republic: Yonkaira Paola Pena Isabel
Germany: Anna Pogany
Italy: Paola Egonu
Japan: Sarina Koga
Korea: Park Jeongah
Netherlands: Juliet Lohuis
Poland: Joanna Wolosz
Serbia: Jovana Stevanovic
Thailand: Pimpichaya Kokram
Türkiye: Eda Erdem
United States: Kelsey Robinson
Our ticket sales are now in full swing, and we are thrilled to offer an exceptional opportunity to experience the most highly anticipated event of the year. Click here to access all the necessary information and purchase your tickets.
Follow us on social!
Watch all Volleyball World matches live or on-demand on VBTV