Midlothian's Tater Beard Is Battling Health Issues With The Support of The Community & His Family
Each week Tater Beard broadcasts Midlothian High School sporting events as fans – including himself and co-host Todd Hemphill – hope for victories for their beloved Panthers and Lady Panthers.
Now, it is Beard who is doing the battling, but not alone. The man who is everybody's friend is getting spiritual, emotional, and even financial lifts from the many folks in Midlothian and surrounding communities who love him.
When the winter freeze hit the area in January, Tater slipped while stepping off a curb and cut his foot. That, however, was far from the worst of something that has happened to countless people.
Tater's foot also accidentally went into some stagnant water. With the open cut, he contracted flesh-eating bacteria.
As a result, he had half of his left foot amputated. Doctors are working to get the remaining bacteria out of his system.
"The upside is I get half off my pedicures," the ever-jovial Tater said.
Typically, only 900 cases of flesh-eating bacteria occur yearly in the United States, and one in four people die. Flesh-eating refers to the toxins a bacterial infection produces that can destroy your muscles, skin, and fatty tissues.
Tater might have been one of the fatalities had he not been in the right place at the right time for another reason. He went to the hospital to visit his mother and, while there, decided to have his aching foot checked out.
"I was told if I didn't go that day, I'd probably have died," he said. "My mom's still saving my butt."
Tater added, "It could have been a lot worse. He (the doctor) said there was a 40 percent chance they'd have to take my leg up to my knee."
That's Tater, always finding a positive, even in the most challenging of times.
COMMUNITY SUPPORT
The Midlothian community has rushed to Tater's aid. It's what happens when folks love – and they love him because he's been a pillar in the community and a hero to their kids.
More than that, he's made their kids heroes.
"Lord knows I've got the world's best support system, my wife and the town of Midlothian," he said. "I've cried more since this started than any time in my life. I've probably got a hundred get-well cards from the MILE."
The MILE is the Midlothian Innovative Learning Experience, and Tater is on the board of directors. It is one of several boards and committees he serves on in the community, including the parks board, the Keep Midlothian Beautiful Committee, and the MISD Hall of Honor Board, to name a few.
Tater recalled a young man who played basketball with his nephew, who he hadn't seen in years. He reached out to Tater.
"I hadn't seen him in forever. He called, and we talked for two hours," Tater said.
On July 13, the community is coming together for Teamin' Up For Tater, a fundraiser at Union 28 in Midlothian from 6-10 p.m. The event will include live music, food, specialty cocktails, a kids' zone, door prizes, and a raffle with unique items.
Ryan Rodgers shared on Facebook, "Tater Beard is a salt of the earth type of guy! If you ever wanted to see a guy who is 100% committed to his community, here is a prime example."
More than $13,000 has already been raised through a GoFundMe account, and Hemphill said the hope is to raise another $15,000 or more from this event.
"Todd and I have known each other for 40 years? There is no better friend a person could have," Tater said. "I'm overwhelmed with how many people are reaching out and donating.
"Most people aren't as fortunate as me in knowing how much they mean to people before they pass away."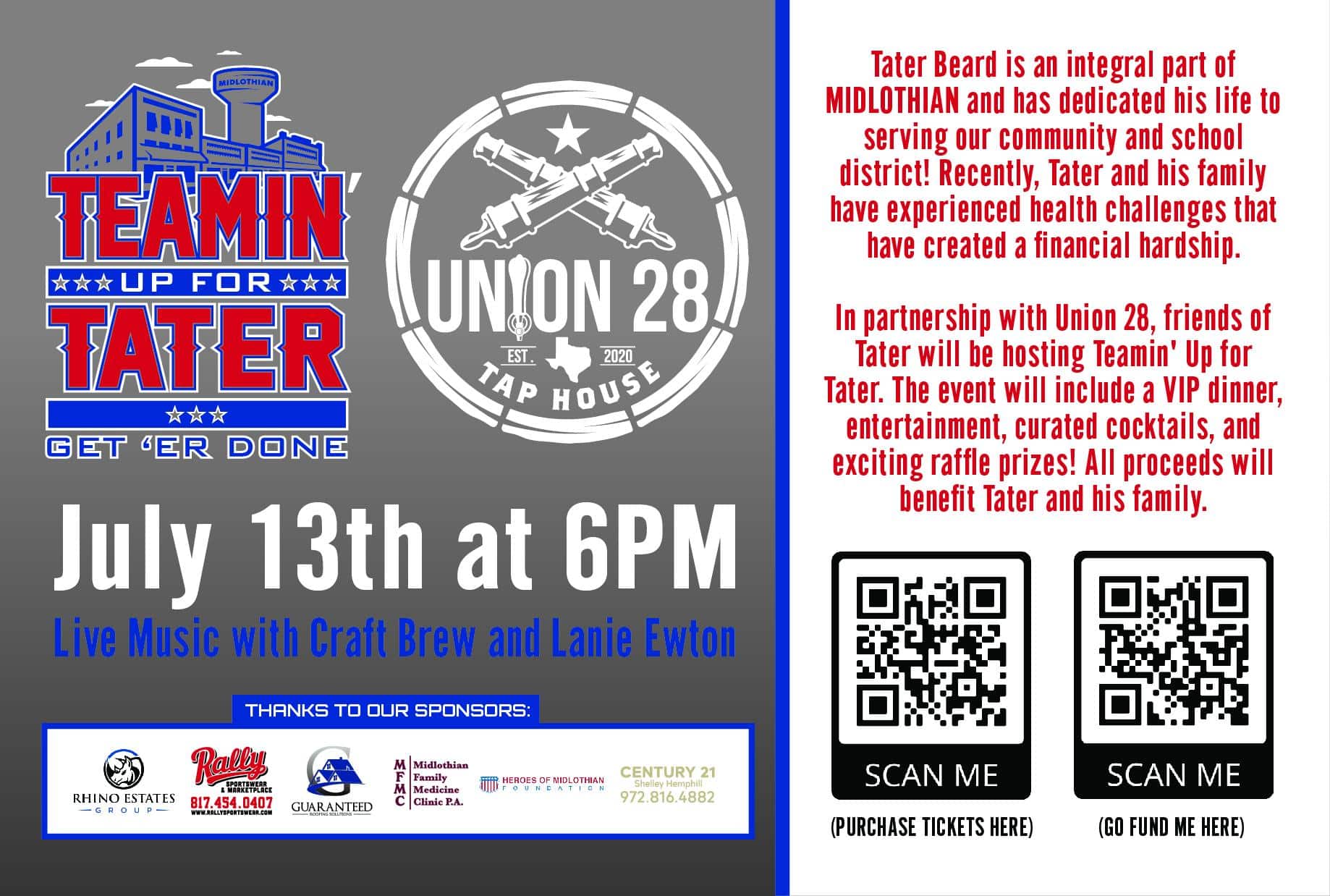 JUST A LOVING GUY
Why do so many folks love Tater? Mostly because he loves virtually everybody.
After moving from Duncanville, where he grew up, to Midlothian a couple of decades ago, Tater has made it his mission to make life better for his neighbors – especially the young ones. He has broadcast every sport, from football to rodeo, and has partnered with Hemphill for the past five.
Not only does Tater broadcast their games, but he also gets to know the players. For instance, he told a friend about his son, "He shoots just like you."
"It's so great eight years later when you meet up with them, and they're talking about a big game they won," he said.
Tater first became interested in Midlothian while visiting his brother, who has been building houses there since the late 1970s. So, one day he decided he wanted to join the community himself.
"My nephews and nieces went to MHS, and I'd been watching them for years – plus, it's just the community; it's so great," he said. "If you tell me five things about Midlothian you don't like, I'll give you five things for each of yours that explain why it is great."
Along with his connection with young athletes, Tater is likable by all ages.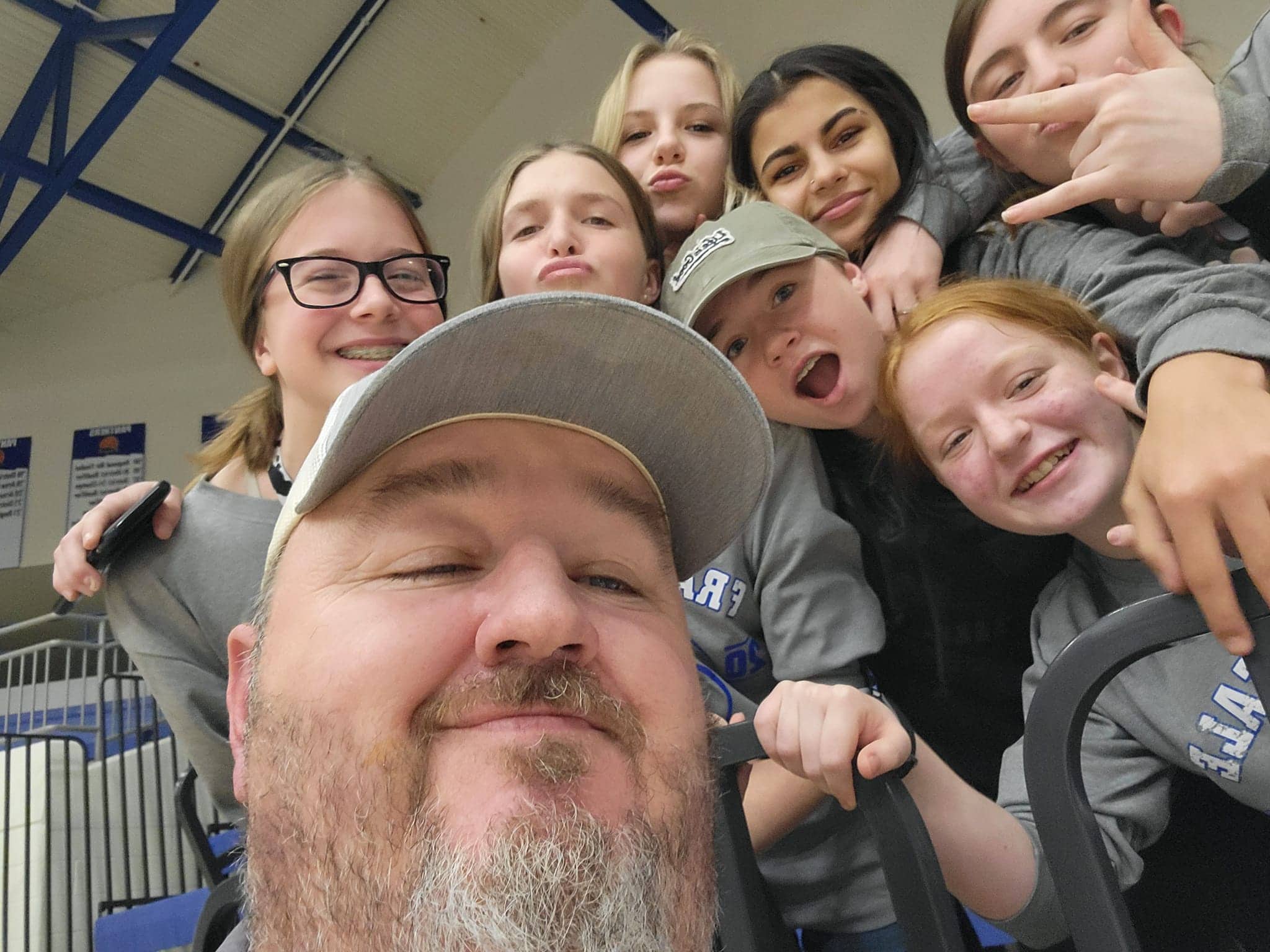 "What does it take, five minutes to say hi to somebody? You never know, that person may be thinking about suicide, and you're being kind helped them change their mind," he said.
Tater said the late Marty Glickman, longtime broadcaster for the New York Knicks of the NBA and the New York Giants of the NFL, inspires him.
Glickman, who was Jewish, was also supposed to run on the 4×100-meter relay in the 1936 Olympics in Berlin, Germany. He and teammate Sam Stoller, also Jewish, were replaced at the last minute by Ralph Metcalfe and Jesse Owens.
Glickman believed the decision was made so as not to embarrass Adolf Hitler. The common belief is that while the relay won a gold medal, it still would have with Glickman and Stoller on it.
"Me and you were inspired by somebody, right? Everybody is inspired by somebody. For me, it's Marty Glickman," Tater said. "He took a passion for athletics and turned it into a career."
MORE CHALLENGES, STAYING POSITIVE
Tater's wife, Teresa, is also facing some health challenges lately. She recently went into the hospital with congestive heart failure. In typical Tater fashion, he's asking for prayers for her over those for himself.
"I have the most wonderful wife in the world. I wouldn't be anywhere close to what I am without her," he said.
Noting her caring nature, he added, "My wife has had to change my bandage every day, which I know has been hard on her. I'm telling you, I am the luckiest man on earth to have a wife like her."
Tater and Teresa have three daughters, the oldest living in the Metroplex with two granddaughters. The youngest is finishing college at Texas Tech, and the middle daughter lives in San Diego and is about to have her first child.
The Beard's daughter Emma shared this on Facebook, "As most of you probably already know, my dad has been on his was to recovery after the amputation of half his foot.
This is something that for most people, would be beyond life altering, but if you know my dad, he hasn't let it slow him down one bit.
He has always used his times of hardship and turned them into motivation and inspiration.
When I was 8, he was in a car accident that we were told would change our lives forever, but again, if you know my dad, you know that isn't necessarily true.
He has taught me what a man of God looks like and strives for. We are not of this world, and he is one of the great examples of how a man should lead his family toward Christ each and every day not only with his words but through his constant outpouring into everyone he meets and everything he does.
Being over a thousand miles away and such a daddy's girl at heart, the news of his recent hardships was tough because I am unable to physically be there for him and my mom throughout this time. After constant phone calls and check ups over FaceTime, I have seen just what the community has done for him and I continue to see what y'all are doing for him via Facebook.
Thank y'all for rallying behind my dad and my family and being the hands and feet of Christ. It brings joy and tears to my eyes to know while I am not able to be there physically, you all have stepped up and shown him unconditional love and support. So thank you all for teaming up for my dad🤍 Tater Beard
(And special thanks to my mom for holding down the fort back at home. Without you, Dad wouldn't be as strong as he his. You're the best. we love you, Teresa Beard)"
"I still don't understand why I deserve all I have, but I'm so grateful and glad I have it," he said.
WHAT'S AHEAD
Tater will get a prosthetic for the missing half of his foot. For now, he's filling the empty space in his shoes with socks.
He was wearing a boot on the leg with the injured foot, but that was removed after it became irritated. He also has a hole in the bottom and top of the foot.
"I just take it really slow. You don't realize how much you balance on your toes," he said. "It's painful. I'm walking on raw meat. It hurts just to put the gauze on."
But he isn't letting it stop him from doing what he loves best, spotlighting youngsters on the air and helping his beloved community. And he doesn't plan to stop.
"You find a way," he said. "You adapt, and you get over it."
Oh, and if you're wondering where he got the name 'Tater', well his Dad was inspired by a character in the Snuffy Smith Comic Strip.