Sculptor John Stoker has spent a large portion of his 78 years working with trees. For 40 years he operated a thriving tree and landscape service in the Best Southwest area. Now that his son has taken over the family tree service, Stoker is free to pursue his passion for wood-carving and metal sculpting.
My friend Bobby and I recently toured Stoker's workshop, located on his heavily wooded acreage that's set so far back from the road it's completely hidden from view. After traversing the drive into the expansive property, we were enchanted by our surroundings. The place looks and feels like something out of a fairytale.
Stoker's whimsical wood and metal sculptures are scattered around the property, along with bird feeders and a few cement pieces. Piles of tree logs, branches, and stumps are everywhere, awaiting the master sculptor's touch to restore them to life. An artist and a naturalist, Stoker appreciates and understands trees from a unique and different viewpoint than most of us. He sees patterns and feels rhythms in these discarded pieces of wood that others might dismiss as debris. He then slowly and patiently turns them into beautiful works of art.
Importance of Trees
"Trees are important to all living creatures, they take care of us," Stoker says. They clean the air and do exactly what God intended them to do. When you cut a tree branch off, the tree might be screaming inside but it keeps on trying to do what it's supposed to do."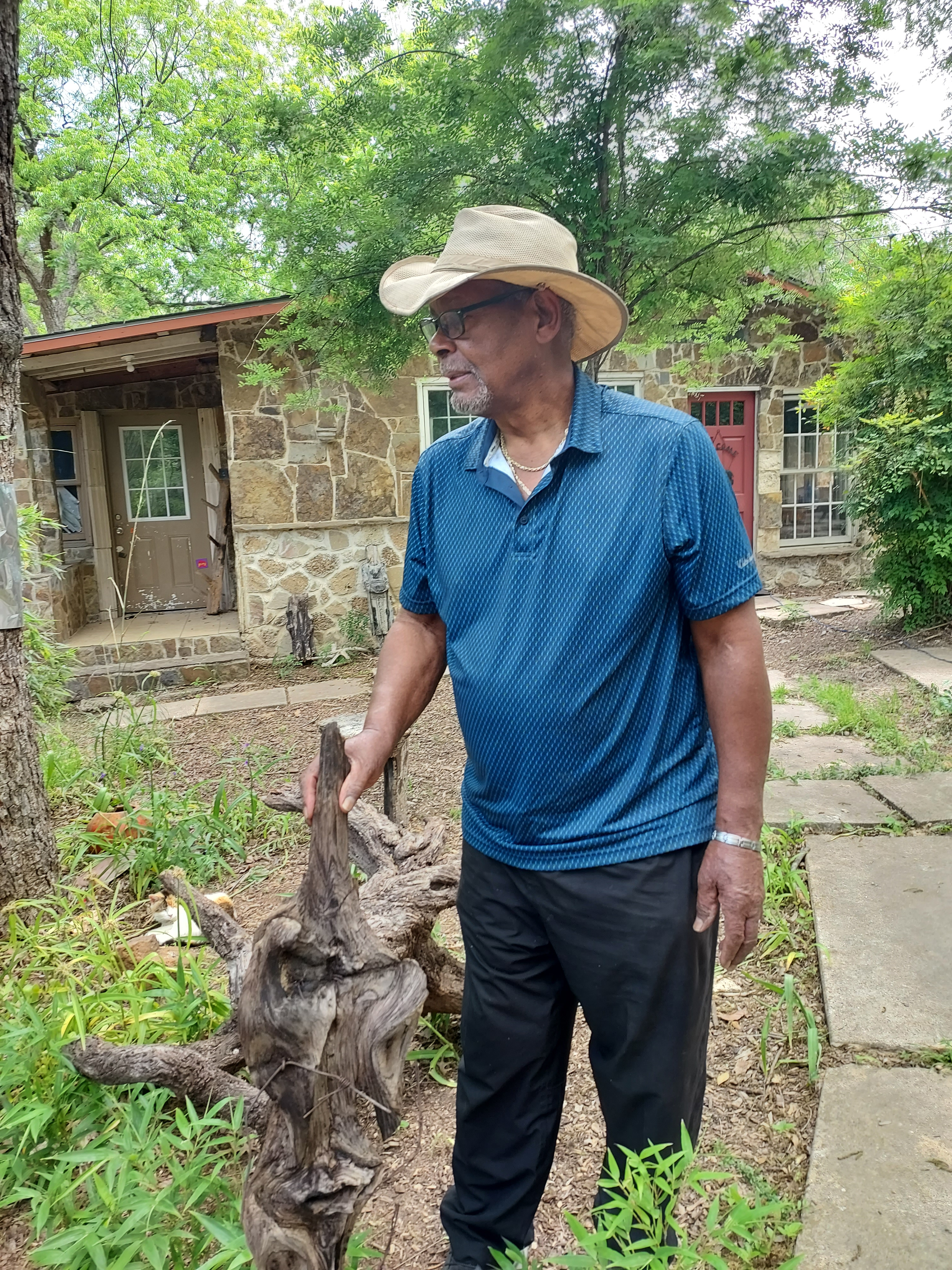 Stoker grew up in East Texas, on a farm outside Marshall where his father worked for a Mr. White who owned the cotton fields and gin. White gave his dad half of the money for every bale of cotton he produced. His dad used a wagon with rubber tires pulled by two horses to plow the fields. As a young child, John Stoker remembers falling out of his dad's wagon and being run over by one of those rubber tires—and miraculously surviving the accident.
As a boy, Stoker remembers he always preferred to be outdoors fishing or trying his luck with a slingshot made from a piece of wood. He also remembers tying a green grasshopper to a matchbox it pulled like a carriage. When he was eight or nine years old and quarantined indoors with a case of mumps, he first started carving and whittling wood.
Sculptor John Stoker
When Stoker lost his wife to lung cancer 15 years ago, he started carving walking sticks "from sunup to sundown" to handle his grief. He sometimes returns to a stick he sculpted years ago and works on it some more. He says none of his work is ever really "finished," and for that reason, he hates to part with any of his stunning sculptures.
"I sometimes give them away," he shrugs, "but don't really like to sell them," he admits.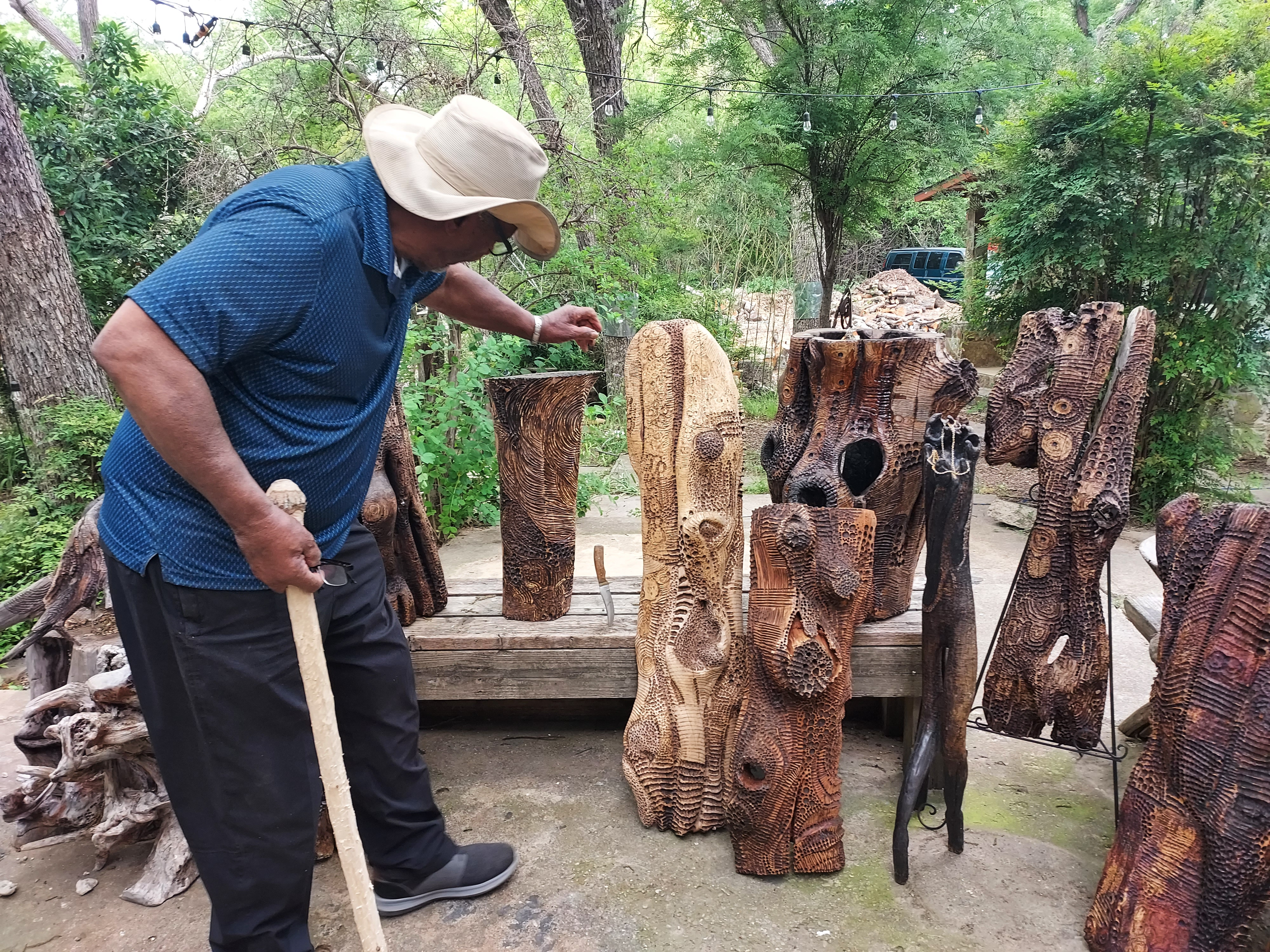 I first saw some of Stoker's pieces at a friend's home who has lived for years on some tree-covered acreage in Duncanville. John Stoker's tree service has worked on her property for years, and she had some of his pieces on exhibit for a private event. While several of us gathered around him, eager to know "how much it costs to buy one of these sculptures," Stoker was noncommittal about pricing any of his creations.
Meanwhile, Stoker is surrounded by a dazzling collection of beautiful works of art that he's created over the past 15 years. He still spends every day making more, "from sunup to sundown."