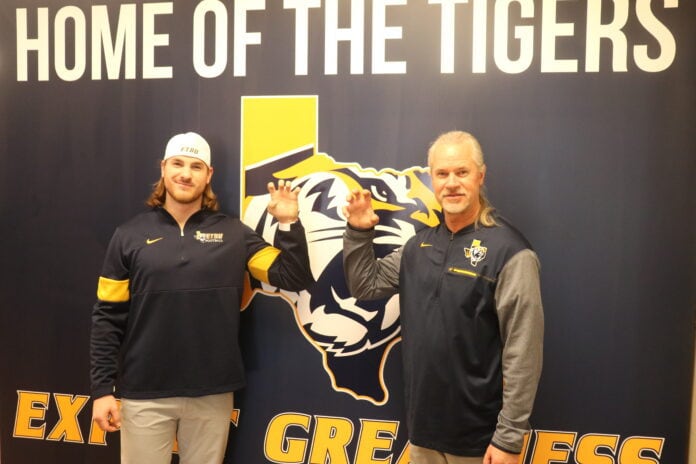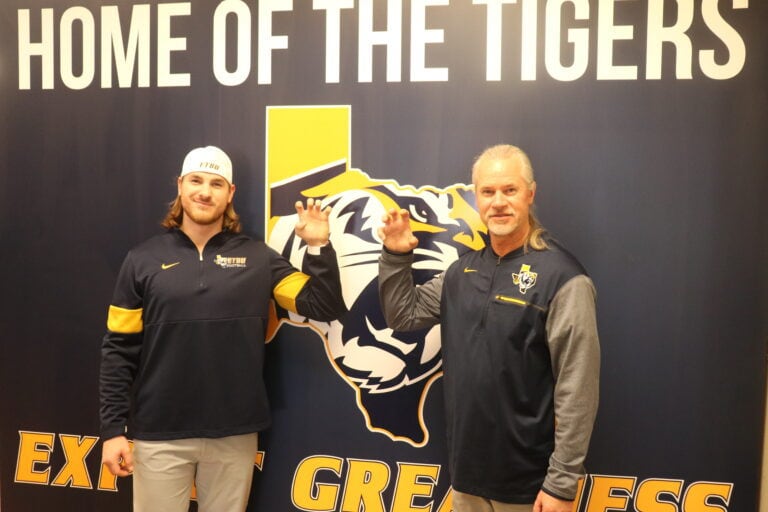 By Nicolas Hernandez
Friday Night Lights, 100 yards and the pigskin run through the blood of Calvin and Mason Ruzicka the father and son coaching duo at East Texas Baptist University (ETBU) in Marshall. Their roots sprouted in Cedar Hill where Calvin was an assistant football coach and Mason was a CHHS Graduate.
Calvin "Coach Ru" Ruzicka was named the head coach at ETBU in November after the Brian Mayper retired. Calvin served as the assistant head coach and Defensive Coordinator for five years prior to getting the Head Coaching role.
"The Ruzickas are great coaches who are in it for the right reasons – the players love them because they want them to be great," former Cedar Hill head football coach Joey McGuire said.
Calvin graduated from Texas State (then, Southwest Texas State) in 1988 and has been coaching for 27 years, including 18 years at Cedar Hill. He was part of the Longhorns' three State Championships in 2006, 2013 and 2014.
"It is a blessing from our Lord to have coached in four and won three state championships," Calvin said. "The outpouring of support and pride in the community was amazing. It was gratifying to see the hard work put in by those players and coaches come to fruition."
While at Cedar Hill , Calvin was the special teams/secondary coach and worked with the track team and the coach of his son, Mason, a 2014 Cedar Hill High School Graduate who started at halfback during the 2013 State Championship Run.
Mason later went on to play two years at Southwest Baptist University in Bolivar, Missouri before transferring to the University of Texas at Arlington to finish his undergraduate degree. After graduation, Mason took his first coaching job has a graduate assistant at ETBU in 2018 where he grew rather quickly holding the position of linebackers coach for three years . Last November, he was promoted to recruiting coordinator/special teams coach while still working with the linebackers.
"Playing at Cedar Hill shaped me because I was around driven and passionate coaches and teachers.," Mason said. "One's that not only pushed you to be the best one could possibly be, but also cared for and loved like you were one in the same family."
The Ruzickas have coached together for five years and will continue to share the sideline and Thanksgiving dinner every year. Mason said, "Honestly, there's not too much difference. We do a really good job at balancing 'Father/Son' & 'Head Coach/Assistant Coach' and having the opportunities to play for and coach alongside him have been a blessing."
Calvin enjoys working with his son at ETBU.
"There is pride in both situations," Calvin said. "When he was a Longhorn, I was not his direct position coach. It allowed me to just be dad and encourage him, watch him and cheer for him. It was an awesome experience to share such a successful season and be a part of a state championship together. I'm so proud to watch him grow as a coach, young man and see him interact with his players. He could've chosen another profession or to coach at another school, so I am grateful for the time we get to share and be together. I'll cherish these times and memories forever, Coach."
The Ruzickas said their time at Cedar Hill prepared them to be good coaches and good mentors. They enjoyed many memories at Cedar Hill and will continue to be Longhorns forever.
Nicolas Hernandez, a Cedar Hill High School Class of 2022 Graduate, is a freshman at East Texas Baptist University where he's a member of the ETBU Baseball Team.