SAGU Soccer Coach Signs With Dallas Sidekicks
WAXAHACHIE—After more than 15 years of hard work spent on the field, Cesar España accomplished his life goal of being signed as a professional soccer player.
España, Southwestern Assemblies of God University (SAGU) Assistant Men's Soccer Coach, signed on as a goalkeeper with the Dallas Sidekicks in December of 2016.
"It has always been a dream to sign a professional contract," España says. "My dad worked hard to become a professional soccer player and that is something I have always looked up to. His work ethic and the sacrifices he has made for me is what pushes me every day when I am running on a few hours of sleep."
Adjusting To A New Arena
However, España still believes he has a long way to go to prove himself as a professional indoor soccer player and earn playing time.
"It (indoor soccer) is a new sport for me," España said. "I think I have made a lot of improvement. Right now, one of my overall goals is to just be there and help out the team. I know that with time and training, I will start to get playing time."
España grew up playing traditional outdoor soccer in El Salvador before moving to the United States at 16 years old. He also played for the El Salvador national team before transitioning to life in the United States. España would once again have the opportunity to play for El Salvador's national team in 2015 during the World Minifootball Federation (WMF) Arena Soccer World Cup. This was the first time that he had ever played indoor arena soccer.
One of the main differences between indoor and outdoor soccer is that there is no out-of-bounds in indoor soccer which results in faster play with significantly less stoppage time.
The off-sides rule is also non-existent in indoor soccer.
Adjusting to the play of indoor soccer as opposed to traditional outdoor soccer was a challenge for España. "It is a completely different sport," España says. "It has been hard for me to adjust. Outdoor soccer is a little bit slower. I have had to get adjusted to thinking faster with the ball. I have gotten better at it but there is always room for improvement."
España practices with the team daily from about 9:30 p.m. to midnight. After practice and an hour and a half drive back home, España gets up first thing in the morning to work for the Academic Services department at SAGU.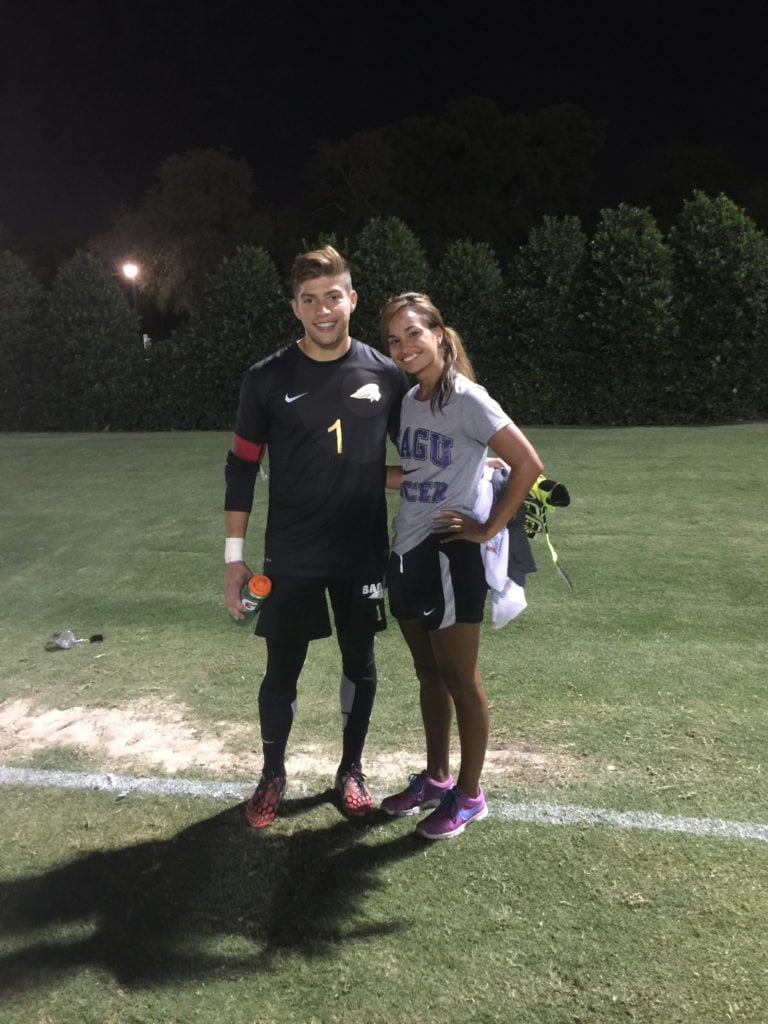 Endeavors Off The Field
Along with working full-time and his responsibilities as a professional player, España is also working toward his MBA degree and is engaged to Natalie Pena, an online admissions counselor at SAGU.
"Cesar is the hardest worker I know," Pena said. "He is so disciplined and passionate about playing soccer. Not only would he practice in the afternoon but he would also wake up at 6 a.m. and work out. I personally thought he was crazy but he wasn't crazy. He was just determined to be better not only for himself but for the team."
Passion, Connections Pave The Way
For España, the process leading up to his signing all started in September of last year. Through his close friend, Ramon Cardenas, España was able to meet the coaching staff for the Sidekicks.
Paul Hason, SAGU Women's Soccer Head Coach and former Sidekick, was also able to help develop a connection for España.
In addition, España believes that Clementin Oancea, SAGU's Head Coach for Men's Soccer, has played a significant role in his success as an athlete.
"His passion and dedication to the sport of soccer is something I have always looked up to," España says. "Throughout the years, under his leadership as a head coach, he has helped me to develop into a better soccer player and understand the game at a higher level."
After the completion of SAGU's soccer season, España was able to commit more time practicing with the Sidekicks. Pena said that at the time, it was difficult for España to drive an hour and half one way to practice with the Sidekicks every day. Meanwhile, España could only hope that the time spent away from fiancé would lead to an opportunity to play professionally.
"It wasn't easy for him to make that drive every day not knowing if he was going to get anything out of it," Pena says. "It all ended up being worth it though."
What is  España most excited about, "I know this is a step forward to new beginnings in my career."