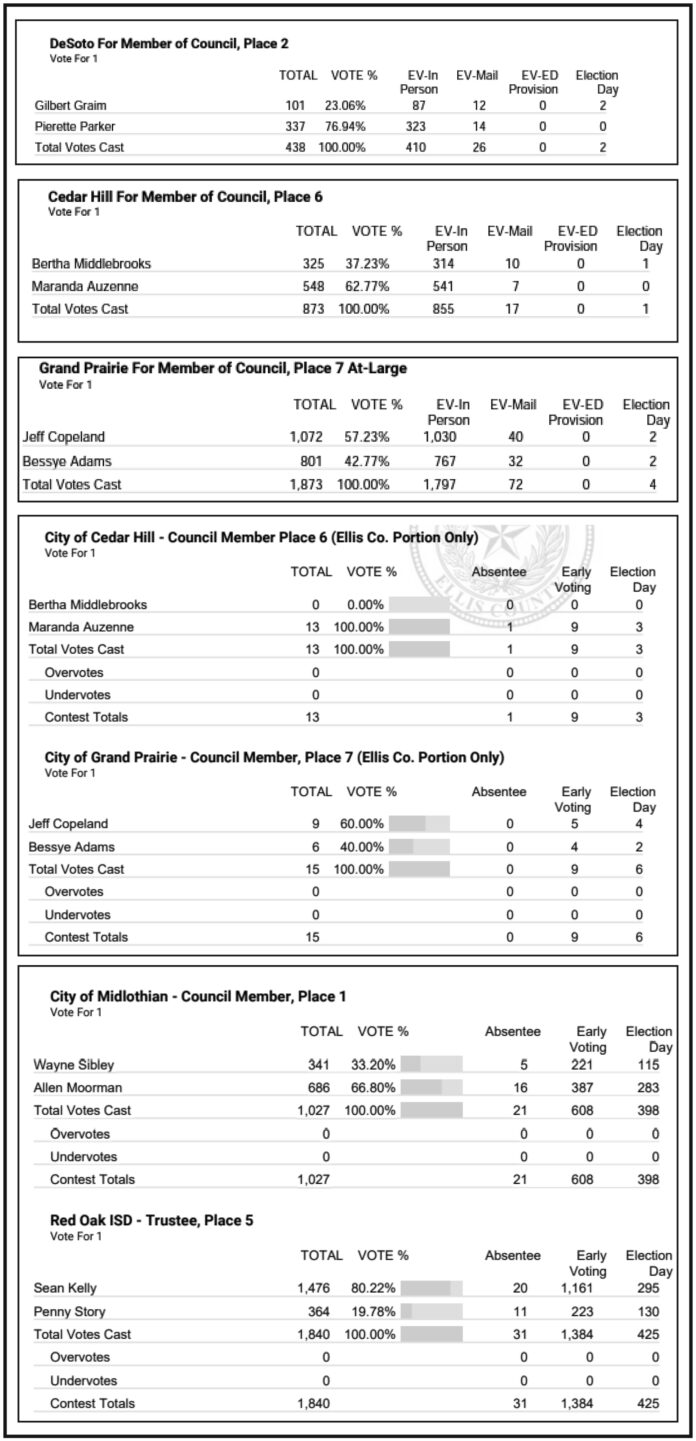 The cities of Cedar Hill, DeSoto and Midlothian had runoff elections for City Council while Red Oak ISD voters had a runoff for school board. Unofficial election results showed: Maranda Auzenne won in Cedar Hill, Pierette Parker in DeSoto, Allen Moorman in Midlothian and Sean Kelly in ROISD.
Cedar Hill councilwoman elect Maranda Auzenne shared on Facebook, "When the campaign started, I wanted to have a vision for what success would look like. As a human and a competitive person, I had to really think about this. Ultimately, the vision was to share how I can help our city to flourish, to continue to listen and to connect with people, to not shy away from difficult things and to proceed with integrity no matter what. This vision resonated and I am thankful to be councilwoman-elect!
I wanted to thank everyone who had a hand in helping during this campaign. From my neighbors, family and friends to the volunteer canvassers and volunteer poll workers, everyone was committed to the vision and relentless in embodying it themselves. There are so many to thank that I can't possibly list everyone.
However, I must thank Cliff Shaw, who has served our city spectacularly for over 20 years. I have deep respect and admiration for him and his support was strong, unapologetic and encouraging and it span from the beginning of the general election to the very last day of the run-off." *This is part of her comments, you can read her entire statement on Facebook.
In DeSoto Pierette Parker is the councilwoman elect for DeSoto Place 2, she shared "A huge SHOUT OUT: I am truly honored and humbled by this election and the wonderful support in both the May 6th and June 10 elections. The people of DeSoto did speak. Thanks to any amount of support that was provided to help this get to the finish line. We did it!!!!!
Now the real work begins, and I am ready for it!"
And in Midlothian, Allen Moorman is councilman elect for Midlothian Place 1, he shared "We won the election! Thank you all for the calls, texts, messages, and support! It is a blessing to have so many friends and neighbors supporting me in this race."
Red Oak ISD had a runoff with the incumbent Penny Story being defeated by Sean Kelly. On Facebook Kelly wrote "Thanks to all the supporters, voters, block walkers, those who passed out cards, and the H.E.R.E. group working behind the scenes for my school board run.
This town and school district have always been a huge part of what I am. It has been humbling to have such strong supporters who many have now become friends. I am ready to serve our community in a new capacity. I'm ready to listen to staff, students, and parents and continue to move ROISD in a positive direction. I also thank my family and friends for support throughout the campaign. Once a Hawk, always a Hawk."