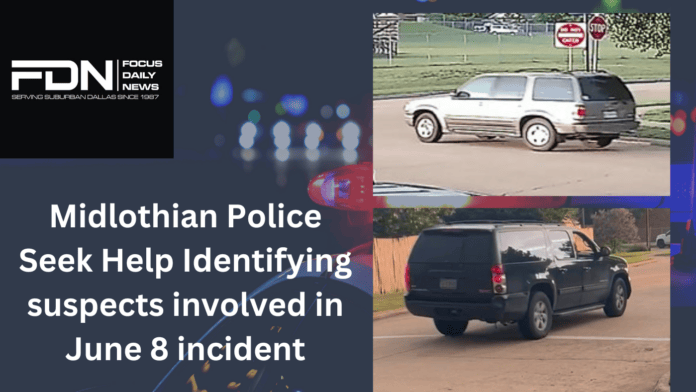 Witnesses Report Shots Were Fired From Vehicles
On Thursday June 8, 2023 at around 8:00 PM, Midlothian officers responded to a Disturbance in the Park Place Neighborhood. Several residents called 911 and reported two vehicles appeared to be chasing each other and were speeding along streets in that area.
In the 1000 block of North Carolina Avenue, the occupants of the vehicles began firing handguns from inside the vehicles. Most witnesses described the event as a possible road-rage incident with the occupants shooting at each other. Other witnesses thought the occupants may have been shooting into the air or at houses along the street. None of the residents that spoke with us recognized the vehicles or occupants.
Photos obtained from home surveillance cameras are attached to this post. The first vehicle was described by witnesses as a light-colored Ford Explorer, possibly beige or tan. The second vehicle appears to be a black GMC Yukon with Texas plates and damage to the right rear taillamp and the right side of the rear bumper.
If you recognize these vehicles or have any information on this case, please contact MPD Detective Erin Blust. She can be reached at 972.775.7675 or at erin.blust@midlothian.tx.us.