This year was our first visit to Aransas Bay since Hurricane Harvey hit Rockport-Fulton last August. Spring Fling, hosted by the Rockport-Fulton Chamber of Commerce, has been a favorite event for me and my husband for several years. So last week we drove back down to Rockport-Fulton to revisit some of our favorite places and people.
Thankfully, these stubbornly resilient residents of the Texas Gulf Coast weren't about to let Harvey win. Volunteers from all over the country have also poured into the area to help with rebuilding efforts. While there is a lot of work to do, with over one third of the buildings gone, the natural beauty of the area still exerts a strong pull. For instance, Rockport Beach was recently named Best Texas Beach by USA Today.
With activities like boating, fishing, biking, bird-watching, hiking, kayaking, and touring nature preserves, there is so much to do in Rockport/Fulton. We always like visiting with the local fishing boat guides, city and chamber officials, and other journalists from Texas Outdoor Writers Association.
We also enjoy eating succulent seafood at places like The Boiling Pot, which is back doing business as usual. This local favorite doesn't fry anything. Waiters dump platters of spicy, fresh boiled shrimp, crawfish, new potatoes and corn before each bibbed customer, with refills on request.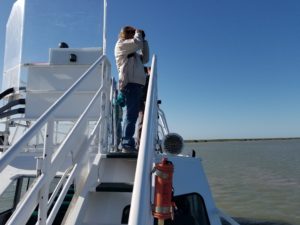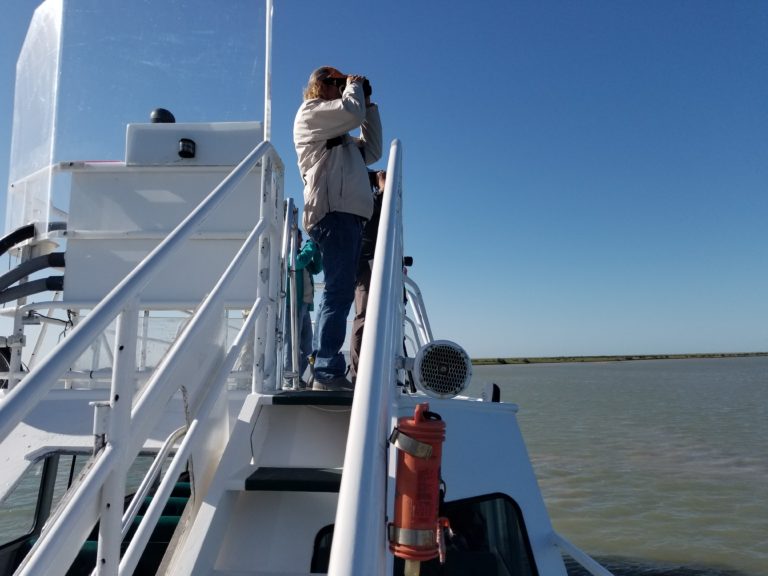 On a BirdAransas bird-watching trip with Captain Jay McFarlane, we saw one of the last Whooping Cranes. The crane looked a little lonely since most of the flock had already taken wing for cooler climates. This endangered species has found such a warm welcome in Aransas Bay they have dramatically increased in numbers.
Over 75 bird species draw birding enthusiasts to the area year-round so there is always something interesting for bird-watchers. There were several avid birders on the trip, including two ladies from California who spotted all sorts of species I had never heard of. American Oystercatchers, Roseate Terns, a Willet, lots of gulls and skimmers, a brown pelican, Reddish Egret, several herons, sand cranes, and more seagulls and ducks than we could count. There were others, but I fell behind in identifying all of them.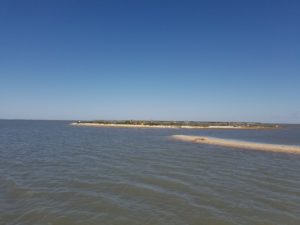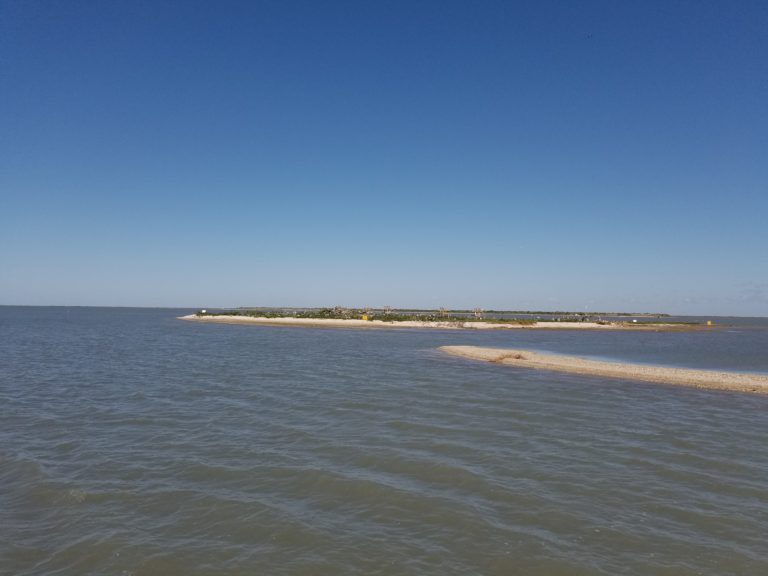 September's hummingbird festival was cancelled last year, coming just after Harvey's destruction. These tiny birds nestle in the hands of spectators, who flock to the festival each year. This year will see a return of the birds and the festival, which always sells out. Sadly, there still aren't enough hotel rooms to lodge all the people who would like to attend this popular event.
Several favorite hotels, such as the new Marriott Fairfield Inn where we stayed last year and longtime fixture the Lighthouse Inn at Fulton Harbor, were destroyed in the hurricane. Neither has been rebuilt yet, but we hope they will be by our next visit. This year we had a great time staying in a cozy cottage at Pelican Bay Resort in Fulton.
Our boat trip took us close to another favorite stop, Aransas National Wildlife Refuge, where visitors can view wildlife (including giant gators) in their natural habitat. While we weren't able to fit in a tour of the facility on this trip, the refuge has reopened.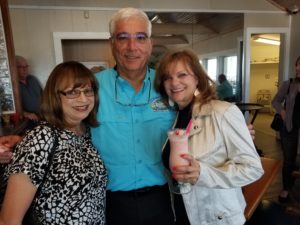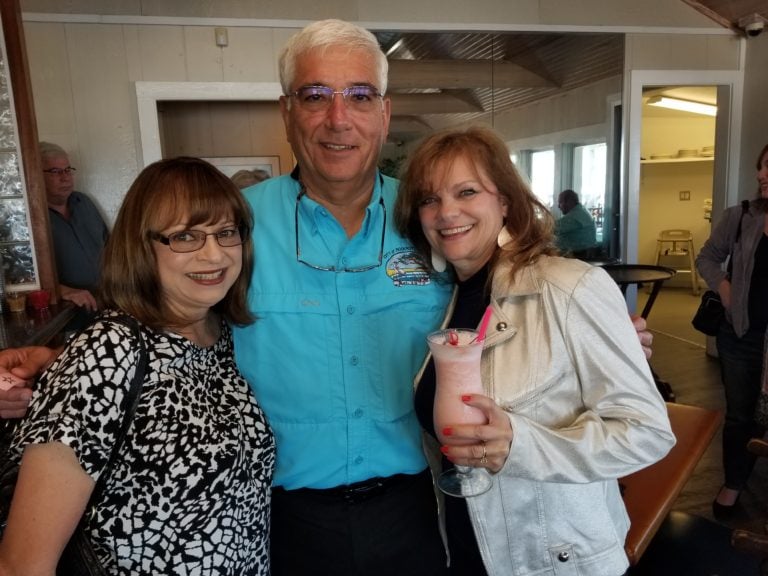 We had dinner at Charlotte Plummer's Seafare Restaurant our last night in Rockport-Fulton. Their shrimp/crab/avocado tower appetizer is a meal in itself, and the crab cakes are delicious. There's always a great view of Fulton Harbor and Aransas Bay from the restaurant's upper deck, and the weather was beautiful for this trip. We were happy to see Charlotte Plummer's and The Boiling Pot both had reopened.
While Harvey's economic impact on fishing the bays of Rockport-Fulton has taken its toll, the fishing industry is returning to normal. Sport fishing is especially gaining in popularity. We heard oyster season, just drawing to a close, was very successful this year. We saw quite a few oyster reefs, a favorite bird refuge, on our boat trip.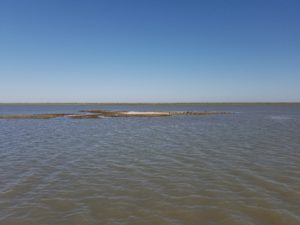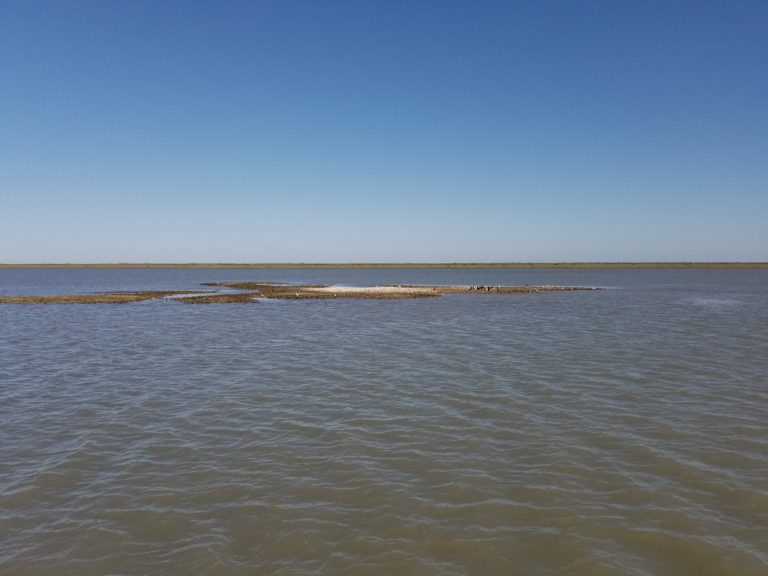 Aransas County Navigation District Harbor Master Keith Barrett said, "Fishing has been phenomenal this year since the hurricane. Even those people who are not fishing from a boat have been reporting better than average catches. Although a few public piers are not back in order, Breakwater Piers on the south side of Rockport Beach and at the end of Market are free, lighted, open and great places to fish. Fishing is easy on the wallet and a great way to break away from the electronic world. Record numbers of drum, trout and redfish have been caught in our local waters after the storm."
During our visit the community was buzzing because Ellen DeGeneres announced that Lowe's Home Builders had donated $1 Million to help rebuild their high school gymnasium on behalf of the girls' volleyball team. We also saw several TV spots by country music star George Strait, whose home in the Key Allegro subdivision was damaged in the storm.
Rockport-Fulton still has a lot of recovery work ahead, but they will be back—stronger than ever. And we will be back as well. It is inspirational to see the outpouring of support for this lovely seaport community.