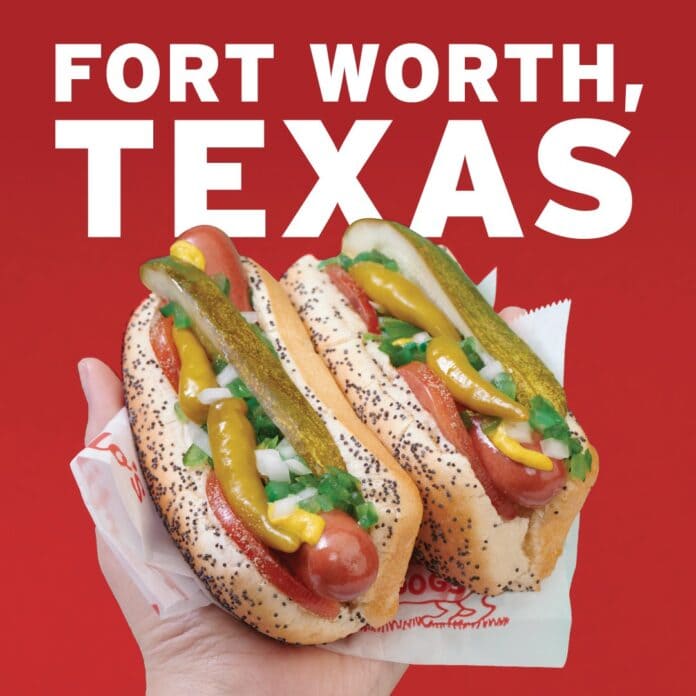 The iconic Chicago restaurant brand to continue its expansion in the Lone Star State with new restaurant slated for Fort Worth
OAK BROOK, Ill., August 1, 2023 – Following a highly successful opening of its first restaurant in Texas earlier this year and recent announcement to expand its footprint within the Dallas-Fort Worth region, Portillo's (NASDAQ: PTLO) – the fast-casual restaurant concept known for its menu of unrivaled Chicago-style street food – today announced plans to open another restaurant in the Lone Star State.
Portillo's will open its first restaurant in Fort Worth, which will be located in the North City Development on N. Tarrant Parkway between highway I35 and 287. The high-traffic area includes retail, office and residential sites and being less than 10 miles from Texas Motor Speedway, the restaurant will feature a garage-style design. It will be 7,800 square feet and feature seating for 180 guests inside and an additional 50 on the outdoor patio. It will also feature Portillo's signature double drive-thru lanes.
"Since opening our first location in Texas this past January, we have loved serving fans from all across the Dallas-Fort Worth area," says Portillo's CEO Michael Osanloo. "We quickly followed the successful opening of our restaurant in The Colony by announcing plans to open restaurants in Allen and Arlington, and are thrilled to share additional plans to further expand into the DFW area. We can't wait to bring our unrivaled Chicago street food to even more fans and newcomers in Fort Worth."
When the new restaurant opens for business, guests can expect to enjoy Portillo's signature menu items like Chicago-Style Hot Dogs, Famous Italian Beef Sandwiches, Char-Grilled Burgers and Portillo's Famous Chocolate Cake.
Hiring for managers and shift leads will begin soon. The chain offers competitive pay, flexible schedules, growth opportunities, free shift meals, the opportunity to get paid daily and more. Visit portillos.com/careers for more information.
Fans are invited to sign up for the chance to attend a free sneak peek training meal prior to the opening of the Fort Worth restaurant by visiting Portillos.com/FortWorth. Loyal fans will also receive updates on Portillo's developments and events surrounding the new restaurants.
For more information on this restaurant and others, please visit portillos.com or follow Portillo's on Facebook, Twitter and Instagram.
ABOUT PORTILLO'S HOT DOGS
In 1963, Dick Portillo invested $1,100 into a small trailer to open the first Portillo's hot dog stand in Villa Park, IL, which he called "The Dog House." Years later, Portillo's has grown to include more than 75 restaurants across 10 states. Portillo's is best known for its Chicago-style hot dogs, Italian beef sandwiches, char-grilled burgers, fresh salads and famous chocolate cake. Portillo's ships food to all 50 states via Portillos.com. Portillo's Home Kitchen is the company's fast-growing catering business.