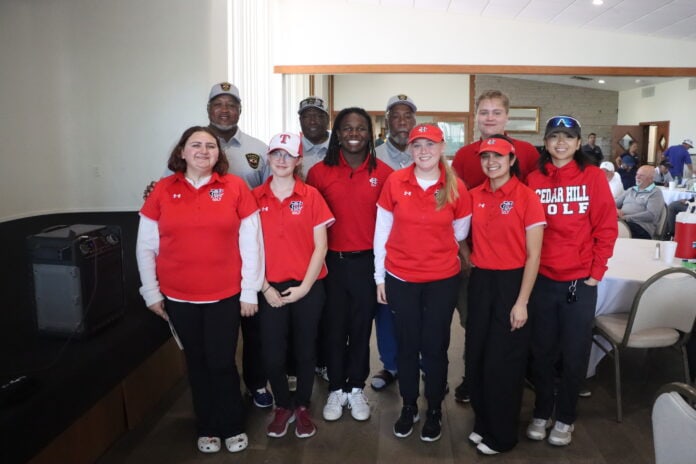 As a golfer myself, I can't wait for the day when my granddaughters can hit the links with me. I didn't play the game when my two children were young, but if I could get Superman to do his time reversal thing so I could go back and do that, I'd be grateful.
However, no super powers were needed to make history at this year's third annual Cedar Hill Education Foundation Golf Tournament played recently at the Golf Club of Dallas. For the first time in its short history, the event had parents playing with their children, six pairs of teams that included father-daughter/father-son tandems, in fact.
"It was special because it provided a chance for the parents and student athletes to play together, showed that golf can be a sport that can be played at any age and in a different type of format than our stroke play tournaments – and it also gave the parents and student players exposure to community involvement and awareness of the golf program we have built at the high school level," said Cedar Hill head golf coach Thomas Himert.
All of the nine students who played are a part of the Cedar Hill High School golf program.
"I really enjoyed playing golf with my dad because it was a bonding experience over doing something we both love," Isabella Reyes said.
Her father, Cedar Hill Police Chief Eli Reyes, added, "This was our first time playing a round together, and I really enjoyed it."
The winning team was the Dallas Area Patrol and Protection Services (DAPPS) foursome of Chief Maurice Jones, George Barnes, Rick Walker and Ken Suber. They donated their prize winnings of $300 to the CHHS golf program.
Second place went to the Complete Supply team of Jeff Marshall, Todd Kile, Price Bahcall and Steve Thomas. Taking third were Cedar Hill ISD Superintendent Dr. Gerald Hudson, Quincy Johnson, Jerome Carter and Charles Johnson.
The final amount raised from the tournament had not yet been finalized. The Cedar Hill ISD Educational Foundation provides scholarships to students and grants to teachers and staff.
Last year, the tournament raised $21,000.
"It was a great experience for both the players and the parents to be able to bond together with a sport," Himert said. "We are fortunate to have a strong parental support system in our golf program and to have such smart and dedicated students on our team."
Denise Root, Executive Director of the Cedar Hill ISD Education Foundation, said the tournament is simply "a wonderful opportunity for golfers to have a great time while supporting the scholars and educators of Cedar Hill ISD.
"What made this year's event even more special was the fact that several of our Cedar Hill Longhorn golf team members played alongside their fathers. This is an experience that they'll never forget."
Now where's Superman when I really need him?