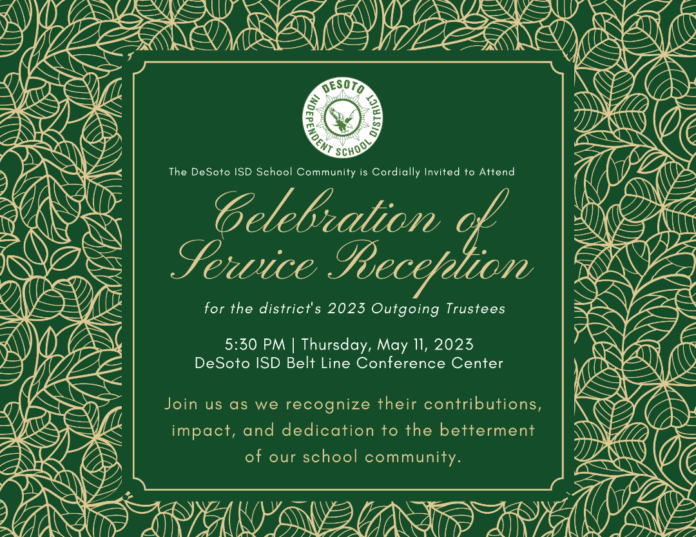 DESOTO, TEXAS – The DeSoto Independent School District invites the school community to join the district in celebrating the contributions, dedication, and impact of our outgoing school board trustees, Karen Daniel and Dr. Tiffany Clark. The reception is set for the Belt Line Conference Center, located at 200 E. Belt Line Road on Thursday, May 11 from 5:30 p.m. to 6:30 p.m.
As elected volunteers, they have worked alongside their peers to establish a vision, provide guidance, maintain structure, and access to resources and program funding to ensure that the district can consistently fulfill its mission of ensuring that all students, without exception, achieve to their highest levels.
These two trustees, Daniel and Clark, were former educators in the district before obtaining their trustee seats and have maintained a focus on student success and student achievement for nine and six years, respectively. 
Key Highlights about Trustee Karen Daniel's Board Service
Trustee Karen Daniel was elected to the school board in 2014. For the last nine years, she has held various leadership roles serving as secretary (2015-2016), vice president (2017-2019), president (2019- 2020), and as a general trustee (2020-2023).
Daniel's leadership as the school board president was instrumental to help guide the district through the Covid-19 global pandemic. Since her election, Daniel has continually worked for the advancement of the district as a trustee and is known as an advocate for both students and teachers. She used her public platform to focus on recapturing the district's academic excellence, providing a safe, disciplined learning environment for students and teachers, and promoting future readiness for all scholars. 
She is proud to be a part of the school board that has produced a set of achievable goals for students which address student literacy and numeracy, individual growth goals, and life preparedness.
  "As a board, we are achieving success in achieving these goals and have brought the district from a D rating academically to a B rating," said Daniel. 
Additional personal contributions for Daniel include bringing a diversity of thought, action, and culture to the board. She also served as a member of the Education Foundation Scholarship Committee, the co-chairman of the Education Foundation Gala honoring the top twenty-five students and their teachers, a founding member of The Young Women's Leadership Forum, serving as the keynote speaker for the DeSoto High School Class of 2020 graduation ceremony.
As a former English teacher, she often read to elementary students during Read Across America Day. Daniel also intentionally built relationships with the administration and fellow board members, and the community, and was the one who named the street which leads to the DeSoto ISD Katherine Johnson Technology Magnet Academy. One special accolade that gives her great pride is being inducted into the Hall of Honor with the Distinguished Service Award in May 2016. 
Key Highlights about Trustee Dr. Tiffany Clark's Board Service
In 2017, Dr. Tiffany Clark became the youngest woman ever elected to the DeSoto Independent School District Board of Trustees at the time. Over the past 6 years, she has used her platform to ensure the district maintained a strong focus on Academics, Accountability, and Achievement for all DeSoto ISD students to empower her community.  Through the years, she has been seen as an activist, advocate, and an agent of change. Clark helped to implement a community service policy and enact an attendance policy, implemented staff mental health days and added African-American and Mexican American studies courses to the district curriculum. 
Dr. Clark has also initiated policies to revamp the student dress code and developed a reputation as a "thought leader" on School Safety, including a headlining the town hall in 2018 with Texas Senator Royce West.  
In 2019, Dr. Clark was named a Dallas Business Journal '40 under 40' honoree in recognition of her trailblazing leadership potential in Dallas/Fort Worth. In 2020, she was selected to participate in the Leadership TASB program, a yearlong educational leadership journey. In 2021, she is a recipient of the inaugural class of Texas Coalition of Black Democrats 40 under 40 Elected Officials and Community Leaders.
Dr. Clark is a 2007 DeSoto High School alumna who has obtained a Bachelor's degree from the University of Houston, a Master's degree in Community & School Counseling from the University of North Texas, and a Doctoral degree from Abilene Christian University, where she focused on conflict resolution. As trustee, she held the role of vice president from 2021 to 2022.
The community is invited to celebrate and learn more about these DeSoto ISD trustees at the May 11 reception. Light refreshments will be served. This event is open to the public.
At the district's upcoming board meeting on May 15, these trustees will officially pass the baton to their predecessors.