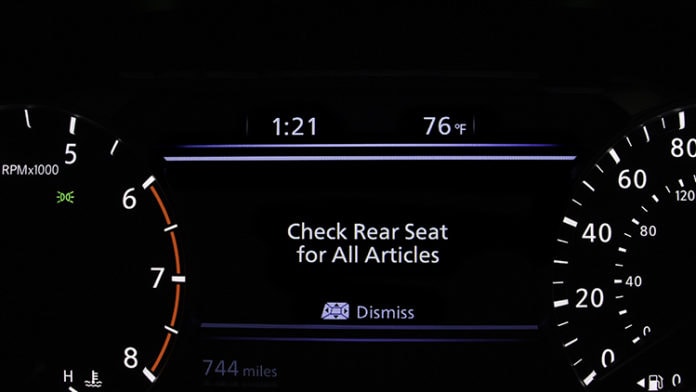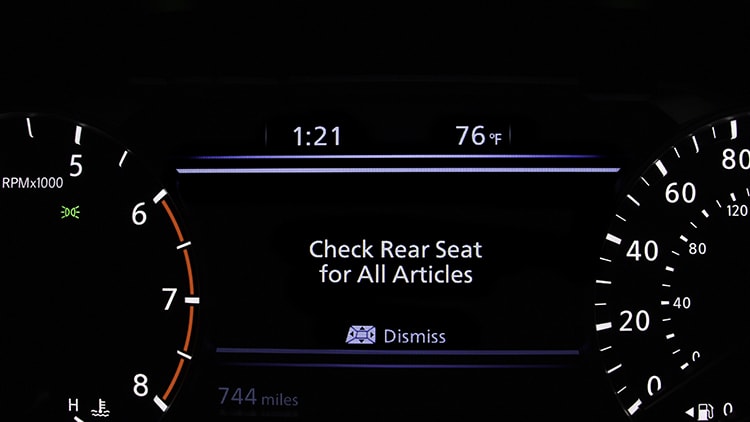 Nissan's Rear Door Technology Becomes Standard On More Models
On more than one occasion I've forgotten about the leftovers I carefully placed on the floor of the rear seat in my car. And there have been a few times when due to a distraction, I've left groceries, my laptop, or gifts in the backseat. While 8-10 hours won't damage my computer, the eggs and box of chocolates didn't survive the Texas heat. If anyone were to forget a child or a pet, it could be fatal.
So, with a focus on adding technology for safety Nissan is making its rear door alert standard on eight additional models in 2019. Nissan's rear door alert (RDA) technology's purpose is to remind customers to check the back seat and help reduce potential heatstroke incidents.
The technology, developed by two Moms that are engineers, is the industry's first system that uses the horn, in addition to door sensors and a message display on the center instrument panel, to remind drivers to check the back seat.
What am I forgetting back there?
"The idea was inspired when I accidentally left a pan of lasagna in the back seat of my car overnight," added Mendoza, a mother of three, who was pregnant when the idea struck. "The worst thing was the car smelled for days, but it made me ask myself, 'What if I left something far more important back there?'"
The temperature inside of a vehicle can increase to dangerous levels quickly, according to the National Highway Traffic Safety Administration (NHTSA). Even with moderate outside temperatures in the mid-60s, a vehicle's interior can quickly heat up to more than 110 degrees Fahrenheit.
After Mendoza and Foley presented the idea, the project moved into full development at Nissan Technical Center North America (NTCNA) in Farmington Hills, Michigan.
How does Rear Door Alert work?
"If you open a rear door and put something in the rear seat, Rear Door Alert will help you remember when you get to your destination that you may have forgotten it," Mendoza said. "By drawing attention back to the vehicle while the driver is walking away, the honking alerts you to recheck the back seat in addition to visual or interior audible alerts."
The RDA system is easy to configure and can be temporarily, or permanently, turned off through a menu in the cluster display.