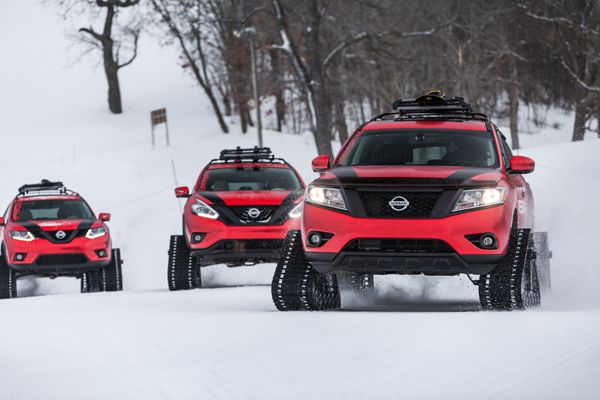 Nissan Winter Warriors: Make New Tracks With Three Crossover Concepts
Let's face it: winter weather has become more extreme over the past couple years in the snow belt. And, it has also wreaked havoc with locales that never expected to sell snow tires or all-wheel-drive vehicles to an everyday driver. Take for example the ice storms in cities like Atlanta and Dallas that have left motorists off the roadways and stranded in their autos. Enter Nissan North America, the automaker that builds "innovation that excites". The manufacturer has recently unveiled a novel concept that just might get traction someday soon-and it's definitely a "10" on the innovation and excitement charts!
Hot off a special-purpose engineering project for winter, Nissan has brought an all-new and unique vision to its crossover utility vehicle lineup. These vehicles have been designed not only for inclement weather and Arctic temperatures, but also for wintertime adventures. Adventures that include fun and exuberant romps through deep snow. The Japanese automaker with an expansive worldwide portfolio of models that range from small hybrids to giant trucks, has unveiled a trio of custom-built concepts made for conditions that would challenge even the most capable four-wheel-drive models, and boasts the three aggressive models can take you almost anywhere you want to go.
Pathfinder, Murano and Rogue Transform Into Winter Warriors
Nissan's engineers added sets of heavy-duty snow tracks to its three most popular all-wheel-drive utes. With the modifications they "are ready to tackle even the record-breaking snowfalls experienced by many parts of the country already this year." In the place of their regular wheels and tires, Nissan "Winter Warrior" Pathfinder, Murano, and Rogue concepts are fitted with custom DOMINATOR Tracks, from American Track Truck, Inc.. Those tracks are 48 inches long, 30 inches high, and 15 inches wide, with custom matte-black-finished frames. The suspensions and wheel wells have been modified to fit the snow tracks. But otherwise all drivetrain components, including the engines and Xtronic transmissions, are factory fresh.
Not Toys, Extreme Weather Machines
Each vehicle wears identical, custom matte red-chrome body wraps with unique "track" designs and Nissan "Winter Warrior" signage. Nissan's triumvirate of Arctic-ready models are fitted with a range of Genuine Nissan Accessories. They include cargo area protectors, all-season floor mats, roof rail crossbars, and rear bumper protectors. The one-off versions also each feature 9×9-foot hatch tents for true hardcore winter camping enthusiasts and Yakima Big Powderhound Ski/Snowboard racks.
While the Nissan Winter Warriors are not actually available for purchase by consumers at this time, "their solid Nissan underpinnings and exceptional ground clearance, make these Winter Warriors serious, extreme weather machines– not toys," said Christian Meunier, senior vice president, Nissan Sales & Marketing and Operations, Nissan North America, Inc. "But, they sure are fun – just like our entire lineup of family adventure-ready Pathfinders, Muranos, and Rogues that you can drive straight off the showroom floor." Nissan took the wraps off of the three new aggressive Winter Warrior models in Chicago.
Nissan SUV and crossovers have experienced record sales in recent years. In 2015, Murano sales increased 33 percent, while Rogue set an all-time record of more than 287,000 units – an increase of 44 percent. The momentum has continued into 2016 with a record-setting month for Pathfinder, Rogue, and Murano, with sales increases of 26 percent, and 46 percent, respectively.