Neighbors Helping Neighbors In The Cedar Hill Community
It all started with a simple conversation between a mayor and a citizen two decades ago.
Now, two decades later, Mission Cedar Hill is well-known for its work helping homeowners recover from code violations. These can range from overgrown grass to fences needing repair, broken garage doors, replacing siding, painting – in general, rebuilding, renewing and restoring.
In other words, helping their neighbors.
"To start the conversation, I am the man who responded to the mayor's request 20 years ago," said Mission Cedar Hill Lead Director Toby Snowden.
"Twenty years ago I found myself at a large Baptist gathering listening to one of our leaders make an appeal for the planting (starting) of new churches. I felt a prompting to respond affirmatively," Snowden continued. "Even though sensing the urging was divine I nevertheless failed to speak up. I vowed going forward that if I ever had such a sense in the future I would say yes."
Meant To Be
It wasn't long before he had that sense again.
"Two weeks later, meeting with our Tuesday morning prayer group, I heard then Mayor Rob Franke share the need concerning a distressed property of an elderly veteran in our city. To my surprise and delight – God's not through with us yet – I told the mayor that we would take on the project. After more discussion of the severity of the decline of the location and me saying a second and third time that 'we' would take it, Rob looked at me and asked, 'Who's we?' After a pause, and then looking from one side to the other, the words Mission Cedar Hill came out of my mouth. The mayor then inquired, 'Who's Mission Cedar Hill?' To which I replied, I'm not sure, I'll have to get back to you on that.
"That first time we did the one project with volunteers from local churches, Keep Cedar Hill Beautiful, Lions Club and some other caring individuals. It was our first 'Big Week.'"
Changing Lives With The Help of Volunteers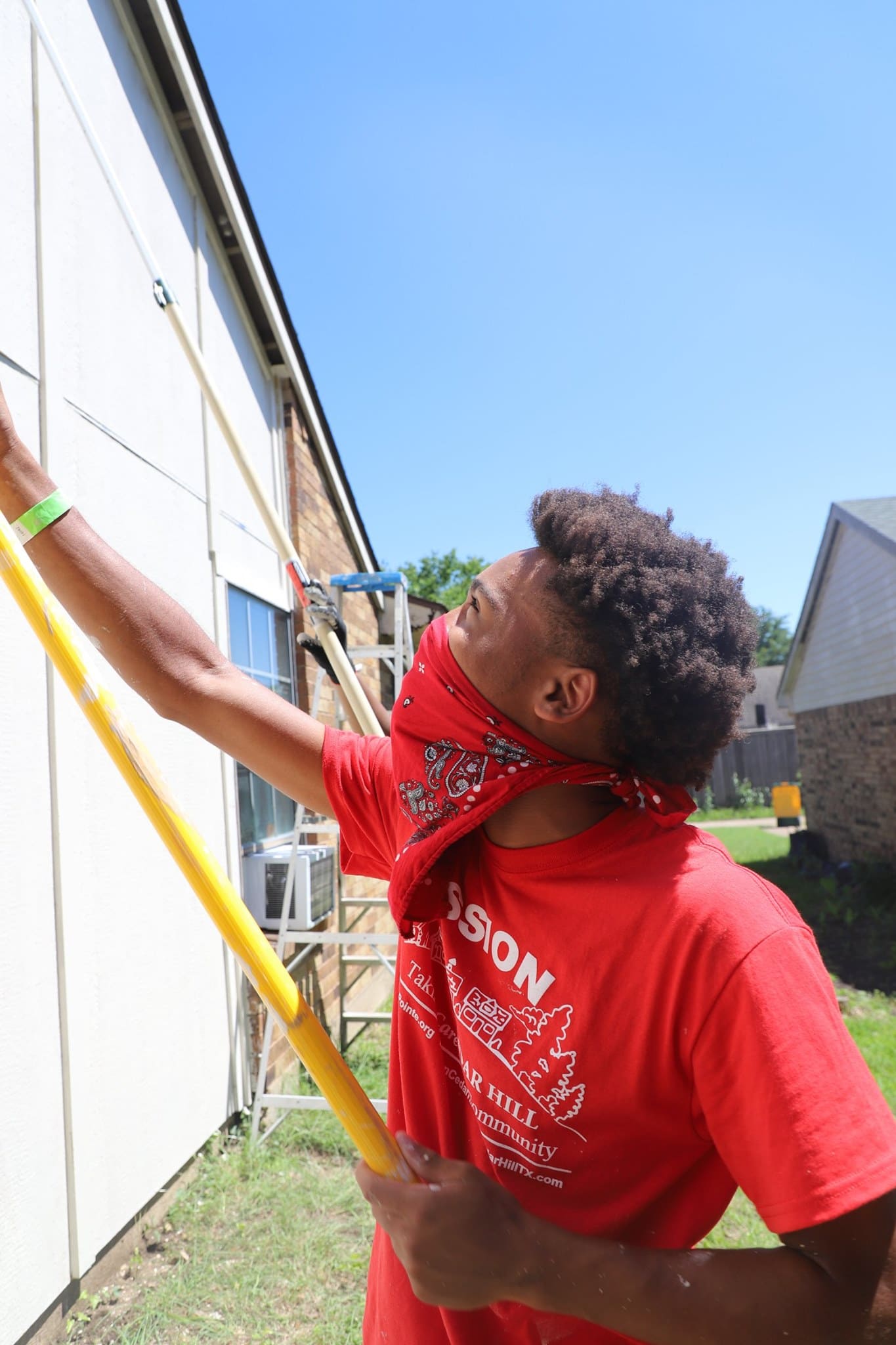 Ever since, Snowden and his volunteers have been changing lives in their community. To date, they have helped repair and restore over 1,000 homes.
For example, many of the homes in Cedar Hill are at least four decades old. For those who have not been able to keep up with even simple maintenance, the paint is 40 years old, same for fences, roofs, etc., which not only result in code violations but can also be health hazards.
"MCH and groups like us are important because there is not a shortage of need, and need cannot be scheduled," Snowden said.
MCH is a 501c3 organization and their projects are funded through donations.
On their website, missioncedarhill.org, is the story of a home known as the Jumanji House. The yard had been neglected for decades, and a large mulberry tree in the back yard was split into three pieces, with one piece falling into the nearby alley, causing a violation with the city. Another part was in a neighbor's yard, destroying the fence, and a third part fell onto the house, causing damage to the roof and structure.
Less than a week later the home was unrecognizable. That's what MCH specializes in, not just restoring homes, but also restoring lives.
Mission Cedar Hill 20 Year Anniversary
MCH recently celebrated their 20th year of helping neighbors in need with a special weekend of volunteers from across the city coming together for repair projects. There was also a special celebration at Virginia Weaver Park.
"Our longevity is due to our volunteers. Those persons who are freely willing to serve," Snowden said.
MCH is supported by Transformation Vision and High Pointe Baptist Church. Also, for the past three years the City of Cedar Hill has formally partnered with them to assist residents.
"Mission Cedar Hill makes repairs for residents who need a helping hand, and they refresh the spirit of this community," said City Manager Greg Porter. "We're proud to partner with an organization like Mission that shares the community's values and puts them to work."
Snowden noted the number of now young adults who continue to volunteer after cutting their teeth on MCH.
Young Adults Inspired To Serve The Community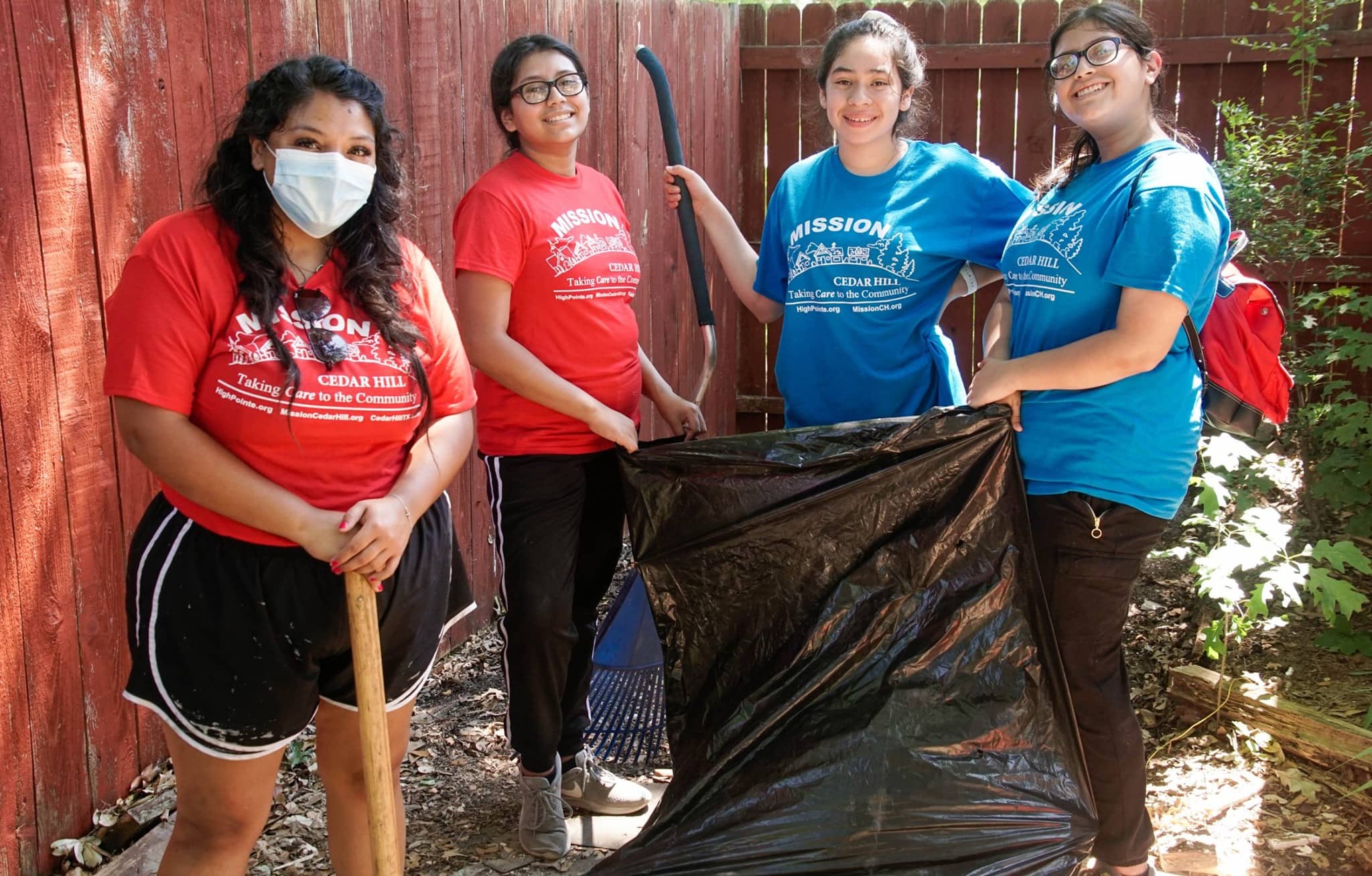 "They have developed an appetite for serving that has continued during their adult years. They are willing to take time away from work and other commitments to serve the Lord and our community," he said. "We base all we do on the words of Jesus found in Matthew 5:14-16."
Those verses include the words, "You are the light of the world. A town built on a hill cannot be hidden. Neither do people light a lamp and put it under a bowl. Instead they put it on its stand, and it gives light to everyone in the house. In the same way, let your light shine before others, that they may see your good deeds and glorify your Father in heaven."
Volunteers are always needed. To find out how you can help, visit their website.