Craft Beer & Texican BBQ Make A Great Pair
Mija Barbecue's savory wood-fired aromas are whetting the appetites of craft beer drinkers at Ash & Ember Brewing in Cedar Hill. The BBQ brisket, pulled pork tacos, and other creative smoked meat offerings make perfect accompaniments for the locally brewed craft beer. Mija, or term of endearment, is a family-owned business for Ryan Siegler and his wife, Bailey.
A Midlothian native who graduated from MHS in 2007, Ryan moved to Cedar Hill with Bailey and their two young daughters three years ago. He spent years in the restaurant business as a manager for Starbucks, Ascension Coffee Co., and other corporations, but his passion was smoking meats. Ryan's hobby of smoking meat for family birthdays and other events quickly gained fans.
"I love serving people food, and I'm passionate about it. I put a lot of time and effort into what I serve," Ryan said. "People kept saying 'you should sell this,' so in 2018 I decided to start a sideline catering business and handle larger events. After catering several successful events for 60-70 people from our home, I asked my friend Johnny Herrera to help with the growing business."
"We started experimenting with tacos made from pulled pork BBQ, which was so delicious it opened up a whole new area of creativity. We combine Tex-Mex with BBQ to make our 'Authentic Texican'," he added.
From Food Truck To Moving Inside Ash & Ember
After deciding it was time to take his sideline business to another level, Ryan considered buying a food truck for pop-up events. An opportunity to assist Ash & Ember, a Cedar Hill brewery that opened in June of 2020, came up instead. Ryan had approached Tim Martin, a friend from MHS who co-owns the brewery with Brian Krajcirovic, about holding monthly pop-up events in their parking lot. Instead, Tim invited them to come inside.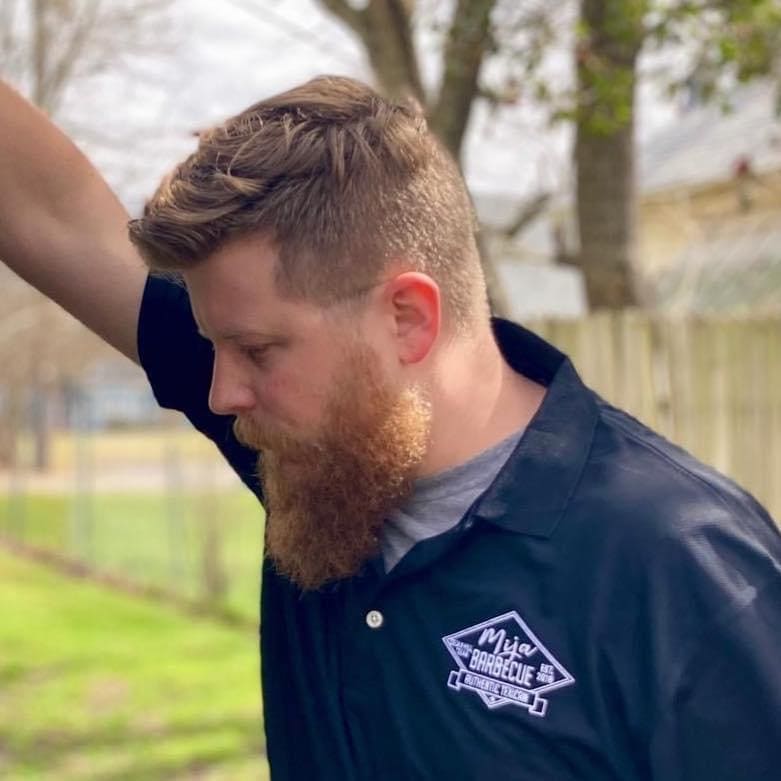 That invitation turned out to be a timely move for both companies, and has evolved into Mija adding regular food service to the brewery's craft beer offerings. During the pandemic, Dallas County's restrictions only allowed the new brewery to offer crowlers and growlers for pick-up by customers. By adding food service four days a week, Ash & Ember Brewing was soon able to open their spacious new location (initially at limited capacity) under TABC restaurant regulations.
Ash & Ember Brewing Anniversary
When Ash & Ember Brewing celebrated their one year anniversary in June, Mija Barbecue was there to prepare a special three-course Anniversary Brewers Dinner for the occasion.
"We've been told that as many people are coming for the food, now, as for the beer," Pitmaster Ryan said.
Mija Barbecue menu at Ash & Ember features brisket, sausage, pulled pork, and pork belly sandwiches for $10, or combos with two sides for $13. Grilled cheese sandwich with kettle chips ($6), brisket grilled cheese or pulled pork grilled cheese ($9).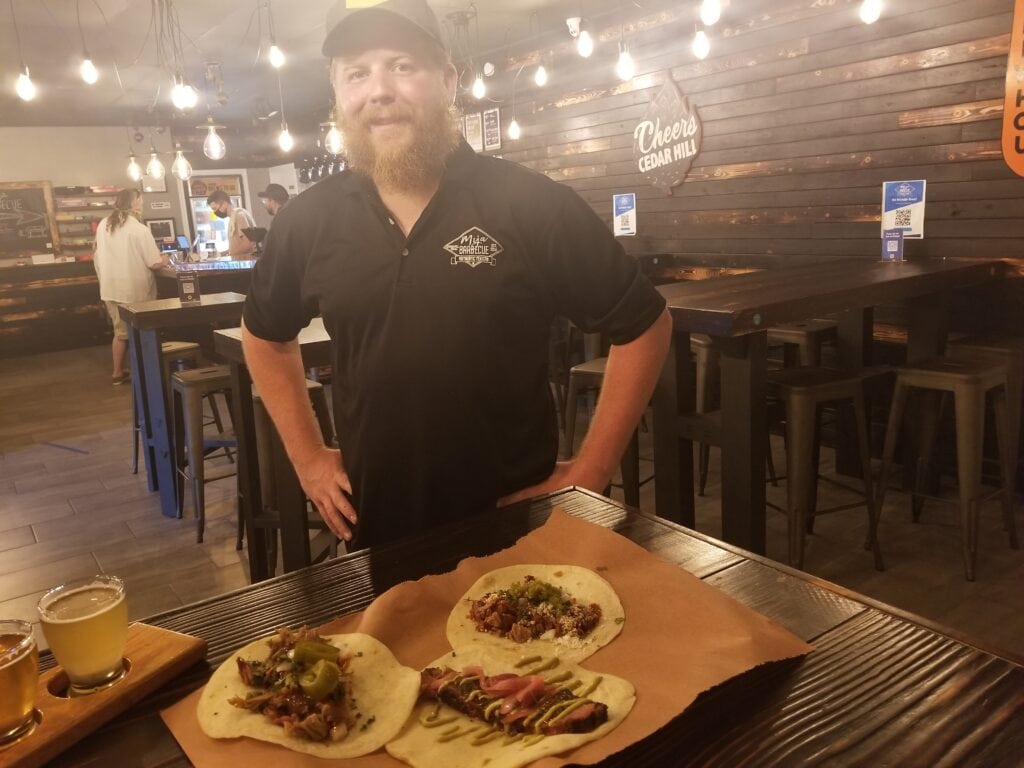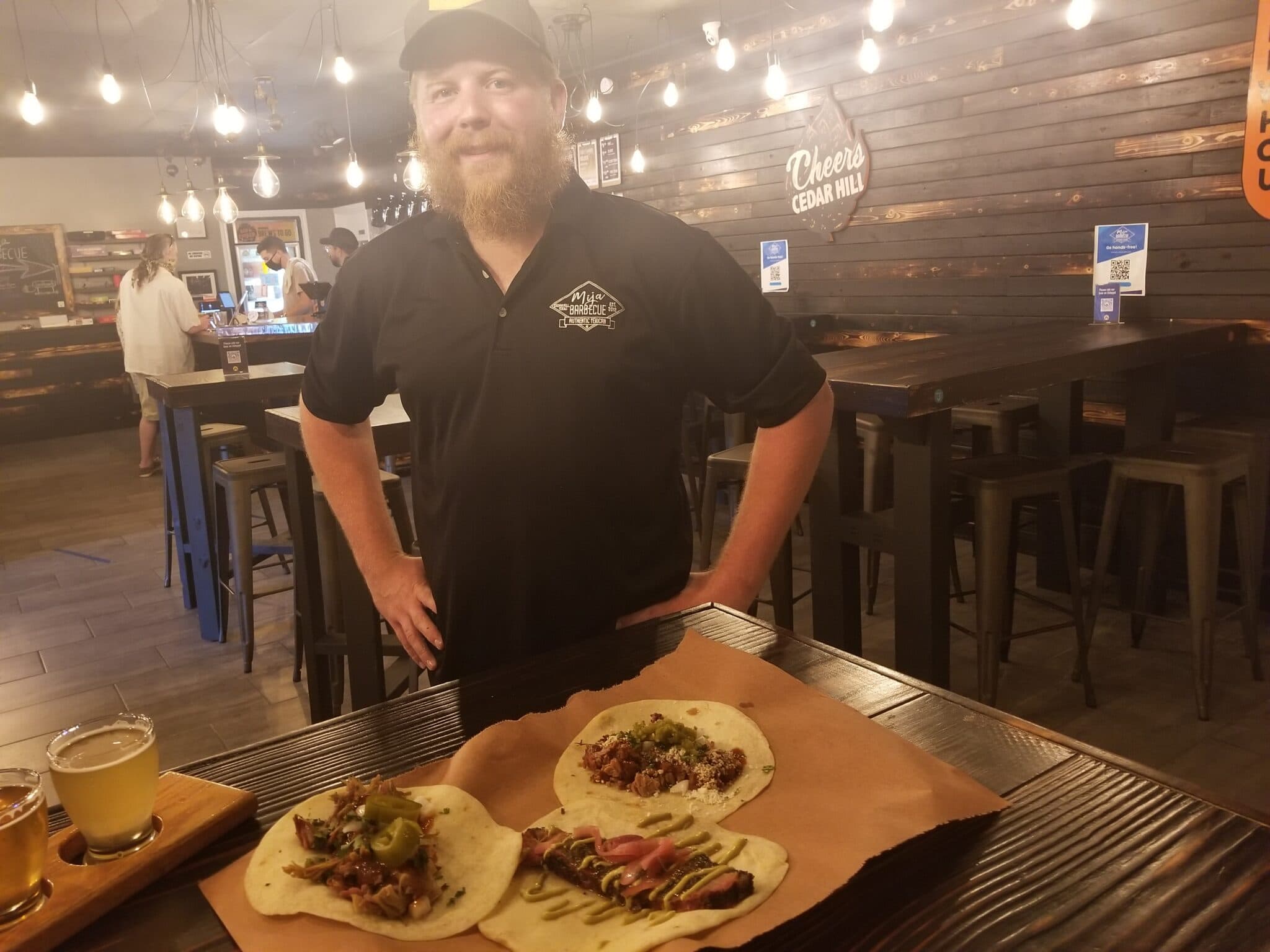 My favorites are Mija's tacos, and I like them all, including their sliced brisket taco, Dallas style brisket taco, pulled pork taco, and their newest creation, a Brisket Birria taco. It features chopped brisket, onions and cheese on a warm flour tortilla served with a side of beef broth for dipping. All tacos are $6, and a taco plate with two sides is $15.
More Menu Items
They also serve Quesadillas, and a variety of BBQ meats ranging from brisket to pulled pork and beef sausage are available for purchase by the pound.
Sides includes Mac and Cheese, potato salad, Elote (Mija's take on Mexican street corn), and Charro Beans. Large 16 oz. containers are available for purchase to take home along with your barbecue. Pies by Bailey, who also bakes for 1846 Coffee Company, are very popular with Ash & Embers customers. Bailey's famous Bourbon Pecan Pie or Oatmeal Stout Chocolate Pie are available for $4 a slice.
Mija Barbecue now serves delicious tacos, sandwiches, and other favorites to the brewery's customers on Wednesday and Thursday (4-10 p.m.), Friday (1-11 p.m.), and Saturday (noon to 11 p.m.) Snacks are available at the brewery from 4-9 p.m. Tues. Ash & Ember Brewing Co. is located at 226 Texas Street in Cedar Hill. For information, call 972-637-3450.