Midlothian resident Becky Daniels, a vice president of lending for First State Bank in Waxahachie, won the highly competitive "Original Terlingua International Championship Chili Cook Off" for 2018. Daniels was crowned Nov. 3 as winner of the competition, held each year in the legendary Ghost Town of Terlingua.
Daniels said, "I'm still in disbelief. I know at least 20 people who competed from our area that I cook against regularly. The ladies that placed sixth and seventh are friends of mine. Ladies dominated this year!"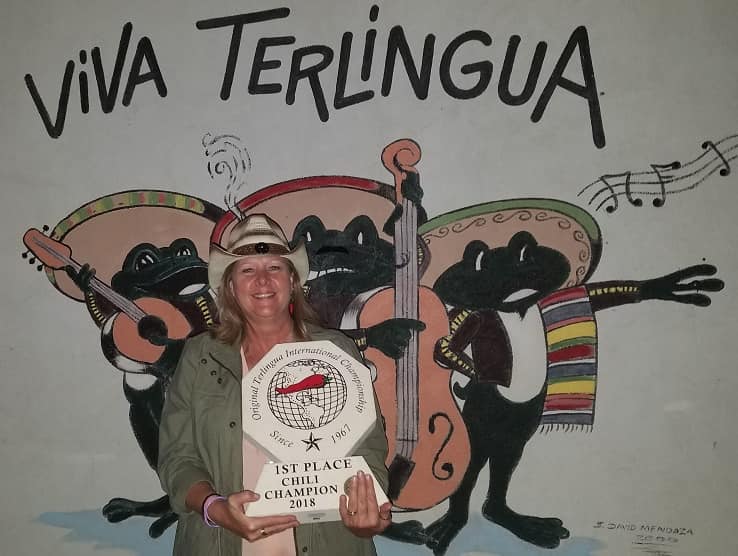 Her husband, Joe Daniels, kept it all in the family by winning the Showmanship Category for his one-man show, Skidmark Chili. "I am very proud of my husband's first place for his one-man show, he worked so hard but he has so much fun doing it. He had a Cars Theme (Skidmark Chili). Joe is constantly adding to his show and changing things to make it more interactive," Daniels said.
The chili competition was started by celebrated journalist, historian and chili enthusiast Frank X. Tolbert ("A Bowl of Red") in 1967. His partner in the chili venture was Texas icon, race car designer and entrepreneur Carroll Shelby. Shelby planned to develop property in the remote West Texas area and thought the competition would make a great promotion. Tolbert and New Yorker Wick Fowler were the only two cooks in the original Terlingua chili cookoff 53 years ago.
And Then There Were Two Original Terlingua Chili Cook Offs
In 1983, a dispute resulted in two chili competitions. Both call their event the "original Terlingua chili cook off." The larger CASI chili contest takes place on Rancho CASI de los Chisos grounds, just a few miles down the road from the other Terlingua group.
"We love the Tolbert's cook off," Daniels said. "Kathleen Ryan (daughter of Frank X. Tolbert and co-owner with husband Paul Ryan of Tolbert's Chili Parlor in Grapevine) runs a first class cook off and her involvement is so appreciated. The atmosphere is completely different between the two competition sites. "I think it comes from the attitude of the organizers (Kathleen, Debbie Turner, and others). It's obvious how hard they work to make it a success, how much this means to them and how personal it is for them."
Proceeds from the Original Terlingua chili cook off are donated to "Behind the Store," a charitable organization that supports ALS. Donations also go to Terlingua first responders and schools.
Daniels said, "I've been cooking since 2015, my husband Joe for a few years longer, but it was mostly in the Waxahachie area. We were invited to participate in a cook off in Glen Rose in 2015. Joe had two recipes and two spice brands he wanted to try out so I reluctantly agreed to cook one pot. I actually placed first and was auto qualified for 'Behind the Store' (the Tolbert cookoff). That was our first year to go to Terlingua and I placed 15th in Behind the Store. We were hooked! I placed fourth in Ladies State in 2017 and tenth this year."
"My good friend of about 20 years, Brenda Johnson, was the 2017 Ladies State Champion and placed sixth in Terlingua. She and her husband, David, and my husband Joe and I go to almost every cook off together. Their sons and their wives also cook. Another couple we see a lot on the chili trail is Larry and Grace Walton. Larry was the 2011 CASI Terlingua champion and Grace placed seventh this year in Behind the Store. David and Kay Lefler also participate in a lot of the cook offs we attend. We have a very comfortable camper we tow when we travel. We actually spend more weekends in the camper than at home, at least that's how it feels," Daniels said.
Consistency May Be Key To Winning Chili Cook Off
Daniels said, "We try not to change what we do. If we have a good tasting recipe and our process works, we don't do a lot of changing. Usually consistency pays off. After winning this year we'll just keep competing like we have been. I would, of course, be thrilled to win again in the future so we will keep practicing and hope for that someday. I would love for my husband to win next."
"We have four grown sons between us," Daniels said. "My two sons love attending the cook offs. My youngest son Bryan has cooked a few times and placed fifth at a cook off in Durant in May. That was the day after Southwest Open cook off, I placed first the day before."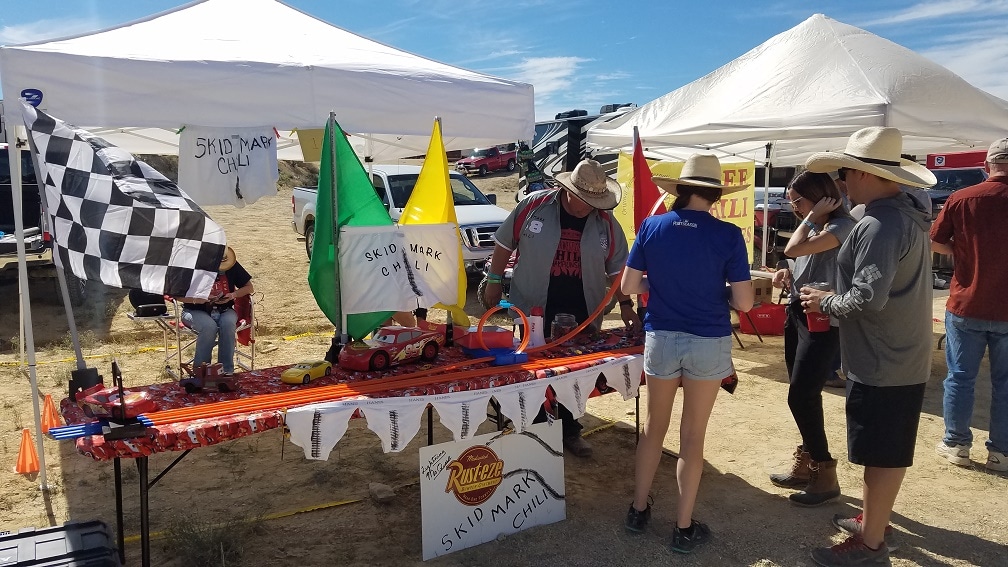 "My husband is the Great Pepper of the CASI NOW Pod. We were lucky enough to organize a cook off last year for the first annual Ellis County Fair. It was held at the Ellis County Youth Expo in Waxahachie to benefit the Youth Expo Center. We felt it was successful and hope to be able to work with the Waxahachie Chamber of Commerce and organize that again in March 2019," Daniels said.
"The thing that keeps us on the chili trail is the motto of 'Chili, Charity, Fun.' We love competing and being so excited for the people who have their numbers called (even if it's not ours!)," Daniels added. "We love being able to donate to charitable organizations, but most of all it's about the friendship and comradery that we have found with our chili friends."