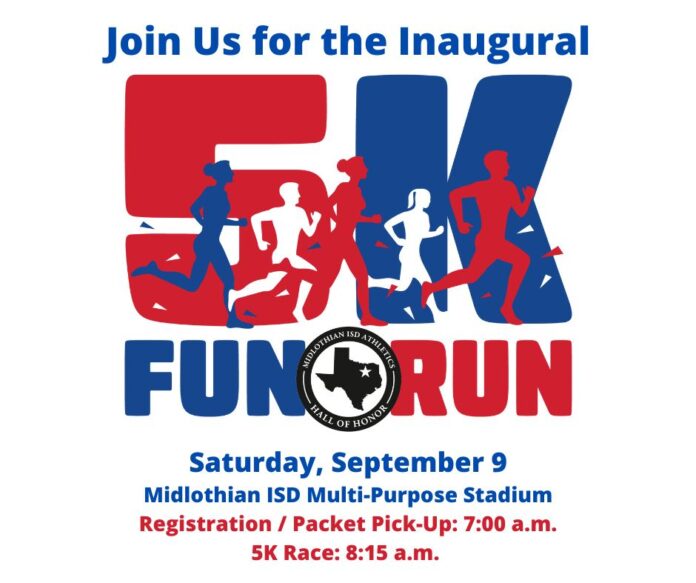 The Midlothian ISD Athletics Hall of Honor was established in 2014 to celebrate individuals, teams, coaches, and community supporters who have distinguished themselves through excellence in MISD Athletics and to inspire interest and enthusiasm for athletics at Midlothian ISD.
Each year the Hall of Honor hosts the prestigious induction banquet to recognize and honor the outstanding inductees.
In addition to the annual induction banquet, the Midlothian ISD Athletics Hall of Honor awards scholarships to graduating senior student-athletes that currently attend Midlothian ISD.
On Saturday, September 9, 2023, the Inaugural 5K & Fun Run will welcome past inductees and the community as we open the doors to unveil the Hall of Honor Community Room at the MISD Multi-Purpose Stadium.
The 5K & 1 Mile Fun Run is designed for the whole family and all runners and walkers are invited to join in! The event will benefit the Hall of Honor's mission to honor the history of Midlothian ISD Athletics and help fund scholarships to graduating MISD senior student-athletes.
Registration: 7:00 a.m.
Fun Run 8:00 a.m.
5K Race: 8:15 a.m.
Registration is open (https://linktr.ee/midlothianhoh) and includes an Official Race Bib and T-Shirt*
*Registration received by September 1, 2023 will receive an event T-Shirt. T-Shirts will be on a first-come, first-serve basis after this time. Register early and get the discounted price and guarantee a T-Shirt.
Awards will be presented following the 5K in the following age group categories:
Female & Male (Plaque)
> 40 & Under Overall – 1st, 2nd, 3rd
> 40+ Overall – 1st, 2nd, 3rd
Female & Male (Medals)
> 10 & Under – 1st, 2nd, 3rd
> 11-14 – 1st, 2nd, 3rd
> 15-19 – 1st, 2nd, 3rd
> 20-24 – 1st, 2nd, 3rd
> 25-29 – 1st, 2nd, 3rd
> 30-39 – 1st, 2nd, 3rd
> 40-49 – 1st, 2nd, 3rd
> 50-59 – 1st, 2nd, 3rd
> 60-69 – 1st, 2nd, 3rd
> 70+ – 1st, 2nd, 3rd
Results can be found live at the event at the following locations:
www.chip2chipracetiming.com/2023_results