Midlothian resident Larry Stanley has managed to carve out an exciting career in such risky industries as acting, broadcasting, directing, and now producing films. After graduating from Cedar Hill High School in 1996, the 17-year-old moved to Los Angeles to pursue an acting career. His L.A. roommate was another Cedar Hill HS graduate, Andy Bowles. They found enough work as background extras to pay the rent and keep their celluloid dreams alive.
Upon returning to Texas, Stanley attended Hill College in Hillsboro, Cedar Valley and several other community colleges. He took courses on filmmaking while working as a broadcaster for radio stations 105.3 The Fan and 95.9 The Ranch. He interviewed little known sports figures like female wrestlers and rollers derby stars, covering the Air Hogs and local bands. He also contributed to a website called "Big Bad Sports Daddy," where he covered such events as lingerie football. Stanley also served as a DJ for KNON Radio Station.
Transitioning From Acting To Directing
"I had been involved in acting for years, but was interested in getting behind the camera instead of in front of it. I wanted to learn about framing and lighting so I could take my filmmaking to the next level. I always liked experimenting with different techniques, and wanted to direct and produce my own films," Stanley said.
While working as a broadcaster, Stanley continued to act in local film and TV productions (such as TNT's 'Dallas,') and write scripts. A devout Christian, he worked on several faith-based films but was also drawn to science fiction and comedy.
In 2005, Bowles cast Stanley in a film he wrote and was directing, "A Texas Tale."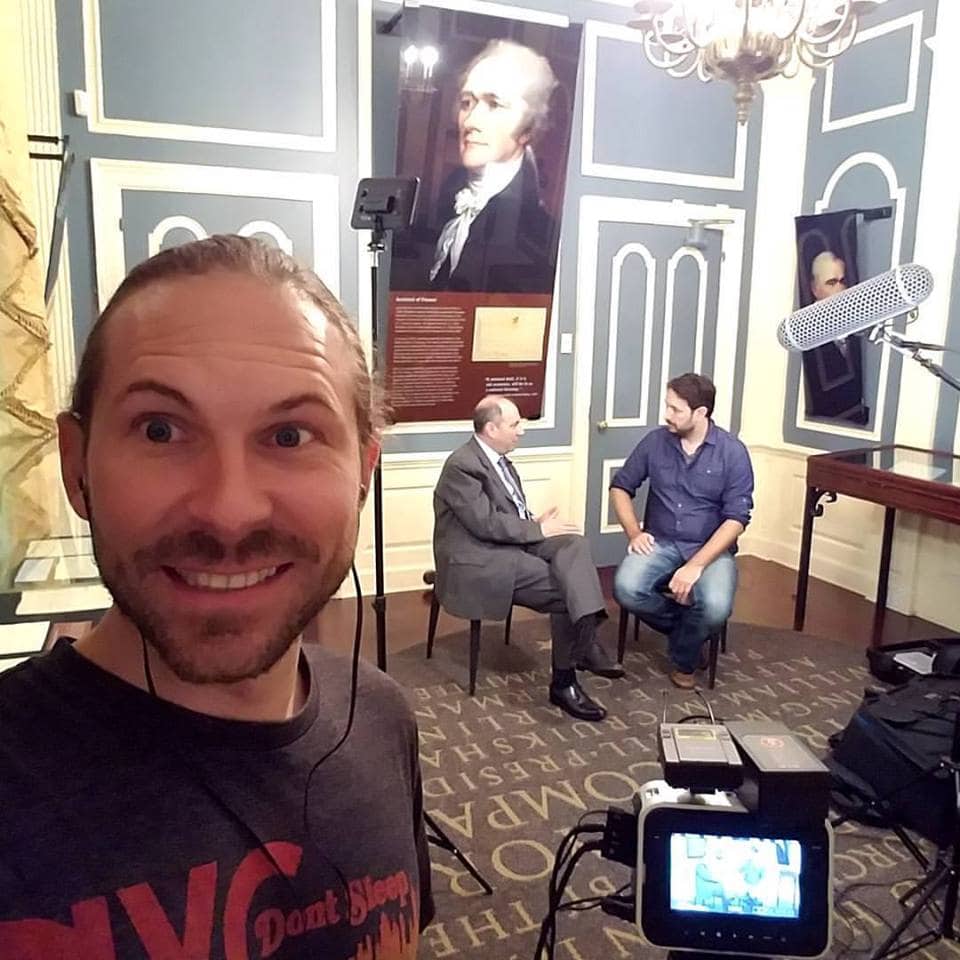 Bowles says, "Larry Stanley and I became friends when we were around 16 years old. We both dreamed about being movie stars so we had that connection. Which over the last 24 years has matured into a serious passion for the craft of acting and filmmaking. Larry had mentioned he wanted to make a documentary on Alexander Hamilton titled "Channeling Hamilton" and wanted to come up to NYC at some point to film it. I was in pre-production on my new series "Damage Control." So I offered to bring Larry up to NYC to help me make my show and in exchange I would help him make his. It worked out great."
"I was very impressed with Larry and his amazing ability to create such an informative documentary. Before 'Channeling Hamilton' I didn't know much about Alexander Hamilton. Now I feel like the guy hangs out in my living room, which is a joke you'll get after Larry's additional three-part series, 'The Channeling of Hamilton,' is released this winter. Larry Stanley is one of the most passionate filmmakers I know and anyone would be lucky to work with him," Bowles said.
Stanley's first project was a 47-minute short film about a pedophile who returns to his old neighborhood upon release from prison. Stanley co-directed "An Innocent Hell" with cinematographer Terry Vanderheyden, and also played the part of a victim trying to forgive his molester. Financed mostly by friends, the film was shot in 2010 and released by Amazon.com in 2013.
Stanley followed this film with other projects, including "Proud Souls," (partly filmed in Mansfield); "Decisions;" and "Mr. Happy Pants," a comedy about a bachelor party that goes wrong. While working as an actor in a film called "Grey Agenda" a few years ago, Stanley met his future fiancé, Carly Bush. The film features aliens living under Joe Pool Lake, and Carly plays a hostage his character rescues. After their wedding October 13 they will make their home in Midlothian.
He had been searching for a documentary subject for his first solo venture, Stanley says, when a friend introduced him to the soundtrack for Lin Manuel-Miranda's Pulitzer Prize winning "Hamilton, An American Musical."
"It blew me away," he said. "I became intrigued with the extraordinary life of this founding father who was our first Secretary of the Treasury. He was only 47 years old when he was killed in a duel with political opponent Aaron Burr. But before his death, he helped form the framework of this country in so many ways. I wanted to take a deeper dive into his life, and show that he was more than just a character in a musical."
To accomplish his mission, Stanley turned to historians like University of Texas at Dallas professor Ben Wright, and Iona College Professor Nora Slonimsky, Ph.D., who had done extensive research into Hamilton's life. One of the most enlightening segments of the documentary involves Stanley's interview with David Cowen, Ph.D., President of the Museum of American Finance. Cowen shared items from his vault such as Hamilton's handwritten ledger sheet from 1792, where he detailed America's budget "down to the last penny."
"Hamilton not only founded the country's financial system and Wall Street, he also founded the Federalist Party, the U. S. Coast Guard, and the "New York Post" newspaper. He was a staunch advocate of the U. S. Constitution and believed in a strong commercial economy and central government. President Thomas Jefferson was his main opponent, since he came from a farming background and believed in smaller government," Stanley said.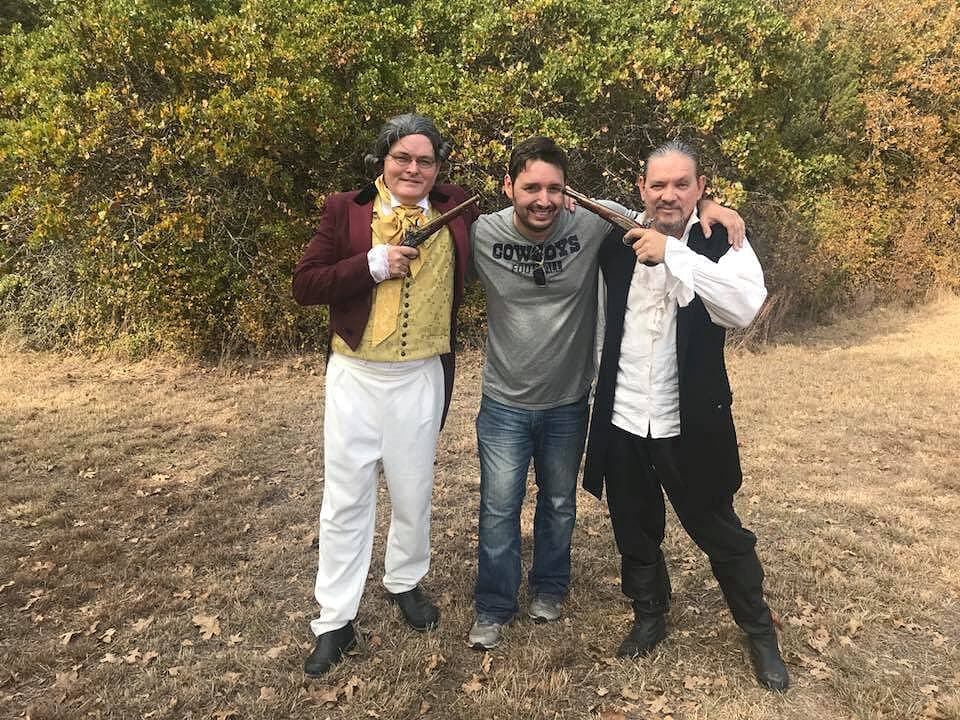 Following the September release of "Channeling Hamilton," Stanley's follow-up to the documentary will be released on Amazon Prime as a three-part series later this month. "The Channeling of Hamilton" series provides a different perspective from the historians and academics interviewed for the documentary.
Psychic Laura Cifadeli Offers Unique Viewpoint
It features interviews with a New Jersey psychic, Laura Cifadeli, who added another dimension to Stanley's historic exploration. Unlike the historians interviewed for his documentary, the medium was not a student of history and knew very little about Hamilton's life.
"I decided to keep these interviews separate," Stanley said. "I wanted to avoid discrediting either side. Even though Cifadeli had no idea what project we were working on, she came up with the duel's date (July 11, 1804), and other details about the event in about 10 minutes."
Taken to the Weehawken dueling grounds, Cifadeli helped recreate her vision of the infamous duel between Vice President Aaron Burr and Secretary of the Treasury Alexander Hamilton.
Stanley says the more he discovered about the life and times of Alexander Hamilton, the more impressive he finds him, adding, "Hamilton was one of the most fascinating figures in American history. He contributed so much and had such a great impact on this country. The more I learned, the more I wanted to know."
Watching Stanley's "Channeling Hamilton" is educational, informative and entertaining. It's almost like taking an American History course; even better, one where you don't have to worry about grades.