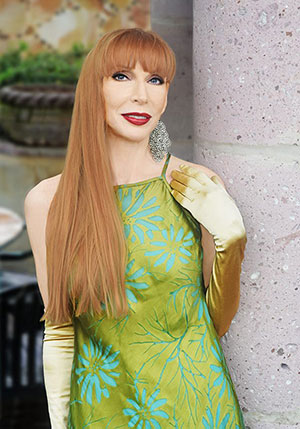 Laura Ainsworth Follows Her Dreams, Inspired By Her Dad
As a young girl, Dallas retro jazz singer Laura Ainsworth sat in elegant showrooms to watch her dad, big band sax and clarinet master Billy Ainsworth, perform. He backed such giants as Tony Bennett, Mel Torme and an elderly (but still amazing) Ella Fitzgerald.
Laura would say, "I want to do that someday," not realizing she was witnessing the end of that musical era. Now she's helping bring that era back. Her third album, New Vintage, was released in August. She also released an audiophile best-of vinyl LP, Top Shelf.
Laura made her New York City debut August 24 at Manhattan's premiere showroom, the Metropolitan Room. She is billed alongside jazz icon Sue Raney on This Is Vintage Now, Vol. 2, (latest in the compilation CD series that celebrates leading artists in the growing vintage music movement).
Ainsworth says, "After the recession wiped out many local music venues, I had to take a leap of faith. I love performing live, but when a show ends, it's gone forever. I wanted to create something that would last, the way my idols did."
So Laura and her husband maxed out their credit cards to cut Laura's debut CD, "Keep It to Yourself." Praise followed–her sultry, satiny, three-octave voice has been compared to such '50s chanteuses as Dinah Shore, Rosemary Clooney and Julie London. Laura grew up around many great musicians. Family friend Brian Piper, one of the most sought-after pianists in the Southwest, volunteered to be her producer, arranger and accompanist.
Laura says, "Despite the tiny budget, when you're competing with classic albums on Verve and Capitol, you have to make sure the recording, musicianship and packaging are major label quality. We released it online, with almost zero publicity. I didn't know if anyone would ever hear it, but at least my voice was finally out there. I thought of it as a 'message in a bottle.'"
The little indie release slowly garnered worldwide airplay and glowing reviews. Encouraged, she released the film noir-themed "Necessary Evil" to even stronger response. Critics noted that what sets her apart is that she doesn't replicate vintage charts, but revitalizes old songs in fresh ways. Just as her idols Frank Sinatra and Ella Fitzgerald did. Since her late dad was a prodigy who started his big band career at 17, Laura is one of the rare contemporary figures in the rising lounge/vintage music scene to have a direct connection to the founders.
"Necessary Evil" earned Laura a concert tour of India and Dubai and multiple award nominations from the Artists Music Guild. She received praise from internationally-known musicians, some of whom have asked her to record with them. Grammy-winning producer Ricky Kej created a club/dance remix of the big band title tune, and legendary New York DJ John Lombardi of "Lounging with Lombardi" helped bring her to the Big Apple.
Laura's dad died before she ever sang professionally, but she believes he was there in spirit when she stepped onstage at the Metropolitan Room. She says, "I owe my love of this great music to him. My dream was to keep it alive, on records and in elegant showrooms. Now, I feel as if the torch has been passed to me. I'll keep it burning by singing torch songs!"
Laura Ainsworth's new release, "Top Shelf," produced by Eclectus Records, features such songs as Love for Sale, An Occasional Man, Necessary Evil, and Skylark. I'm a long-time fan of this chanteuse, and after listening to the new CD I think she sounds better than ever. The LP and CD versions are available through www.lauraainsworth.com, CD Baby, Amazon and other music sites.