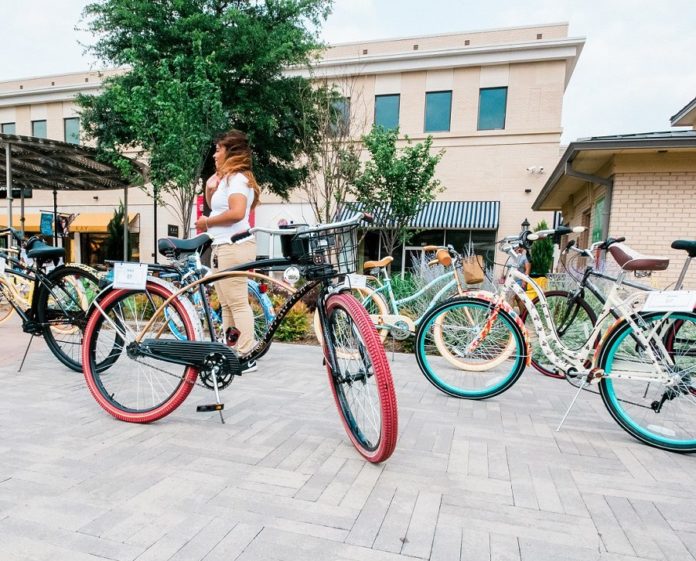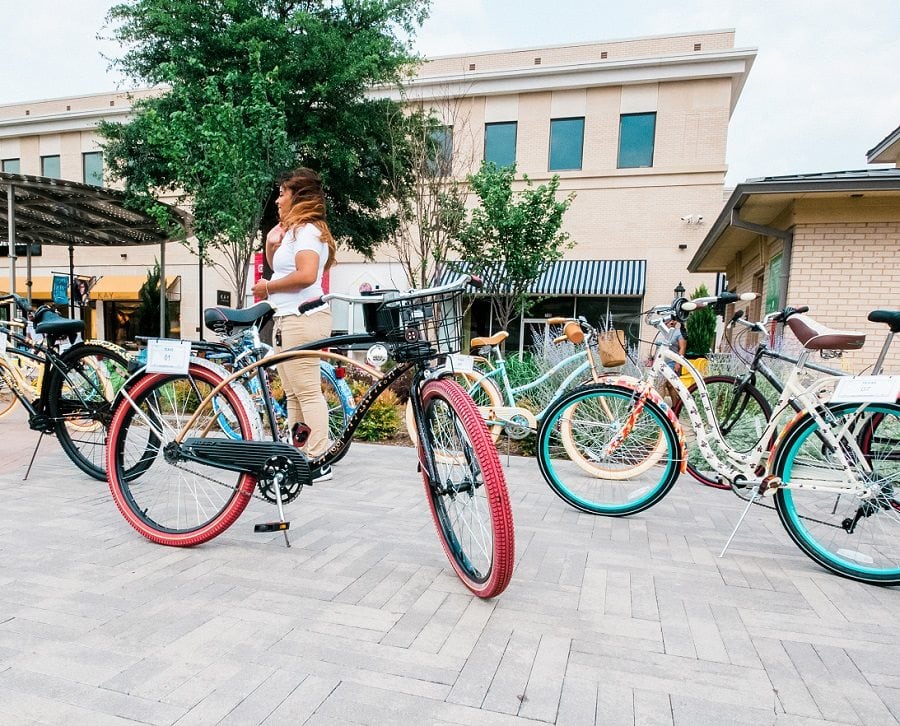 CEDAR HILL—Hillside Village welcomes cycle enthusiasts with Bikes on the Boulevard Friday. Today's event will feature hand-painted bikes rolling into the Village Green in conjunction with several free community events. The Head for the Hills Cedar Hill Rotary Bike Rally will start and conclude at the shopping center the following morning.
Recently, local artists have whimsically hand-painted seven bicycles on display in the landscaping throughout Hillside Village. Later they will be raffled off to benefit Art & Beyond, Inc., a non-profit organization dedicated to serving at-risk and economically disadvantaged youth in the DFW community.
The artists include James Cahalan, Robin Ingle, Keyla Retana and Jennifer Rodriguez. Raffle tickets can be purchased for $5 each or three for $10 at the event or online at http://www.veartgallery.com/.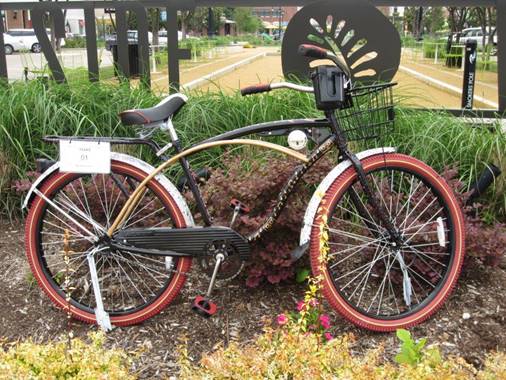 Bikes On Boulevard Events
Bikes on the Boulevard will also include the following events on Friday, May 18 at the Village Green:
Family Entertainment (5:30 p.m.). The evening will kick off with crafts for kids and more.
Trike, Bike & Stroller Parade (6 p.m.). Be creative and decorate your wheels any way you like! Participating children will receive a goody bag (while supplies last) and prizes will be awarded for creativity.
Concert featuring Havana NRG (7 – 9 p.m.). Enjoy live music from the dynamic Latin dance band.
Art Bike Raffle (8 p.m.) The raffle winner of each hand-painted bike will be revealed during the concert. Winners must be 18 years of age and do not need to be present to win.
About Hillside Village
Hillside Village, formerly known as Uptown Village at Cedar Hill, is a 615,000-square-foot mixed-use open-air center in Cedar Hill. For the most up-to-date information on events, visit the Hillside Village website atwww.shophillsidevillage.com.
The popular center has over 60 tenants including anchors Dillard's, Dick's Sporting Goods, Barnes & Noble, a newly opened 21,000-square-foot H&M and specialty retailers Charlotte Russe, Old Navy, Hollister, James Avery, Papaya, The Children's Place and Victoria's Secret. Hillside Village Guest Services can be reached at 972.637.6300.