Country music's elite cowboy boot company has returned to restore a piece of Texas history and Nashville music history alike
DALLAS, TX– Historical Texas cowboy boot brand, Dixon Boot Company, just received the surprise of a lifetime upon its relaunch.
The "reboot" of the historical Dixon Boot Company, originally established in 1889, reclaims its stake as the premier cowboy boot company of Texas which has resurrected a rare find and a beloved piece of country music history: a historical pair of Dixon cowboy boots worn by Hank Williams, Sr., which even has the letter of authenticity dated all the way back to 1957.
Based in Texas, Dixon Boots was recently acquired by a Dallas based investor group, lead by CEO, Thomas Gleason, a 5th generation Texan and lifelong cowboy boot aficionado. Gleason currently has over 100 pairs of boots in his personal collection and plans on continuing to grow his investment and his passion for cowboy boots. Just as Gleason predicted, a once thought forgotten part of cowboy boot history, is now sprouting new memories and outpouring of support from history buffs to boot lovers alike thanks to the new business venture.
Upon the resurrection of Dixon Boots, Gleason received an email from the current owner of the Hank Williams, Sr. historical boots and to his pleasant surprise was made aware of this rare treasure. An unnamed husband and wife had recently come across the Dixon boots once worn and owned by country music legend, Hank Williams, Sr., in the 1950's and were later acquired by the wife's late mother, found in the back of her closet. The Hank Williams, Sr. Dixon cowboy boots are in great condition considering the current owner didn't even know her mother was in possession of the historical gem.
Hank Williams, Sr. was a legendary American singer-songwriter and one of the most influential musicians of the 20th century. Born in Alabama in 1923, Williams began his music career as a teenager, performing on local radio stations and honky-tonk clubs. He became a national sensation in the late 1940s with hits like "Lovesick Blues," "Your Cheatin' Heart,"  "Hey Good Lookin'," and "I'm So Lonesome I Could Cry." Williams' songwriting and singing style drew heavily on his personal experiences and emotions, and his songs were known for their raw honesty and heart-wrenching lyrics. Sadly, Williams' life was cut short at the age of 29 due to health issues, but his legacy has endured through his music and his influence on countless artists who followed in his 'bootsteps'.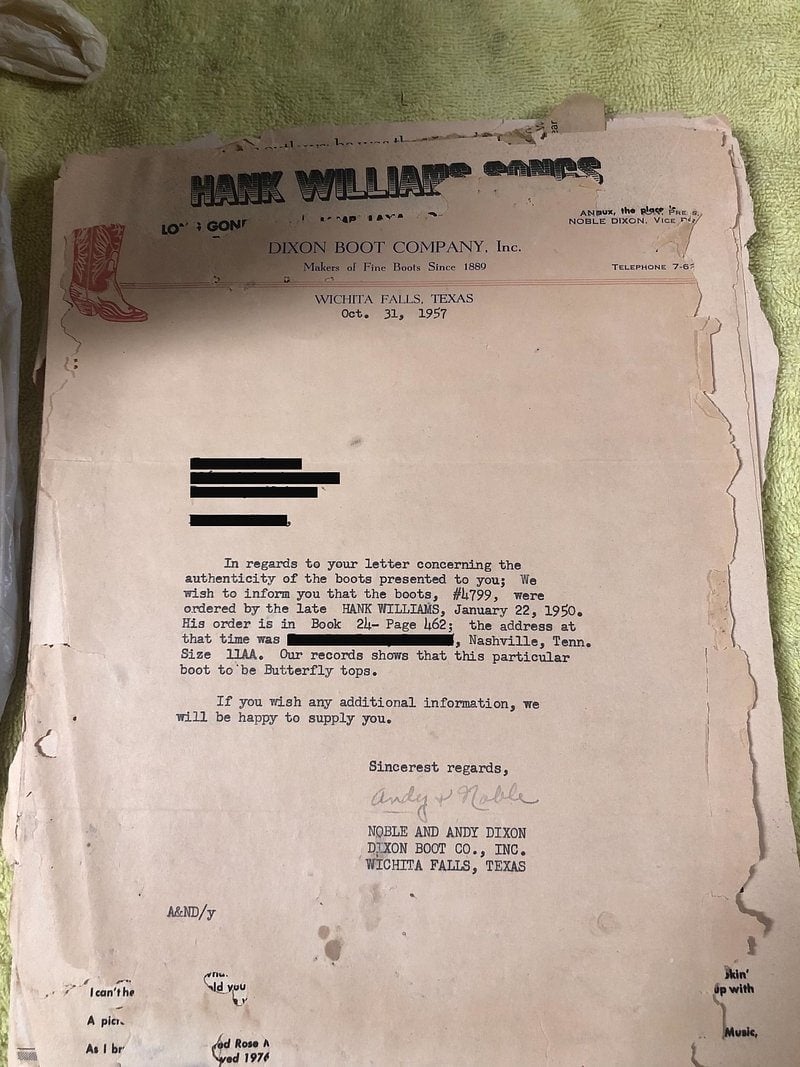 "After acquiring Olsen-Stelzer, a high-end custom boot company founded in 1900, in 2018, we [Gleason, and GG&E Boots LLC] didn't want to just start a retail boot company, we thought it would be great to find an old brand to revive. We shortly after found Dixon Boot Company, a brand that is near and dear to me as my late grandfather left me 5 pairs of his Dixon boots from the 70's and 80's. Dixon Boots, originally founded in 1889, takes great pride in our history and heritage. With reviving Dixon Boot Company, our goal was to recreate the famed Dixon boot of the 40's & 50s, while still adding a modern touch. We focus on the art of boot making, and ensuring our customers are getting a boot for life. This isn't just a business for me, it's also sentimental and an honor to carry on the legacy worn by such country music icons." Gleason shared.
Known for their exceptional quality and craftsmanship, in addition to Hank Williams, Sr., Dixon has dressed some of the finest cowboys in history, from the likes of John Wayne, Roy Rogers, Gene Autry to Patsy Cline, Dolly Parton, and many others in the Nashville Country Music elite.
With the recent rebrand, the 133 year old company's resurrection is paying homage to its western roots by restoring the foundational principles of dedication to history, legacy, and crafting the highest quality cowboy boots with a unique level of care that honors tried and true Texas traditions — with a modern twist.
The rebrand coincides with the unveiling of three new products that combine high-end craftsmanship with an everyday-wear-and-tear lifestyle: "The 1889", "The Vaquera", and "The Yellow Rose" along with two new styles that will be introduced later this year, "The 1954" and "The Vaquero".
From the bespoke leather curating and crafting process to partnering with local Texas artists, Dixon Boot Co. is renowned for their quality and craftsmanship, using only the finest materials, including top-quality leathers and handcrafted details. Each boot is crafted by skilled artisans who have mastered the art of boot-making, and every pair is meticulously inspected for quality and consistency. Dixon boots are not only durable and functional, but they are also stylish and versatile, making them a favorite of everyone from ranchers and cowboys to fashion-forward celebrities. The attention to detail and commitment to excellence that goes into every pair of Dixon boots has made them an American icon celebrating the lifestyle of the modern cowboy, the long ride home.
Dixon Boots are sold exclusively at their online shop dixonboots.com and can be found at various pop-up events around the south. To learn more, follow along on Instagram, Facebook and Twitter.