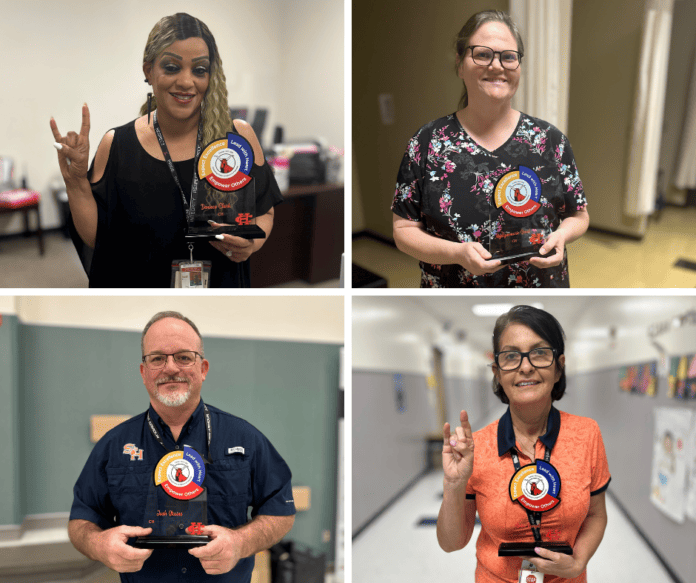 (CEDAR HILL, TEXAS) Deniece Clark is the only Bessie Coleman Middle School employee who's continuously worked at the campus since it opened in 2005.
More importantly, Clark is one of the best Attendance Clerks in modern Cedar Hill ISD history.
In August,, she was recognized by Cedar Hill ISD Superintendent Dr. Gerald Hudson as a Champion of Empowerment at CHISD Convocation.
Bessie Coleman regularly has some of the best attendance numbers in CHISD, and a lot of that can be attributed to Clark.
"I've always understood the importance of attendance, and I have a passion for my job," Clark said. "It makes it all worthwhile."
Part of the key is building relationships with families. Clark connects with them early on and shares resources on how scholars – if they are late or absent – can communicate that to the campus. She emphasizes the importance of attending classes.
A Cedar Hill citizen, Clark is the grandmother of two Cedar Hill High School scholars. Before BCMS opened, she was a substitute teacher in the district – mostly at Permenter Middle School.
CHISD Executive Director of Maintenance & Operations Josh Skains never expected to work as an educator. Earlier this month, Dr. Hudson presented him with a Champion of Excellence Recognition at Convocation.
"When someone tells you directly how your work impacts them, it's rewarding," Skains said. "I am nothing without my 85-member team. They are the true Champions of Excellence."
Skains makes the nearly two-hour round trip commute daily from his hometown of Blooming Grove, in Navarro County, to Cedar Hill.
He originally became acquainted with CHISD through a contract opportunity in the 2000s, when he was the owner/operator of a pest control company.
Skains began working for the district in pest control after the 2008 Recession. He's been a full-time employee of the district for nine years.
"My business had slowed down, and I needed to find something extra to do," Skains said. "Then, things improved in the private sector, but I enjoyed working for the district and providing a service to the campuses and scholars. And I'm still here doing it."
Cedar Hill ISD Supervising School Nurse Mystynemarie Grant and Highlands Elementary Pre-K Aide Delia Rangel were honored by Dr. Hudson for 'Champion of Heart' in an emotional moment at Convocation.
Grant and Rangel moved quickly to try to save the life of a Highlands Elementary Pre-K Scholar earlier this year. Sadly, the scholar passed away.
"It was a very emotional experience," Grant said. "I tend to wear my heart on my sleeve. I feel honored and humbled to be recognized alongside Ms. Rangel."