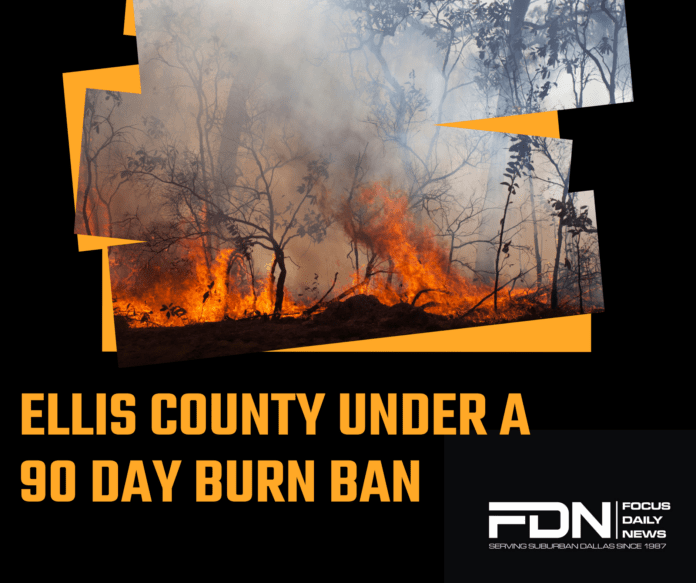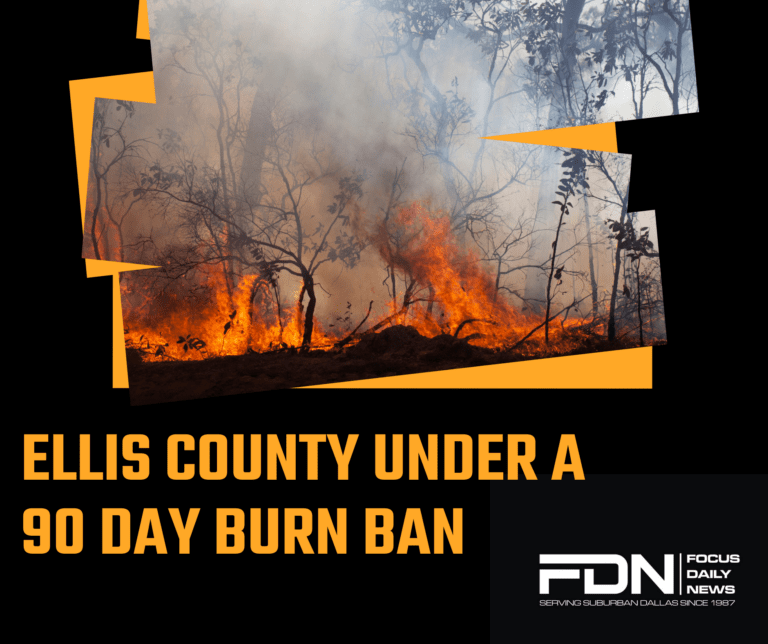 Notice: Due to dry conditions, the Fire Marshal has enacted a county-wide, 90-day outdoor burn ban in Ellis County.
Please note that July 4th fireworks are exempt from the burn ban. Normal household activities that involve combustion, such as cooking or trash-burning in an enclosed receptacle (following all relevant regulations), are also exempted.
For further information regarding regulations for specific burning activities, please see the official burn ban order here: https://www.co.ellis.tx.us/
.
For any questions, please contact the Ellis County Fire Marshal's Office at 972-825-5555.
The burn ban does not prohibit the use and sale of fireworks, per Local Government Code §352.081, please be responsible and take extra precautions on fire safety during these dry conditions.
Tarrant County Burn Ban
The Tarrant County Commissioners Court approved on Tuesday an outdoor burning ban for unincorporated Tarrant County. All outdoor burning is prohibited for the next 90 days.
The Texas Forest Service has determined that Tarrant County is currently experiencing drought conditions. The Tarrant County Fire Marshal requested the ban on outdoor burning to protect the lives and property of Tarrant County residents.
A violation of the Court Order prohibiting outdoor burning is a class C Misdemeanor and can be fined up to $500.
For information on outdoor cooking and outdoor welding guidelines you can go to TARRANT COUNTY FIRE MARSHALL and scroll down to the Outdoor Burning icon.
"We urge all residents of Tarrant County to help us during this time," said Tarrant County Fire Marshal Randy Renois. "If you see smoke, please report it. We encourage all Tarrant County residents to be safe."
Below are safety tips you can follow over the upcoming holiday:
The safest way to enjoy fireworks is to attend a public firework show put on by professionals. Stay at least 500 feet away from the show. Leave any area immediately where untrained amateurs are using fireworks. If you are setting fireworks off at home, please follow these safety steps:
Never give fireworks to small children, and never throw or point a firework toward people, animals, vehicles, structures or flammable materials. Always follow the instructions on the packaging.
Keep a supply of water or fire extinguisher close by as a precaution.
Make sure the person lighting fireworks always wears eye protection.
Light only one firework at a time and never attempt to relight "a dud."
Store fireworks in a cool, dry place away from children and pets.
After fireworks have been used, douse the spent device with plenty of water from a bucket or hose before discarding it to prevent a trash fire.
In case of reignition, do not place recently used fireworks in a plastic container or store in garage.
Fireworks fire & injury facts Source: NFPA
Fireworks started an estimated 19,500 fires in 2018, including 1,900 structure fires, 500 vehicle fires, and 17,100 outside and other fires. These fires caused five deaths, 46 civilian injuries, and $105 million in direct property damage.
In 2018, U.S. hospital emergency rooms treated an estimated 9,100 people for fireworks related injuries; half of those injuries were to the extremities and 34% were to the eye or other parts of the head. Children younger than 15 years of age accounted for more than one-third (36%) of the estimated 2018 injuries. These injury estimates are from the U.S. Consumer Product Safety Commission's 2018 Fireworks Annual Report by Yongling Tu and Jason Ng.
Brush, grass, or forest fires accounted for three of every five (59 percent) of fireworks fires.
Remember, most cities have an ordinance that prohibits the use of fireworks in their jurisdiction. If you are coming out into the unincorporated areas of the county, make sure you have permission to utilize fireworks on private property and be considerate to neighbors and their animals.