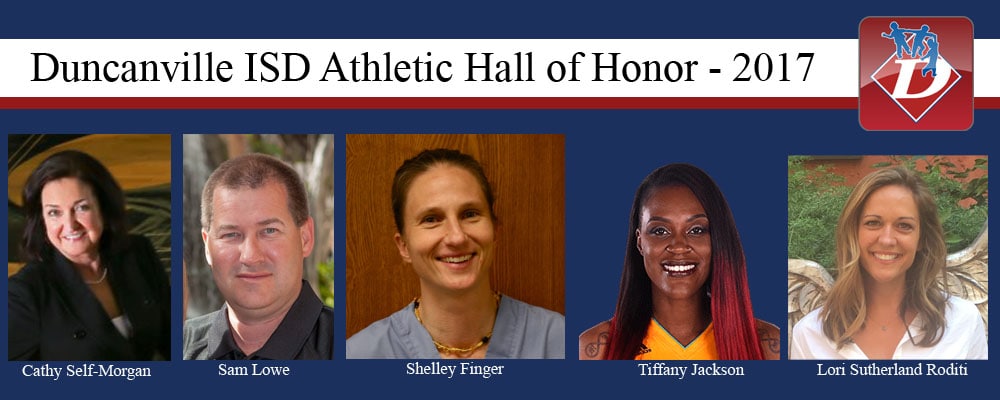 Duncanville ISD celebrates the accomplishments of its remarkable athletes and coaches each year. Monday, Jan. 8 the district will induct five new members into their prestigious Hall of Honor. Pantherettes Head Coach Cathy Self-Morgan, along with Duncanville High School alumni Sam Lowe, Tiffany Jackson, Shelley Finger, and Lori Sutherland Roditi, will be inducted in the class of 2017.
The Hall of Honor ceremony will be held in Duncanville High School Performance Hall, 900 W. Camp Wisdom Road. Admission is free, and refreshments will be served at 6:30 p.m. followed by a 7 p.m. program.
Duncanville ISD Hall of Honor New Members
Cathy Self-Morgan is in her 18th season as coach of the Duncanville Pantherettes. In 39 years of coaching, she has earned national recognition. Her teams boast an 83 percent winning average and have won more than 1,100 games. Coach Self-Morgan has led her teams to eight State Championships, including three at Westlake and five with the Duncanville Pantherettes. The Duncanville Pantherettes most recently won the Sandra Meadows Classic Basketball Tournament December 27-29.
Sam Lowe, a 1991 graduate of Duncanville High School, was a member of Coach Phil McNeely's first State Championship team in 1991. Lowe received a degree in Business Finance from the McCombs School of Business at the University of Texas. He began a career at Great American Sports upon graduation, helping them become the leading youth basketball tournament provider in Texas and one of the top providers in the country.
Tiffany Jackson, a member of the 2004 Duncanville Girls Basketball State Championship team, went on to play for the University of Texas women's basketball team (2003-2007) with 103 starts. Tiffany was selected in the first round of the 2007 WNBA draft by the New York Liberty. She played there until 2010 when she was acquired by the Tulsa Shock. In her ninth season for WNBA, Jackson now plays for the Los Angeles Sparks.
Shelley Finger (1991), a three-year starter on the DHS varsity soccer team as goalkeeper, helped the Panthers to three district and bi-district titles, one regional runner-up title, and the 1990 UIL State Soccer Championship. At the University of North Carolina she was a four-year NCAA Division 1 National Champion, an All-American, Academic All-American, Final Four All-Tournament Team member and three time all-ACC team member. Graduating from the College of Veterinary Medicine at Texas A&M University, Dr. Finger is a practicing veterinarian and medical director of a large veterinary hospital who also coaches goalkeepers and mentors local youth in the field of veterinary medicine.
Lori Sutherland Roditi (1998) was Duncanville High School's most decorated female golfer. At DHS she was four-time district champion, winning a total of eight high school tournaments, four of them coming from her senior season. She earned a golf scholarship to Texas Christian University, and after graduating from TCU she competed on the LPGA Futures Tour and the West Coast Ladies Golf Tour. As a professional golfer, she won the 2003 Texas Women's Open. In 2007 Sutherland returned to TCU as the assistant women's golf coach. During her time there, TCU qualified for NCAA post season play from 2007-2014. While coaching there she met her future husband, TCU men's tennis coach David Roditi, and they now have two young sons.
The Duncanville ISD Athletic Hall of Honor was established to celebrate excellence and salute the contributions of individuals whose advancement of athletics in Duncanville ISD and beyond has made a profound difference in the lives of our young people. Nominees can be coaches, teachers, administrators, athletes, fans, or booster club members who have contributed significantly to Duncanville ISD's athletics programs.